Bulker owner Sterling Shipping has bought its third kamsarmax and aims to grow its fleet by up to another three vessels, according to its founder.
Christopher Fjeld told TradeWinds that the 82,908-dwt Seagull Wind (built 2012) was acquired for a price of around $27m. Shipping databases list the vessel's seller as Mitsubishi Corp of Japan.
The ship was delivered on Monday and has been renamed the Sterling Saga.
Sterling Shipping aims to grow its fleet to between four and six vessels, and is on the hunt for South Korean or Japanese kamsarmaxes of between five and 10 years old.
Fjeld owns 75% of Sterling Shipping and the rest is owned by Sweden's Kvalitena, a privately owned real-estate investment firm founded by Mikael Andersson that has around €1bn in assets.
Fjeld has a financial background and worked for Andersson in real estate for about seven years. The pair built a friendship and Fjeld ultimately convinced his former boss to come onboard as an investor at Sterling Shipping.
"He's an entrepreneur-spirit person as well. He likes people who want to start something new," Fjeld told TradeWinds.
Newbies
Sterling Shipping was established in Malta in 2018 and, with the backing of its Swedish investor, acquired its first vessel in 2019 from BW Dry, now known as Copenhagen Commercial Platform (CCP).
Andersson has experience in making successful countercyclical investments in other industries and so could see the potential in entering the bulk carrier space at a time when the market was low, Fjeld told TradeWinds.
As it turned out, the two shipping newbies could hardly have timed their investment any better, despite the depressed chartering market in early 2020.
"People thought I was a complete idiot when we entered into the market in October 2019 and didn't understand anything until we bought [the] BW Hazel — which is now [the] Sterling Svea — for around $20m," Fjeld said.
"Now brokers are calling me constantly and want to sell her for around $29m or $28m, but that doesn't make any sense for us because the cash flow from her is good."
The 81,500-dwt Sterling Svea (built 2013) was delivered in January 2020, just as the Covid-19 pandemic was beginning to take hold.
Sterling Shipping bought the China-built, 79,500-dwt Sterling Tora (ex-Eclipse, built 2010) in May last year for around $16m.
The relationship with CCP has endured and today the platform manages all three of Sterling Shipping's vessels.
The Sterling Svea is currently on charter to CCP until mid-2022 and is sub-chartered to Viterra. Fjeld said it is likely that the grain trader will take the vessel on charter directly, once its contract with CCP is up.
Sterling Shipping's other two ships — the Sterling Tora and the newly delivered Sterling Saga — are on index-linked time-charters to Viterra for 24 to 26 months. Fjeld said the contracts include options to switch to fixed rates based on the forward curve.
Fjeld hopes to buy one more vessel this year but is waiting to see how the markets develop over the next couple of months, while the fleet generates cash for future acquisitions. He added that there is also the prospect of the Swedes adding more equity to the company.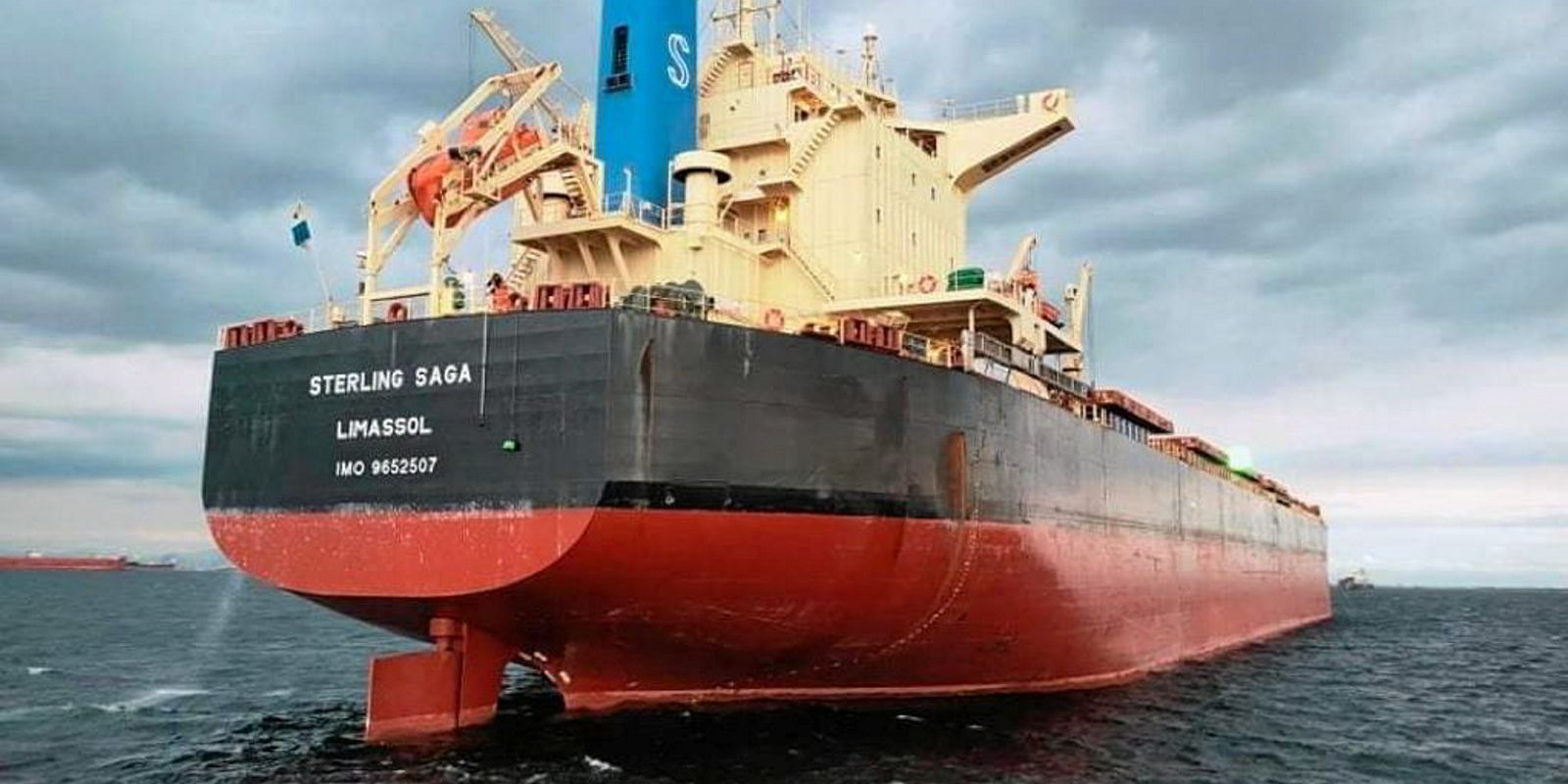 Exit?
Sterling Shipping itself is very lean — its office in Malta is home to Fjeld and just five other staff. Technical management of the fleet is outsourced to managers OSM and Fleet Management.
Sterling Shipping's website states that the firm aims to "both generate attractive cash yields and asset value appreciation on a two- to five-year time horizon".
Is this a hint at the company's exit strategy? Not really, Fjeld said.
"What I see with Mikael and Kvalitena is that they are long term — always have been — with big companies over many years," he said. "Myself, I'm 33 years old, I've got my first kid and I'm eager to build something so we don't have any end date for Sterling Shipping."
Of course, he added that this could all change if earnings suddenly start to look weak for the years ahead or if new regulations force the company to adapt its strategy.
"But it doesn't make sense right now to sell our vessels and take a couple of million dollars in profit when you can earn the same just letting her sail," he said. "We are trying to build the company bigger and we have a five-year plan."