Container freight and charter rates continue to suffer double-digit falls — despite the best efforts of liner operators to stem the declines by slashing services.
The steep falls in recent weeks have taken both container markets back to their lower levels not seen since the early days of the pandemic.
The sharpest drops were registered on the transpacific, where freight rates have slumped 20% over the past week.
Rates from Asia to the US West Coast (USWC) dropped to $2,934 per 40-ft equivalent unit (feu) container in the week to 27 September, down from $19,182 on the same date a year ago.
That means rates on a trade that helped drive the container shipping boom are at their lowest level in more than two years, according to the Freightos Baltic Index (FBX).
Charter rates continue their vertical descent, with up to 15% shaved off feeder and mid-range sizes. The New Contex index logged a 13.7% decline last week and is 32% down over the month.
"There are only very few fixtures being done but each one is pulling down values further," said a New Contex commentary.
Lines cut capacity
The falls come despite efforts by carriers to curtail capacity ahead of China's upcoming Golden Week holidays, which take place in the first week of October.
Lower volumes led US-based operator Matson to close its China-California Express (CCX) service, which was launched in July 2021 to meet the booming cargo demand on the lane.
The last CCX sailing from Shanghai was the 2,890-teu Manukai (built 2003), which arrived at Long Beach on 20 September to discharge cargo from Asia.
Carriers have so far blanked some 1.5m teu of capacity from Asia to the USWC over the past 12 weeks, according to Oslo-based Xeneta.
Yet that has failed to prevent the FBX global index from falling to $4,085 per feu on 27 September. That is down from just under $11,000 a year ago and is a level last seen in January 2021.
How much further?
Withdrawal of capacity has done nothing to stem the fall in freight rates, which have collapsed by 46.3% in the past 12 weeks, according to Xeneta.
Asia-to-US East Coast freight rates dropped to $6,946 on 27 September, compared with $22,234 on the same day a year ago. It is the first time rates on the trade have been below $7,000 since March 2021.
Similarly, rates from Asia to Northern Europe slid to $7,046 per feu.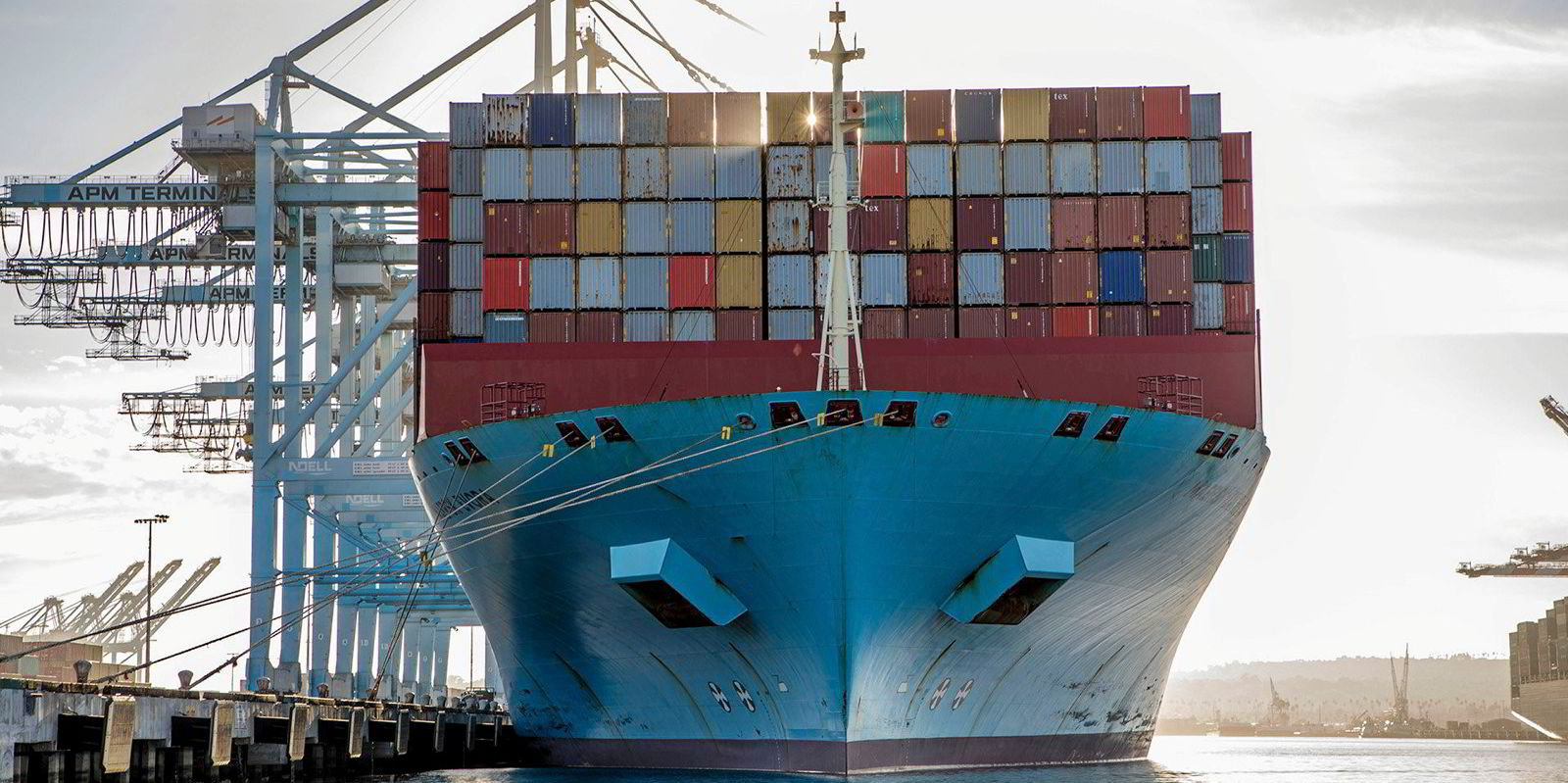 That is a level last seen in January 2021 and less than half what the market commanded a year ago.
"With this year's ocean peak season now clearly behind us, the coming weeks could indicate what the new floor for spot rates will be this year, and how much above 2019 levels capacity management, congestion, and volumes (still expected to stay above 2019 levels) can keep container prices," said Judah Levine, head of research at Freightos.
Redeliveries and relets
Efforts by carriers to adjust capacity have led to a slightly higher number of redelivery notices, as well as several relets emerging in the market, brokers said.
It has also become more difficult to line up long-term charters, and even forward fixtures appear to have dried up, they added.
That is reflected in a considerable decline in charter rates across all sizes, but especially in the feeder segment.
Six-month charter rates for 1,700-teu vessels are 40% down over the month to $33,000 per day, according to the New Contex index.
Transfar Shipping of Hong Kong has reportedly fixed the 1,732-teu A Daisen (built 2010) with Akkon Lines of Turkey for six months at $35,000 per day. In August, similar tonnage probably would have secured around $50,000 per day.
The traditional panamax sector has also seen a slump with talk of a 4,400-teu vessel reportedly being fixed at around $40,000 per day for 12 months.
Such a fixture returns the charter market to levels last seen in April 2021. The rate is around half what such vessels could have got a few weeks ago for a six-month fixture.
"Fundamentally, there shouldn't be much to worry about when looking at the supply side, but the astronomical short-term levels are surely gone for now," shipbroker Harper Petersen in its weekly commentary.