What if, similarly to Michelle Yeoh's character in the film Everything Everywhere All at Once, you could transport yourself instantly from one corner of Nor-Shipping to another instantly?
From what I have seen so far, you would probably be hearing about decarbonisation and greenhouse gas emissions nearly everywhere you went. (Although to be accurate to the 2022 movie, this thought exercise would have actually involved travel to parallel universes rather than between two Norwegian cities that are connected by the Flytoget express train.)
As I posted on TradeWinds' Nor-Shipping Live Centre from the Maritime Leaders Summit in Oslo to the Ocean Leaders Summit in Lillestrom, nearly every session I tuned into tackled questions of shipping's climate impact.
And that is only the first two days of what is possibly the year's biggest shipping gathering. Although I am writing this before the start of day three because I will be busy moderating a panel on the European Union Emissions Trading System (EU ETS) at the TradeWinds Shipowners' Forum when you get this.
At Nor-Shipping, TradeWinds reporters came across International Maritime Organization secretary general Kitack Lim — the head of the United Nations body that will decide in July whether zero carbon or net zero is the new target for the industry — at every turn. (I even literally bumped into him at one point. Sorry, Mr Lim.)
The IMO leader told TradeWinds correspondent Matt Coyne that consensus is building towards a net zero ambition for 2050.
"I think it will be a good outcome," Lim said.
After the EU passed major legislation in recent months to require shipping companies to pay for their carbon emissions and to push green fuel production, pressure is on for the IMO to take ambitious action.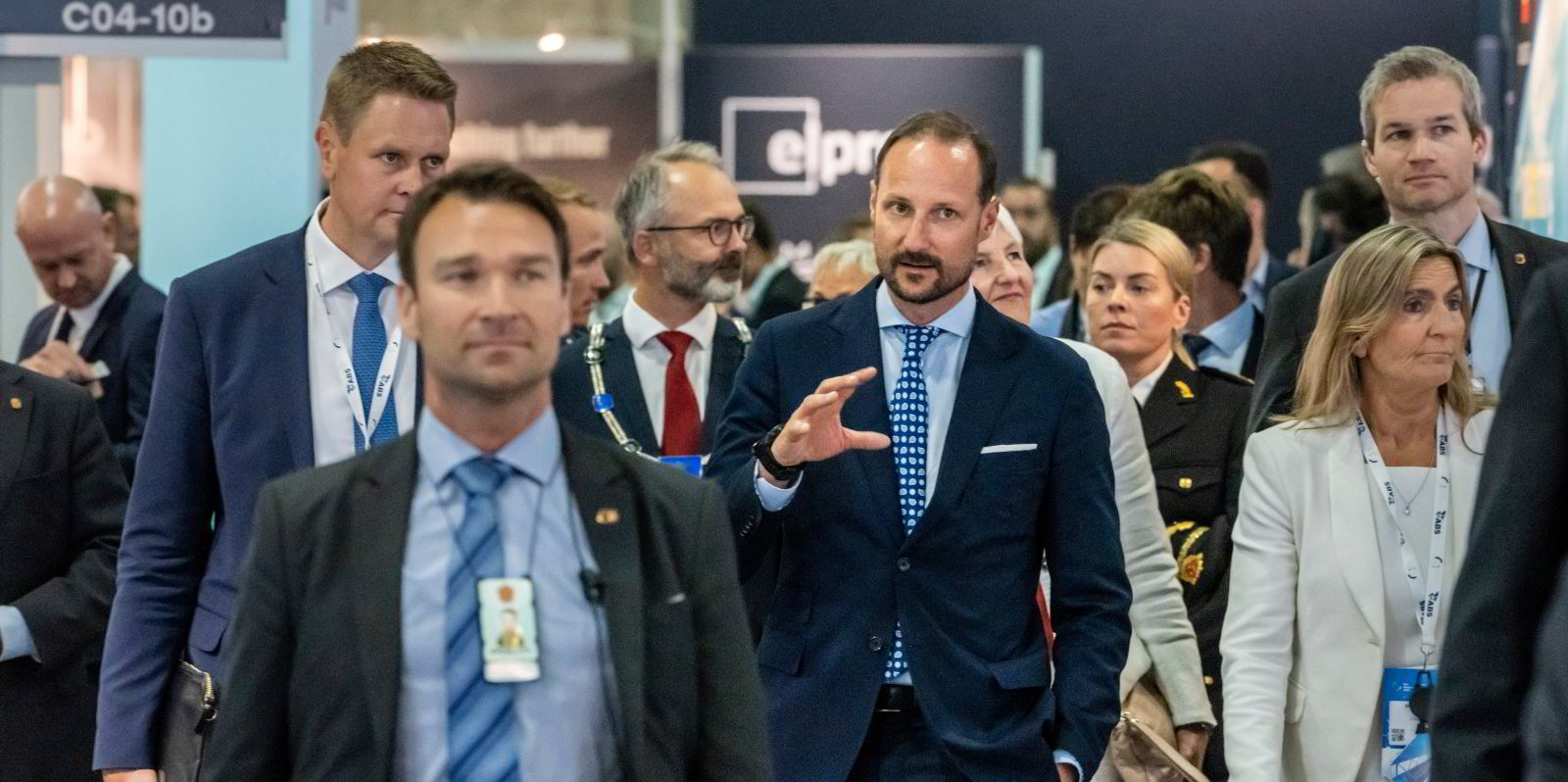 Fotini Ioannidou, head of maritime safety at the European Commission, would not go so far as to say she is confident that the UN agency will act as urgently as the EU hopes.
"There has been a lot of convergence in the last six months," she told TradeWinds correspondent Bob Rust. "The IMO secretariat are doing their best to make a good outcome but who knows? I can say I am reasonably optimistic."
But the EU's action was not the only step outside the IMO that garnered attention at Nor-Shipping.
The 2022 Inflation Reduction Act, despite its name, was packed with spending on energy transition.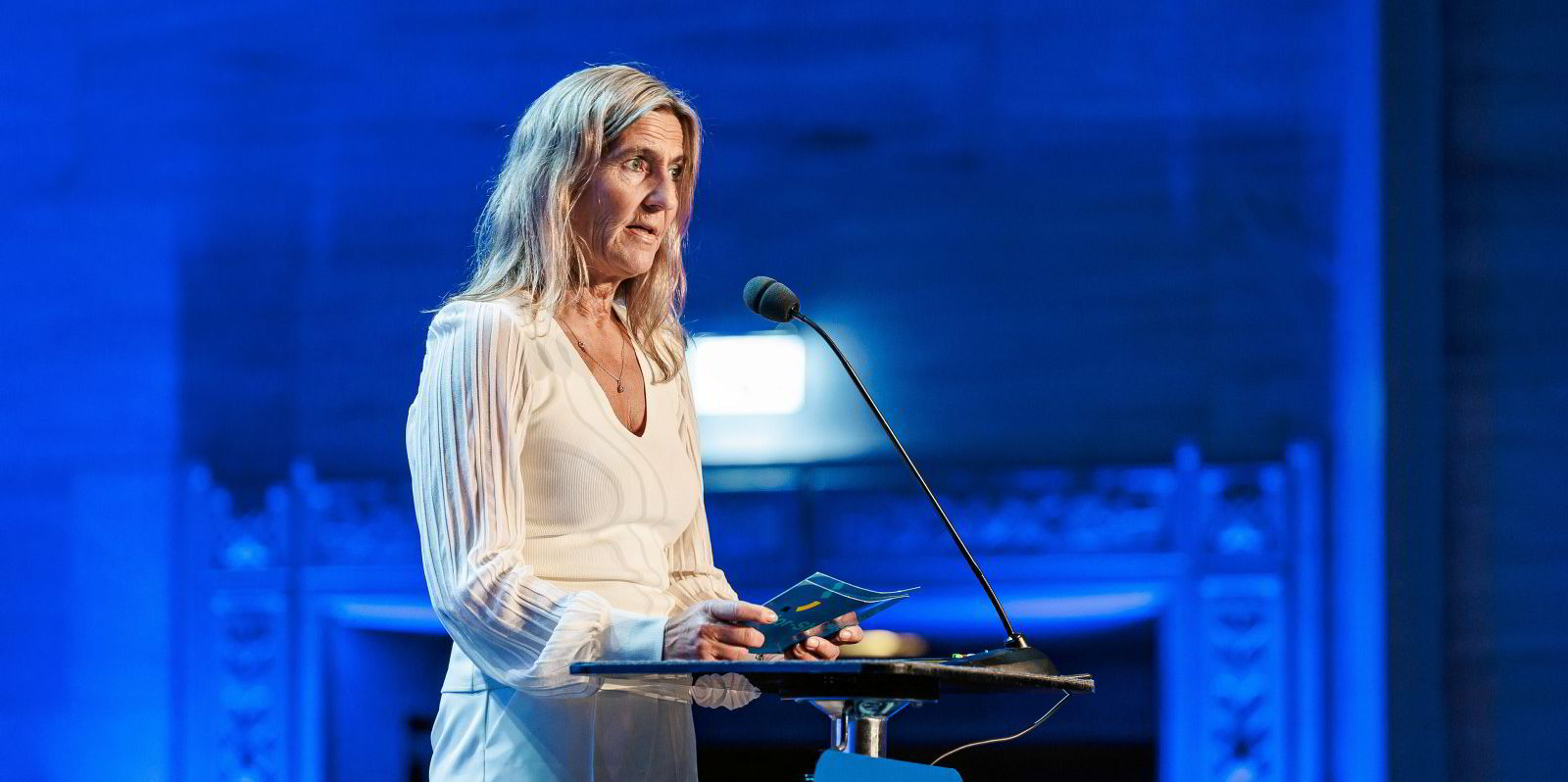 John Lycouris, chief executive of the US unit of Dorian LPG, told the Maritime Leaders Summit organised by DNV and Capital Link that where the EU ETS is effectively a tax on carbon, the US law is a subsidy supporting decarbonisation.
"I think it will accelerate improvements in the ports and the infrastructure," he said.
Lycouris said for shipowners such as Dorian, the Inflation Reduction Act will eventually mean more shore power infrastructure, facilities to offload captured carbon and availability of green fuels.
Rasmus Bach Nielsen, global head of fuel decarbonisation at trading giant Trafigura, said the US is among countries that have realised the benefits of getting out in front of decarbonisation.
"They've made a masterpiece of a policy," he said during the Maritime Leaders Summit.
Among the highest-profile speakers at Nor-Shipping was US climate envoy John Kerry, who urged the IMO to target net zero for 2050 and compared decarbonisation to the D-Day invasion that led to the end of the European portion of World War II, as TradeWinds reported.
"Not a lot of people, public or private sector, get asked or are given the opportunity to bring a whole planet back from the brink. You are. We are," Kerry said, giving the closing address at Nor-Shipping's Ocean Leadership Conference on Tuesday.
"It's a daunting task, I know it, but this is no ordinary moment, folks. The mission now is to get more serious. It's to pick up the pace, to enhance global ambition, hold everyone accountable and to recognise the benefits of what comes with this transition."
___________
Nobel Prize-winning economist Joseph Stiglitz offers stark warning to shipping
Matt Coyne reports that a Nobel Prize-winning economist has warned the world's need for shipping is waning.
Joseph Stiglitz, former World Bank chief economist and senior vice president, identified five factors set to influence the global economy in the coming years — and slash demand for shipping along with it.
"These are challenges the shipping industry is going to have to face," he said during Nor-Shipping's Ocean Leadership Conference on Tuesday.
"We're going to be net neutral by 2050. That's 27 years. [One challenge] is making decisions today for the next 40 years and so bringing these forces into account when it comes to investment decisions is going to be really critical."
Most significantly, he said the fight against climate change means there will be fewer, and eventually zero, oil and natural gas cargoes to move.
___________
Norway's Faerder poised to ink orders for ammonia-fuelled tankers and car carriers
Bob Rust reports that Norway's Faerder Tankers is putting its money on ammonia propulsion and plans to place two series orders this summer at Chinese yards, for tankers and car carriers.
The Notteroy-based owner has completed design plans for an ammonia-diesel dual-fuel car carrier of 7,500 ceu and an LR2 product tanker.
Captain Paal Stenberg, joint principal of Faerder, with Turid Moe Sorensen, aired the plans at a Wilhelmsen Ship Management decarbonisation seminar during Oslo's Nor-Shipping conference.
___________
Shipping leaders mull how to nudge carbon cuts in an industry not structured for change
How do you change an industry whose age-old commercial structures are a barrier to change?
That was a quandary that a panel of shipping industry executives pondered at the Maritime Leaders Summit, a conference organised by Capital Link and DNV, during this year's Nor-Shipping event in Norway.