A recent Global Maritime Forum annual summit in New York saw the nonprofit's initiatives target a more ambitious decarbonisation path, but it also saw speakers focus their attention on the need for the International Maritime Organization to take firmer, clearer action in the months ahead.
During the two-day event, industry leaders pointed to a need for the IMO to step up with a higher ambition and market-based measures to trim the price gap between fossil fuels and cleaner alternatives.
And some warned that the United Nations body is putting its relevance at risk if it fails to do so.
As TradeWinds has reported, the Global Maritime Forum-backed Poseidon Principles initiatives have committed to benchmarking ship finance and insurance to a trajectory aimed at halting global warming at 1.5C and a separate net zero greenhouse gas emissions path.
The IMO is looking to upgrade its ambition from a 50% cut in carbon emissions compared to 2008 to what is hoped by many to be a zero-carbon path.
Michael Parker, chairman for the Poseidon Principles for Financial Institutions, said that his group will look to the IMO's Marine Environment Protection Committee meeting in 2023 to plot a trajectory for 2030 under an updated target for benchmarking against the net-zero target.
But what if the IMO does not deliver a path to zero?
"The Poseidon Principles will discuss what we replace it with, if we replace it. We could end up in a rather ridiculous situation of an out-of-date IMO trajectory with a 50% cut on 2008 and a 1.5 trajectory on a sustainable basis," said Parker.
IMO relevance?
"What will happen then is, no one will look at the IMO trajectory when we report."
He said that Poseidon Principles members want to recognise the IMO as a global regulator and hope it will accelerate its ambition. But while the initiative is guided by the IMO, it is not aligned with the UN body, Parker said.
Subscribe to Green Seas
Get our weekly newsletter on sustainability, ESG and decarbonisation to stay on top of the developments as the shipping industry faces pressure to transform.
"If it goes backwards, then I think we may lose touch with the IMO if they're no longer relevant," he said.
Gard chief executive Rolf Thore Roppestad, who is vice chair of the Poseidon Principles for Marine Insurance, said history has shown that when the IMO does step up, it can have a powerful impact.
He said the volume of oil spills, for example, has shrunk by 97% in the last 10 years compared to the 1970s. That was not the result of insurers and shipowners starting to care about oil spills, but rather the IMO coming in later with a double-hull mandate for tankers.
Roppestad said the IMO may take its time to come up with a trajectory similar to that of the Global Maritime Forum-backed Poseidon Principles.
"This is a long-term trajectory, and I think we need to have IMO on board," he added.
"What we are doing here is a very important contribution to get there: setting a long-term target, being transparent and getting focused on it."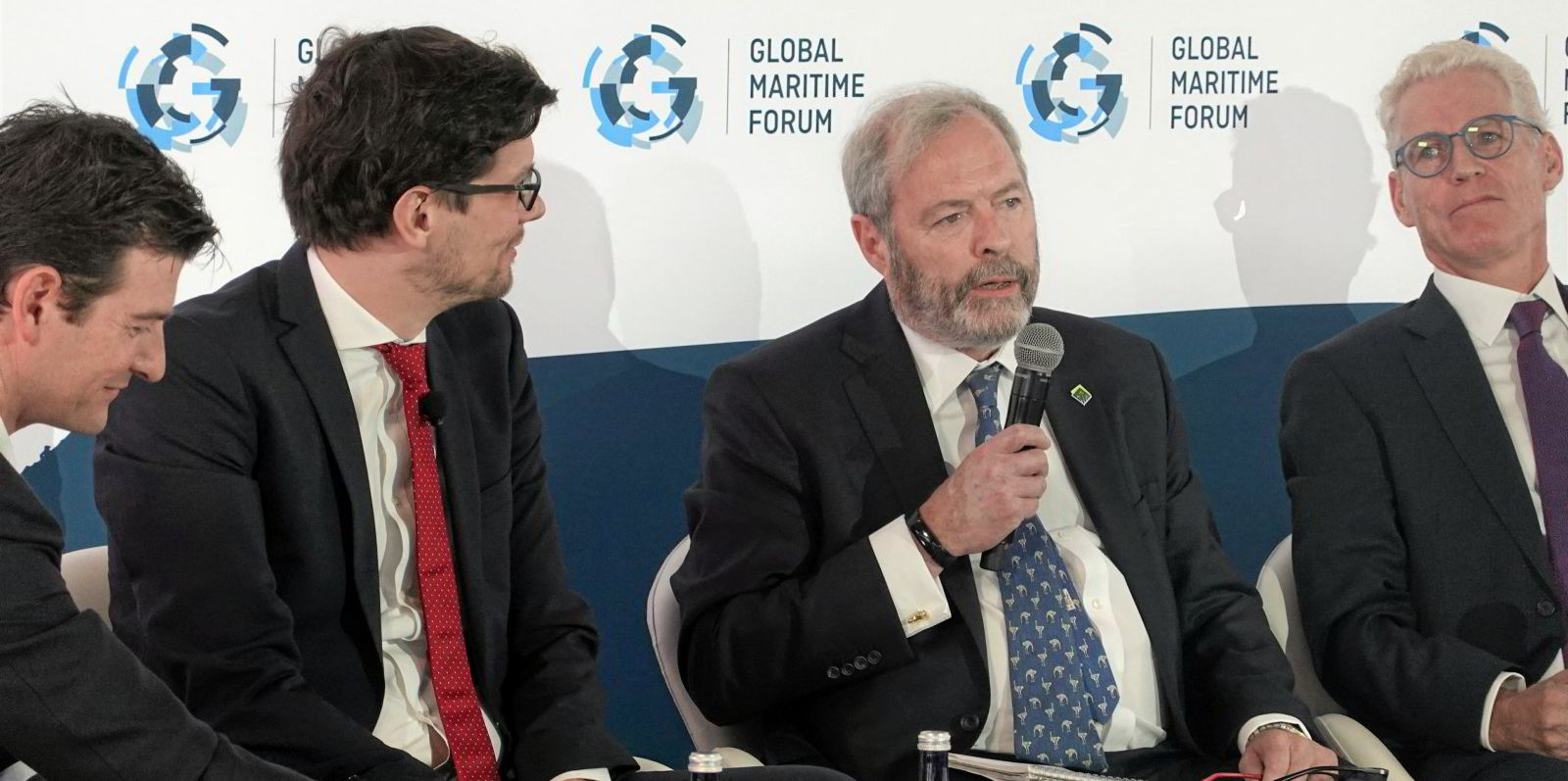 Jeremy Nixon, chief executive of container ship operator Ocean Network Express (ONE), expressed worries that it could take four years before the IMO implements market-based measures like a carbon levy or emissions trading scheme.
"As an industry, we can do a certain amount of pioneering there, but we cannot move to big scale unless there's some levelling up," said Nixon, who is also co-chairman of container shipping industry group World Shipping Council (WSC).
"We need the fuel costs to come up to [be] in line with the new fuel types, so market-based measures are critical."
At the close of the event, DFDS chairman Claus Hemmingsen said those involved in the policy portion of the summit's problem-solving sessions found that aligning with a zero carbon target in 2050 would mean a 25% reduction by 2030 and a 90% reduction by 2040.
"We said that it had to be a fair and conclusive strategy, and it had to be based on polluter pays," he said.
Among the ideas for meeting that goal were a 2035 ban on building ships powered by fossil fuels and a 2050 prohibition on greenhouse gas emissions.
But while Hemmingsen said that the group suggested nations have to put pressure on the IMO, he urged summit participants to look beyond the Global Maritime Forum tent.
"Very importantly, if you reach out to anybody, don't reach out to people in this room, because we are all aligned," he said, surrounded by a circle of Global Maritime Forum participants.
__________________
More coverage on sustainability at the Global Maritime Forum's annual summit
Poseidon Principles seek course — or separate courses — to more ambitious carbon target

After the Poseidon Principles committed to a more ambitious decarbonisation target for both ship finance and marine insurance, the initiatives will now look to plot a trajectory towards their tougher benchmarks.
Both Global Maritime Forum groups — created to set up frameworks for benchmarking finance and insurance portfolios against targets to reduce greenhouse gas emissions — have now aligned their targets to a zero carbon shipping industry by 2050 and a path that meets with the Paris Agreement goals of capping global warming at 1.5C.
But their memberships may plot different trajectories for marine insurance and ship finance.
"We do recognise we have different methodologies because of the nature of our portfolios — long-term lending versus the annual analysis by the insurance industry, we would expect to complete the process of executing against the ambition by the end of July 2023," Poseidon Principles for Financial Institutions chair Michael Parker said.
Click here to read the full story.

__________________
Biden aims to make green shipping a highlight of next global climate meet

Making shipping greener will be a key item on the agenda for the administration of US President Joe Biden at the next annual climate talks by world leaders, a US official said.
Jane Lubchenco, deputy director for climate and environment at the White House Office of Science and Technology Policy, told the Global Maritime Forum's annual summit that presidential climate envoy John Kerry's Green Shipping Challenge will be one of the US government's key initiatives at the COP27 conference in November.
"We are working hard to ensure that green shipping is a highlight of COP27," she said. "We're really elevating the importance of this."
Click here to read the full story.
__________________
IKEA swears off using offsets in achieving net zero fuel goal

IKEA's climate chief has said the company will not turn to offsets to meet its target of bringing its fuels to net zero carbon emissions by 2040.
The comments by Andreas Rangel Ahrens, head of climate for the Inter IKEA Group that links the furniture retailer with franchisers and suppliers, told the Global Maritime Forum's annual summit that the goal is "drastic emissions reductions".
"We will use no offsets," he said, asked by moderator Nicholas Davies about IKEA's reasons for its zero carbon target.