Norway's Hoegh Autoliners has gone all-in on biofuel on its car carriers to give clients a chance to make emissions cut right now.
The Oslo-listed company is thought to be among the first owners, if not the first, to offer 100% use of greener bunkers, rather than blends with diesel.
BMW Group has already decided to make use of the offer, prompting an important carbon footprint reduction.
So far this year, BMW has achieved reductions of 4.47 tonnes of CO2 equivalents on journeys with Hoegh Autoliners.
Hoegh Autoliners chief executive Andreas Enger said his company has bunkered biofuel on several other vessels and has several agreements with clients, whose names are remaining confidential.
The fuel is produced by Dutch operation GoodFuels and bunkered in Amsterdam.
The most common routes using the fuel so far are from Europe to Africa, Oceania and the Middle East.
The company conducted two 100%-biofuel test runs earlier this year, the second of which saw Enger on board the 8,500-ceu Horizon-class vessel Hoegh Trigger (built 2015) on a trip across the English channel into Southampton.
The CEO said he has a favourite photo from the voyage of himself in front of the funnel on the test ship. "You don't see any emissions," he added.
Ammonia and methanol are the long-term bets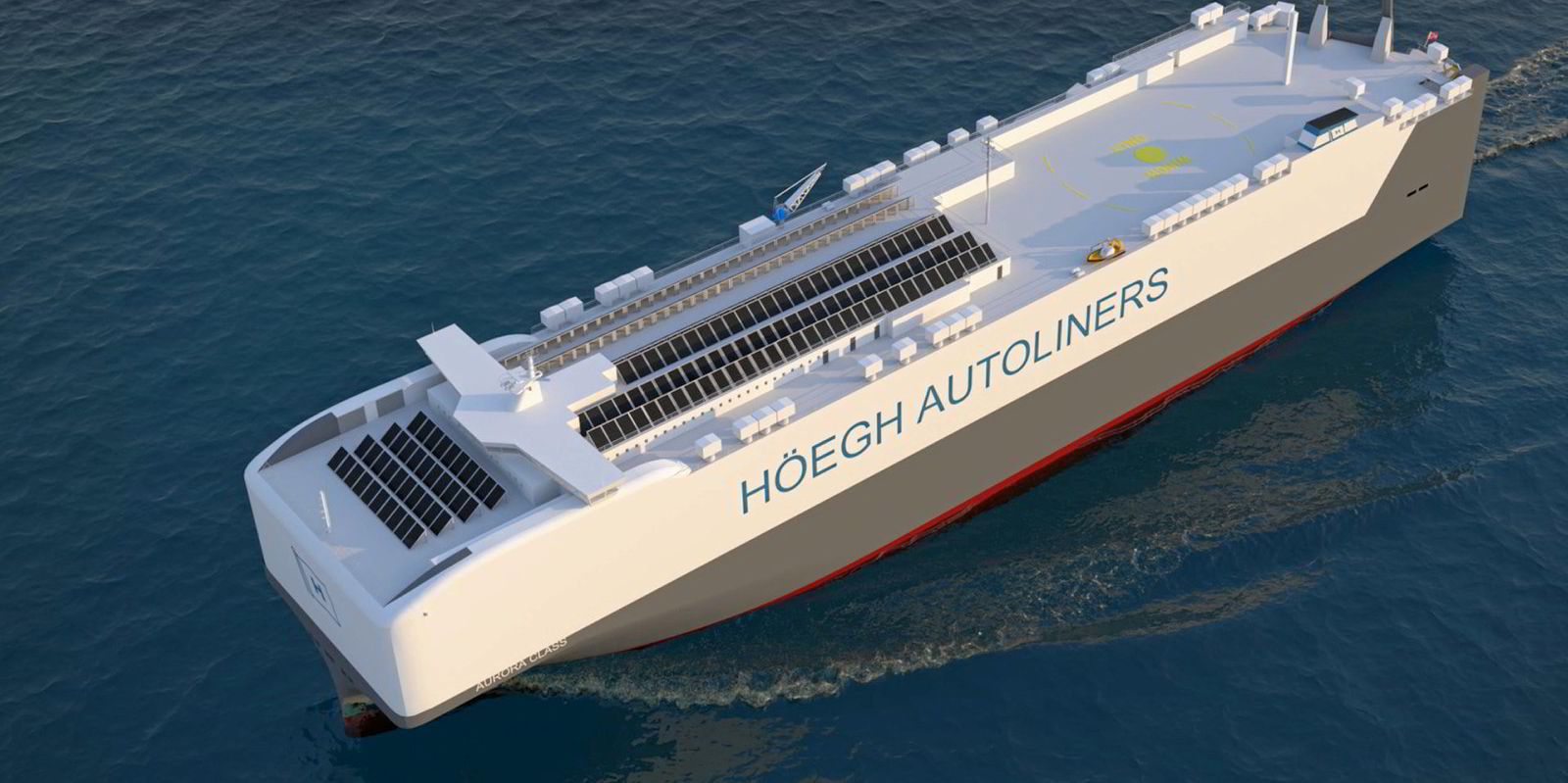 "It's important to say our main decarbonisation track is the zero-carbon ready Aurora newbuilds that will have DNV's ammonia-ready and methanol-ready notations," Enger told TradeWinds.
"When we talk to our customers they're saying they are engaged and interested in taking real steps on the path to zero by 2030. But they're also saying, can't you do something now? And biofuel and improved efficiency are the answers to that question," he said.
Enger explains that the product eliminates all CO2 on board on a tank-to-wake basis, and means an 85% reduction from well to wake.
And he views using 100% biofuel as a much stronger statement than using blends.
Price is often cited as a barrier to the use of this kind of bunker.
Enger said: "Today the bunker cost is volatile, but the biofuel is not expensive compared with other fuels."
Only limited by production
The real limit is the availability of the fuel.
Enger said the product, made from recycled cooking oils and other oils, is not really scalable.
"We can on a limited scale provide pockets of carbon-neutral transport already today," he said. "It's fair to say biofuel is not sufficiently scalable to become the real solution, so for us it's a bridge into the future," he added.
"This is to get started, to be able to give customers the opportunity to selectively run carbon-neutrally now," Enger said. "The scalable solution is either ammonia or methanol and it's still a few years off," the CEO said.
Michael Nikolaides, senior vice president of production network and supply chain management at BMW, said the company is systematically working on emission-reducing logistics concepts and pilot projects.
"By 2030, we want to reduce the CO2 footprint per vehicle by at least 40% over the entire life cycle, compared to the base year 2019. Thus, pursuing a technology-open approach and close cooperation with our logistics service providers are crucial here," he added.
Hoegh Autoliners has also this week joined the First Movers Coalition), committing to running at least 5% of deep sea operations on either green ammonia or green methanol by 2030.