Chemgas Shipping, a coastal LPG carrier and inland barging specialist, has moved into a new market segment with a multiple ship purchase.
The Rotterdam-based company, which is part of Germany's Jaegers Group, confirmed in a statement it is behind a deal to buy four small LPG ships from Italy's Gas and Heat Shipping.
TradeWinds and brokers reported earlier this month that Chemgas had acquired the 3,300-cbm quartet Scali Sanlorenzo, Scali Reali (both built 2010), Scali Del Pontino (built 2011) and Scali del Teatro (built 2014) for $39m in total.
In the statement sent to TradeWinds, Chemgas did not discuss the price it paid for the four Turkish-built ships but explained the rationale for its move.
"Until now Chemgas was only active in the pressurized LPG market," the company said.
"With the acquisition of these four semi-refrigerated vessels however, new opportunities for Chemgas in the semi-refrigerated market can be exploited and will make it possible to even better service… existing customers."
Chemgas took delivery of the first of the four ships on 27 September. The Scali del Teatro will henceforth trade as Vortex.
This in line with longstanding Chemgas policy to name its vessels after winds.
The other three ships, to be delivered between end-October and mid-January 2023, will be called Vento, Venturi and Vetra.
Chemgas has been expanding through newbuildings as well. It's midway through an order for a trio of 3,500-cbm pressurised sisterships at Netherlands' Ship And Steelbuilding yard.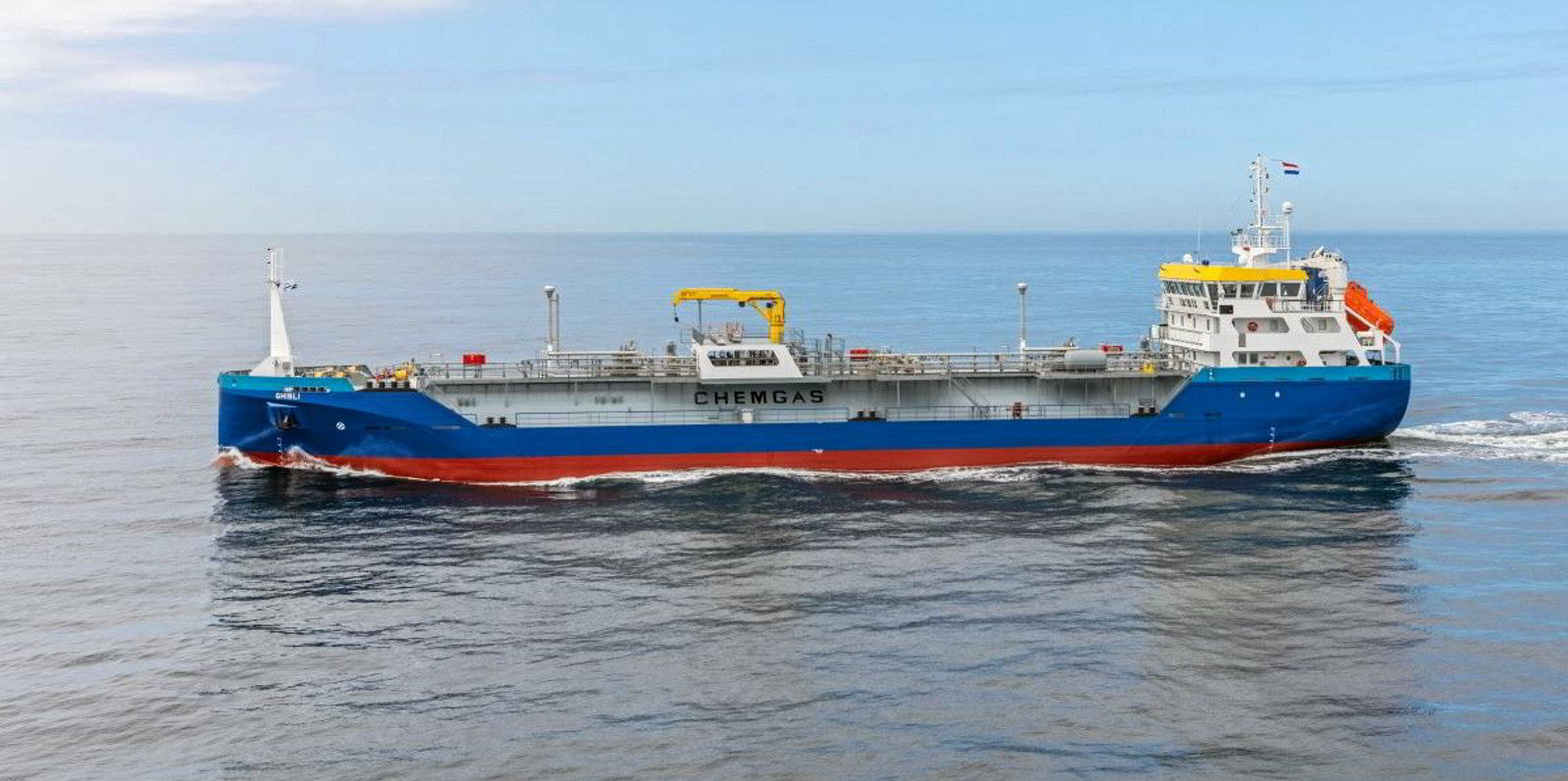 Two of these ships, the Gale and Ghibli, have already been delivered while the final one, the Gust, is set to join Chemgas next year.
Completion of this newbuilding programme will boost the Chemgas fleet to 16 LPG coasters.
Such operations, however, represent only a part of the company's activities.
Chemgas claims to be the market leader in LPG barging on the Rhine river and the Amsterdam-Rotterdam-Antwerp (ARA) area with a fleet of 29 such vessels.
Getting out
Gas and Heat, the Italian engineering firm that sold the four LPG vessels Chemgas is now buying, seems to be getting out of shipping.
The Evangelisti family-led company set up a shipping subsidiary in 2004 with the sole purpose of ordering the quartet at Besiktas Shipyard in Turkey.
One source familiar with the company said that Gas and Heat has been seeking to sell them for quite some time.
"They are a builder of gas plant systems and tanks but they're not shipowners," the source said.
"They got stuck with these ships after the financial crisis and they couldn't sell them because of the low market, but now that the market has improved, I think they've found the right price to do so," the source added.
Gas and Heat has been developing other initiatives instead.
The company announced in September that it obtained approval in principle from Bureau Veritas for a new, flexible solution for the transport of LNG and ammonia.
Gas and Heat said it is using austenitic stainless steel with a special grade that is suitable to carry both types of gas.