Up to 30 additional LNG bunker vessels (LNGBVs) will be needed to supply the large numbers of LNG dual-fuelled newbuildings, according to energy advisor LansdowneMoritz.
Senior advisor Arjan Stavast said LansdowneMoritz has looked at the LNG bunker demand from the ships — the company is forecasting 11 million to 14 million tonnes per annum by 2026 — and the current LNGBV fleet to see how much it could realistically supply.
"We see a gap emerging as soon as 2026, or even before that," he said.
"We believe at least another 20 to 30 bunker vessels will be needed to be able to supply all the demand out there."
Stavast, a former Shell LNG bunker specialist, added that as newbuilding orders for LNG-fuelled tonnage continue, demand for LNGBVs may increase beyond these numbers.
He described the market for LNG-fuelled tonnage as growing "quite spectacularly" despite high LNG prices.
But he pointed out that most recent newbuilding orders are for large container ships and car carriers that are much bigger than most of the existing ships on the water that can bunker LNG.
To fulfil the demand for these larger bunker stem vessels, LNGBVs of 12,000 cbm and larger will most likely be the best fit to serve the growing fleet, he said.
Managing consultant Gary Regan said LansdowneMoritz sees 2026 as the year in which LNG prices are likely to fall because there will be more product coming to market.
DNV Alternative Fuels Insight: 2022 figures
LNG-fuelled vessels
Number of vessels ordered: 222 (81% of total orders)
Number of ships delivered: 104 (a fleet growth
of 41%)
Total number of vessels
on order and in operation: 876
Source: DNV
"We see very high LNG [bunker] demand in the market in 2026," he said, with the extent being determined by when LNG prices normalise and the rate at which LNG-fuelled vessels are built in the next two years. "We see that year being the real crunch."
Regan compared the likely scenario for 2026 to that for LNG regasification capacity in Europe today.
"Anyone looking to support secure spot volumes of LNG in that year is going to really struggle," he said, adding that they will pay very high prices to book bunker vessel capacity, as it is difficult to see those missing 20 to 30 LNGBVs being ordered.
The LandsdowneMoritz team acknowledges that it is a complex message for owners and those seeking funds to build LNGBVs.
Record gas prices mean few have been bunkering LNG for the past 18 months, with many opting for cheaper very low sulphur fuel oil instead.
There is excess capacity today, with the LNGBV fleet not fully utilised, or used for trading.
Stavast believes industry players see the need to invest in LNGBVs, although they face a conundrum of deciding on when and where to order and what size to opt for.
But he admitted it is hard to justify investment funds if cash is still being lost on a first generation of vessels.
"I think that is exactly the reason why we see that deficit in supply capacity emerging," he said. "It is a difficult story at the moment."
Regan said it could be seen as a "standoff" situation in which LNG bunker suppliers are waiting for owners to sign five-year contracts that would allow them to procure LNGBV tonnage with shipowners.
But owners are proving reluctant to buy LNG in a high-price environment.
Stavast said a shortage of vessels is "completely unheard of" in the conventional fuel oil bunkering sector. For LNG, he believes cooperation between buyers and sellers is potentially "very valuable".
The pair suggest a contract is needed in which buyers can reserve capacity on a bunker vessel without committing to buying the molecules, and they hint that these conversations are already taking place.
"It requires a slightly different mindset," Stavast said. "It's not just about 'give me the lowest price and I'll sign'.
"Both the buyers and the sellers face different challenges and will need to work together creatively to find a solution."
So will shipowners or sellers order the missing LNGBV tonnage?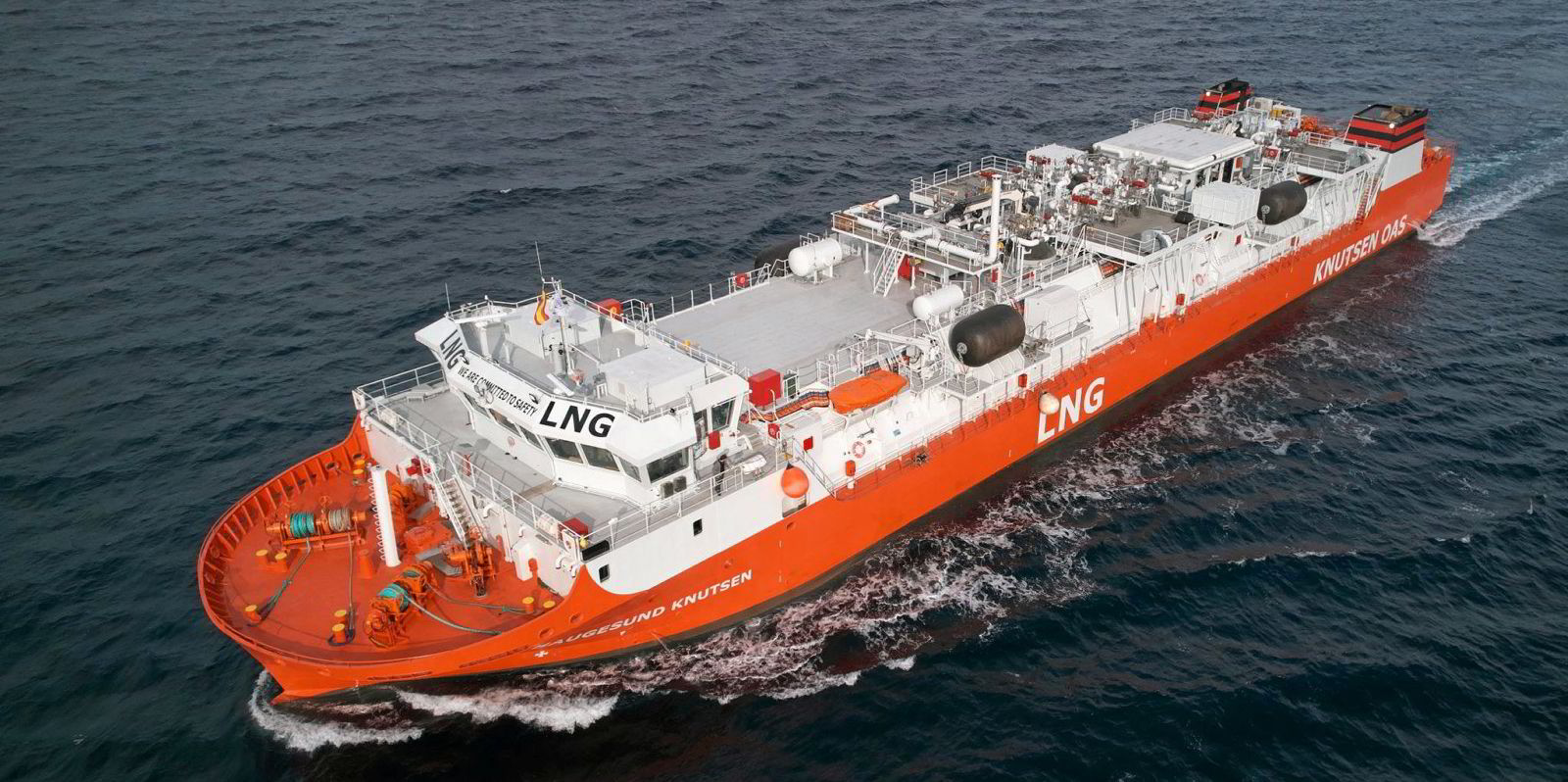 The LandsdowneMoritz duo — who are also working on projects involving other alternative fuels, including methanol — said it takes 18 to 20 months to build a large container ship but 27 months to construct an LNGBV, due to the long lead items and the complexity of the vessel.
But yards in China, South Korea and Europe see it as a growing sector.
Regan acknowledges that there is caution from those who have seen vessels underutilised and said it is difficult to do on speculation, as it is such as illiquid market.
But as LNG prices come down and customers begin buying, he believes there will be a supply shortage and a push to secure bunker capacity that will underwrite orders.
"I think this market is going to turn in the next couple of years and we'll see a huge wave of bunker vessels ordered."