Maria Angelicoussis-led Maran Gas Maritime is set to sign up for two LNG carrier newbuildings at the Angelicoussis Group's long-favoured shipbuilder Daewoo Shipbuilding & Marine Engineering.
The order was due to be signed during Posidonia in Greece on Wednesday.
Sources following the order with the shipyard said the vessels are priced at $233.7m each.
This would rank as the highest price paid yet for a membrane-type LNG carrier.
It comes off the back of TMS Cardiff Gas paying $230.6m each for two 2026-delivering LNG carrier newbuildings and Eastern Pacific Shipping buying a pair of LNG newbuilding resales for $231.7m each.
But those close to Maran Gas said the Greek owner's vessels are high specification ships, which partly explains the price differential.
On Friday DSME confirmed the orders in an announcement pricing the pair of ships at KRW 585.1bn in total or $230.4m each. The ME-GI ships are scheduled for delivery in the first half of 2026.
These latest orders swell Maran Gas' fleet to 56 LNG carriers, 11 of which are on-order newbuildings.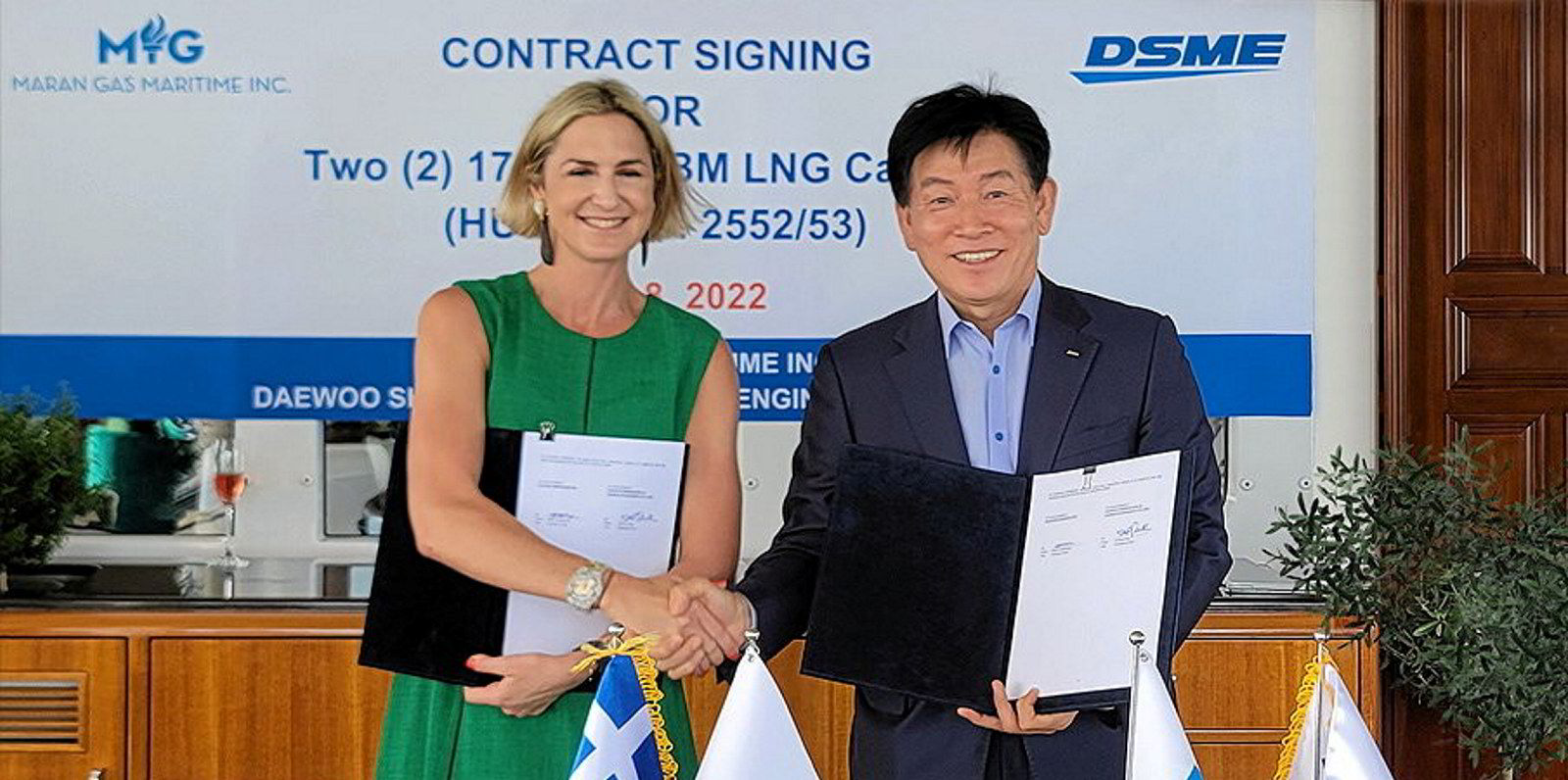 According to Clarksons Shipping Intelligence Network the under construction vessels were priced at between $186.5m for the ship ordered in late 2020 to $218.3m for the LNG newbuildings confirmed earlier in 2022.
Slots for LNG carriers are in high demand with all but particularly highly-valued clients able to find even the latest delivering slots in 2026.
Berths are taken up with Qatar's large newbuilding program and the ongoing wave of container ship orders.
Brokers told TradeWinds that shipbuilders are unwilling to broach talk of 2027 delivery positions as these are too far out to cost.
Maran has kept a rolling tally of LNG orders incoming at DSME signing up to six vessels in the period from November 2021 to February 2022.
In its most recent foray, the company declared two optional vessels at the yard in February
These latest two 174,000-cbm vessels are scheduled for delivery in the second half of 2025 with the previous four due in 2024.
All the ships will be fitted with ME-GI propulsion and re-liquefaction systems.
These are the second LNG orders for DSME this week.
On Tuesday the shipbuilder announced it had inked contracts on the first four ships under QatarEnergy's huge LNG carrier berth reservation deal.
The four vessels will be owned by a South Korean consortium of LNG owners led by H-Line Shipping in partnership with Pan Ocean and SK Shipping which is widely dubbed K3.
This signalled the first confirmation by QatarEnergy of its reserved LNG carrier berth slots in South Korea, with two other ships firmed up at Hyundai Heavy Industries and ships incoming at Samsung Heavy Industries.