Evangelos Marinakis' Capital Gas shipowning venture looks set to be a major draw for LNG carrier charterers with requirements for modern tonnage in the months ahead.
The Greek owner is sitting on seven open LNG carrier newbuildings that deliver from 2023 into early 2026.
In four years, it has gone from a new entrant to a shipowner with 14 LNG carriers, all of which were contracted on speculation.
All six delivered vessels are fixed to big names BP, Cheniere Energy and Engie, with Hartree Partners Power & Gas recently snapping up one of Capital's undelivered eight under-construction vessels.
Spyros Leoussis, who is chief commercial officer of listed entity Capital Product Partners, laughingly told TradeWinds that he is — so far — resisting all approaches on the remaining six open vessels.
Capital rocked the market with its last two newbuildings snatching early 2026 slots at its favoured LNG shipbuilder, Hyundai Heavy Industries, priced at an eye-popping $240m each — a figure that has since been superseded.
Leoussis said the orders "made sense", with 2026 looking mostly sold out and prices likely to rise further.
He said the company is not driven by project economics on its ships.
Read the LNG Business Focus e-paper
Newbuilding capacity questions, a dramatic turnaround for floating storage and regasification units, diverging performances among ship types, contrasting strategies of two major shipowners and why shipping needs to tackle methane emissions. Lucy Hine takes a look in TradeWinds' annual LNG business focus.
"We have a very strong sponsor and parent company and our decisions are not driven by finance," he said. "If it makes commercial sense, we will do it.
"Our view is that the market for [LNG] newbuildings will balance at six-figure numbers for long-term charters of seven to 10 years," adding that this is supported by interest rate rises and shipbuilding prices.
Marinakis' LNG baby has made a name for itself by pouncing on berth slots speculatively and appearing to give something of a body swerve to the traditional tender business.
But Leoussis assured TradeWinds that Capital Gas — which at one point was seen competing for Shell's newbuilding business — also participates in tenders and is "commercially flexible".
"Our business model is that we prefer always to have a vessel available rather than built for projects," he explained.
"Our pricing reflects what we think our assets are worth. Probably there is a differential between us and other participants in the market. We have a different risk appetite."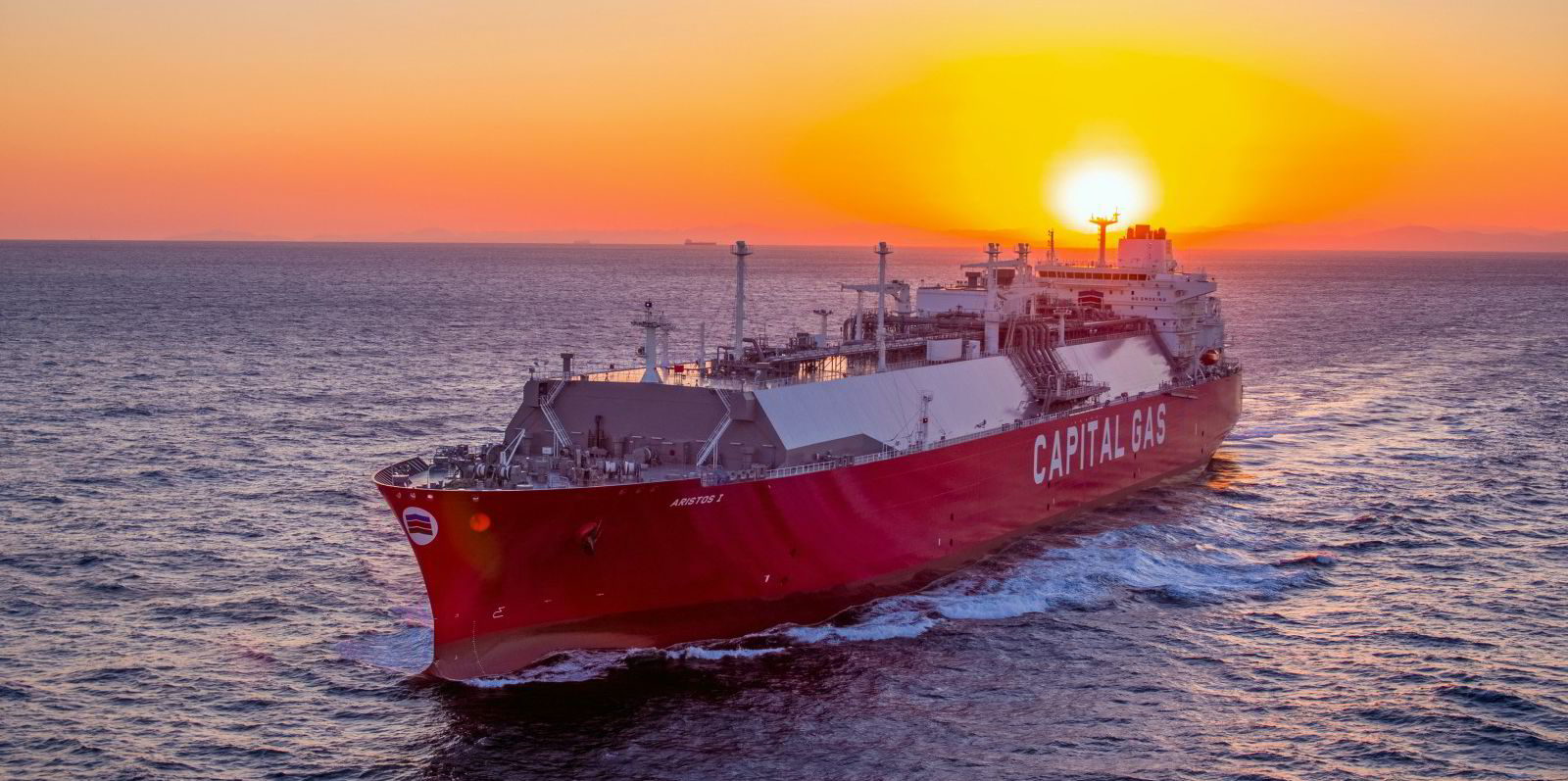 Capital has also been bidding on resales and holding discussions with Chinese yards on LNG newbuildings.
"We are always scanning the market for the right opportunities, and we will be among the first ones to react when those opportunities become available," Leoussis said. "We have proven that we are very quick in reacting."
Leoussis, who joined the Capital group from Qatari shipowner Nakilat three years ago on the back of the company's LNG expansion, said one of the main drivers for Capital's initial investment with four LNG newbuildings in 2018 was the low shipbuilding prices — at that time around $185m for high-specification vessels.
In addition, naval architect Leoussis said Capital felt the design of LNG carriers had reached a "technological plateau" and saw strong market fundamentals for LNG.
"We see LNG as being the transition fuel going forward," he said, highlighting Capital's move to buy four LNG dual-fuel aframax tankers formerly controlled by Russian shipowner Sovcomflot.
"We have an ESG [environmental, social and corporate governance] strategy and LNG is a big part of it."
Leoussis said Capital wants to expand in the market.
He pointed to Marinakis' moves into tankers and later container ships.
"I think currently LNG is a big segment in the group's fleet and definitely something we believe will grow in the future and will add significant value to the company."
He said Marinakis follows the business closely on a daily basis. "This is one of the biggest advantages, as he has a very unique perspective on commercial issues, and that has been the key driver for the company."
So when will Leoussis give in to charterers' approaches?
He said Capital is seeing huge demand from new projects and also those looking at fleet replacement.
It has three vessels delivering in 2023, three in 2024 and two in 2026.
But he said Capital wants to get a bit closer to these delivery dates in an effort to optimise the commercial structures on these ships.
Capital Gas: LNG carrier fleet
Vessel
Capacity (cbm)
Delivery
Charterer
Charter expiry
Aristos 1
174,000
2020
BP
November 2027*
Aristidis 1
174,000
2021
BP
January 2028*
Aristarchos
174,000
2021
Cheniere
March 2025
Attalos
174,000
2021
BP
November 2029*
Adamastos
174,000
2021
Engie
October 26
Asklipios
174,000
2021
Cheniere
February 25
Asterix 1
174,000
2023
Hartree
5 years + options expires January 2032
Amore Mio 1
174,000
2023
charter free
Axios 11
174,000
2023
charter free
Aktoras
174,000
2024
charter free
Assos
174,000
2024
charter free
Apostolos
174,000
2024
charter free
Not yet assigned
174,000
2026
charter free
Not yet assigned
174,000
2026
charter free
* Including the first two options (total four years per vessel).
Source: Capital Product Partners/Clarksons Shipping Intelligence Network