Sofar Ocean Technologies came to shipping as an outsider.
About the Green Seas First Movers report
This story is part of a TradeWinds Business Focus exploring shipping companies that are early adopters across a range of green shipping technologies and fuels.
Co-founded by chief executive Tim Janssen, an oceanographer by training, the San Francisco technology firm started out with an effort to help close the massive gap in information about the ocean.
"There's like 10 orders of magnitude difference between the amount of data that we as humanity are collecting every year, which is about a trillion gigabytes, versus what we're gathering from the ocean," he told TradeWinds.
The outfit developed what it calls spotter buoys that are spread throughout the world's oceans, collecting data on waves, wind, sea surface temperature and barometric pressure in real time.
Janssen said the company realised that shipping would immediately benefit from this enhanced information on ocean conditions, building its Wayfinder platform to combine spotter buoy data with weather models and vessel data to help operators reduce fuel costs and maximise profits.
Singapore bulker owner Berge Bulk is a key early user of the platform.
At the start of Sofar's work with the company, the platform's customer application did not look as it does today, and it took several months before vessels began adhering to Sofar's voyage guidance.
Wind in Berge Bulk's sails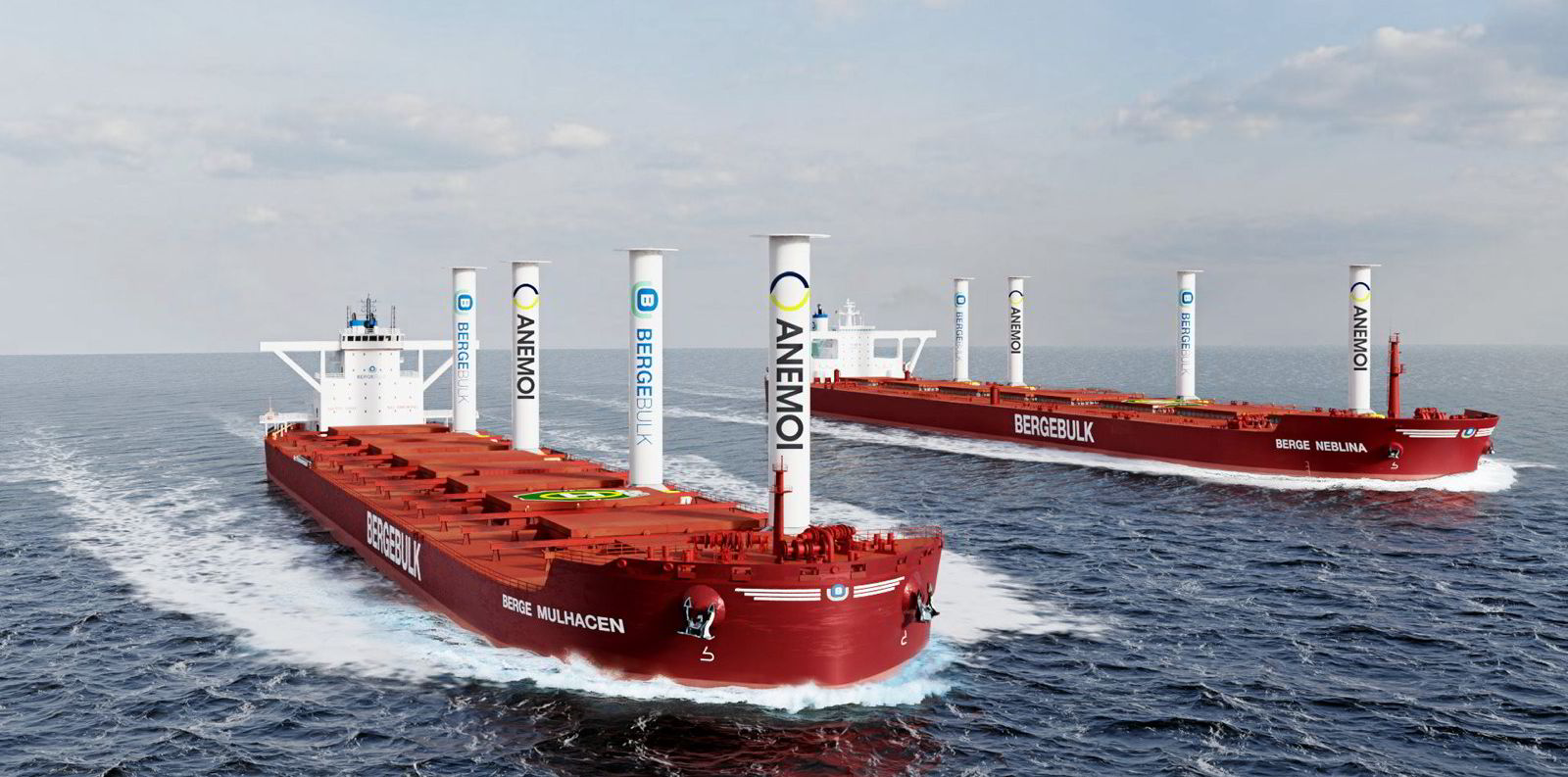 An image from Berge Bulk shows how Anemoi Rotor Sails will look on two vessels. Photo: Berge Bulk
James Marshall-led Berge Bulk is also among front runners in wind propulsion.
As TradeWinds has reported, the bulker owner is gearing up to install WindWings sails developed by BAR Technologies on a 210,000-dwt bulker and rotor sails built by Anemoi Marine Technologies on two other ships.
The company previously piloted the use of kite sails on a vessel.
"Now … the fleet that we are routing for them has exceptional adherence," Janssen said.
Presentation slides seen by TradeWinds show that the shipowner has seen 18.1 tonnes of average fuel savings per voyage from Sofar route changes, and 4% to 7% cost savings from optimised revolutions per minute guidance on benchmark iron ore shipping routes.
Janssen said that, depending on the ship type, vessels can achieve between 3% and 5% savings on optimised routes compared to baseline voyage strategies that operators would have used without the system.
Vessel and voyage optimisation that has been primarily a tool for saving money on fuel is becoming increasingly important as new and upcoming regulations challenge shipping to cut its greenhouse gas emissions.
Janssen said optimisation platforms will be key to compliance with the International Maritime Organization's Carbon Intensity Indicator (CII), which rates ships based on their operational emissions.
The executive said vessel operators will have to figure out the costs of shooting for one score over another when the scores are calculated at the end of each year, and then translate into decisions on particular voyages on particular days.
"You cannot disconnect voyage optimisation from CII outcomes," he said.