Japan's national offshore wind farm project development is picking up pace as the country races towards its target of installing 30 GW to 45 GW of offshore wind power by 2040.
The country is coming late to the party and has been leaning heavily on technical and commercial experience from abroad.
But, local alliances are also being forged as Japan builds up its offshore renewable energy capability.
It is opting for the largest class of wind turbines to help it move quickly to its renewable energy targets.
National push
In October, to meet the demand for larger wind turbine installation vessels, Japanese construction company Shimizu Corp took delivery of the 28,000-gt self-elevating platform (SEP) vessel Blue Wind from shipbuilder Japan Marine United (JMU).
The project is viewed as a major step forward for the development of Japanese wind farm installation capability.
Although the vessel design incorporates Western engineering and technology, it is essentially the largest all-Japanese commercial venture involving a national owner, shipbuilder, classification society and operator in the offshore wind sector.
Built at a cost of about ¥50bn ($334m), the Blue Wind is the largest class of SEP vessel and has the capability to install 8 MW and 12 MW ultra-large wind turbines. It will initially be employed in a development project in Ishikari Bay in Hokkaido, where it will install 14 turbines of 8 MW.
The vessel will be operated by Fukada Salvage & Marine and certified by ClassNK.
Shimizu is hopeful that the Blue Wind will maximise the efficiency of wind turbine installation.
"As wind turbines and wind farms become bigger, the performance of the SEP vessel used for construction will have a significant impact on the construction period and costs. For this reason, offshore wind farm developers in Japan and overseas have high expectations for our SEP vessel," the company said.
Shimizu also has a commercial agreement with Fred Olsen Windcarrier but that is for the operation of the vessel outside Japan.
JMU has emerged as Japan's main builder of SEP vessels after delivering the country's first 2,400-tonne jack-up multipurpose SEP ship — the CP-8001 — to Penta Marine from its Kure yard in 2019.
Shipyards are now adding to their experience in the sector.
The same yard is currently building an SEP vessel with lifting capacity of 1,200 tonnes for a partnership between Obayashi Corp and Toa Construction Corp for delivery next year under ClassNK classification.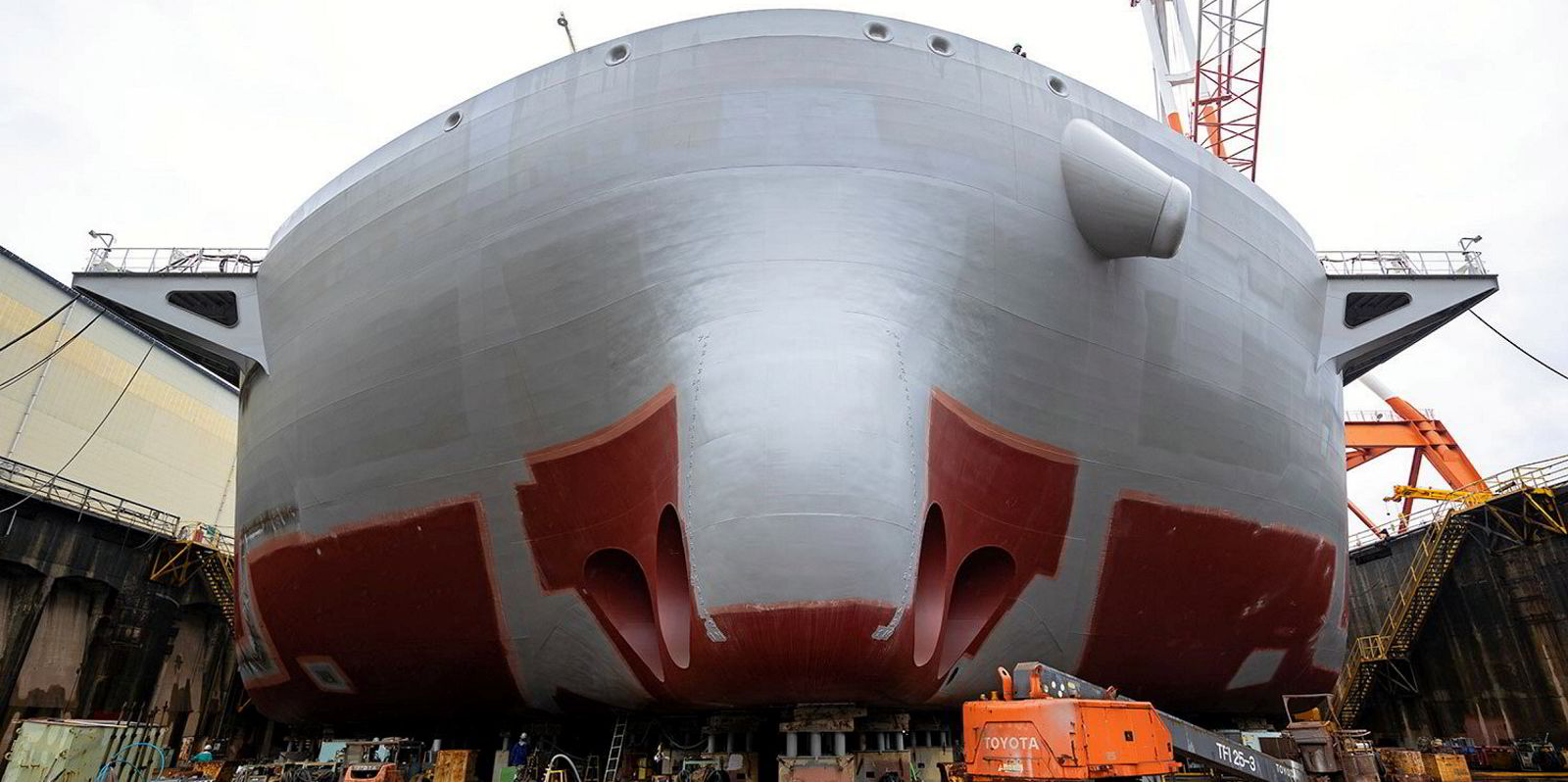 In other projects involving Japanese yards, K Line Wind Service — a K Line subsidiary — has tied up with JMU, Nihon Shipyard and Toa Corp to commercially develop floating wind turbines.
Imabari Shipbuilding is also building a 3,200-gt prototype vessel called Power Ark to transport wind farm power, stored in batteries, to the shore side for the PowerX project. The ship will be ready in 2025.
PowerX already is marketing modular electrical vehicle fast-charging units, known as PowerX Hypercharger, which will eventually use the shipped wind farm power.
Japanese flag condition
K Line Wind Service is also getting into wind farm installation vessel operation through a tie-up with Japanese offshore construction company Penta-Ocean Construction.
There is a Japanese flag requirement for vessels operating in local wind farm projects. K Line Wind Service has experience in both switching non-Japan-flag vessels to the national flag, and operating Japanese-flagged ships.
Similarly, NYK Line has signed a memorandum of understanding with Dutch company Van Oord to own and operate Japan-flag SEP vessels on Japanese wind farm projects from this year.
Mitsui OSK Lines is operating the 800-tonne crane capacity SEP vessel Seajacks Zaratan (built 2012), on hire from UK-based Seajacks, to complete a series of installations in the Akita Noshiro wind farm project offshore Akita Prefecture in northern Japan.
MOL is aiming to expand in the offshore wind farm business through its shareholding in US-based Eneti, which owns SEP vessel operator Seajacks.
Under Japan's Electricity Business Act, ClassNK has also been able to expand its business mainly through offshore wind farm certification.
It has been involved in all the ongoing offshore wind farm projects in Japan, including the Ishikari project, Akita Noshiro project and the Goto project.
ClassNK is offering additional services, such as the classification of a floating wind turbine, insurance warranty surveys, type certification for wind turbines, manufacturing evaluation of wind turbine supporting structures, and Global Wind Organisation training certifications.