France's CMA CGM made a splash in LNG-fuelled shipping when, in 2020, it rolled out the largest container ship powered by natural gas.
About the Green Seas First Movers report
This story is part of a TradeWinds Business Focus exploring shipping companies that are early adopters across a range of green shipping technologies and fuels.
But even LNG has garnered greater scrutiny as a shipping fuel because of the climate impact of methane emissions, and the Rodolphe Saade-led liner operator has pointed to a greener possibility.
In the future, the ships can be fuelled with liquefied biomethane, also called bio-LNG, made from biological waste. Further in the future, liquefied e-methane or e-LNG, a synthetic fuel made using renewable electricity, could also join the mix.
The Marseilles-based company highlighted biomethane among the goals of its $1.5bn Fund for Energies, which it launched in September.
Among the investments that it has already made, CMA CGM teamed up with energy company Engie to co-invest in the Salamander project, which will produce up to 200,000 tonnes of biomethane each year.
Planned for the French port of Le Havre, the plant will begin operations in 2028.
CMA CGM also said it is involved in a planned plant in Amsterdam that will produce bio-LNG. The liner operator has said that the planned facility, led by Titan and BioValue, will produce enough of the fuel to power seven of the French liner company's ships for a year, when it starts 2025.
Titan has yet to confirm CMA CGM's role.
The plant will start operations in 2025, with a plan to ramp up to its nameplate capacity of 200,000 tonnes per year.
CMA-CGM's methanol bet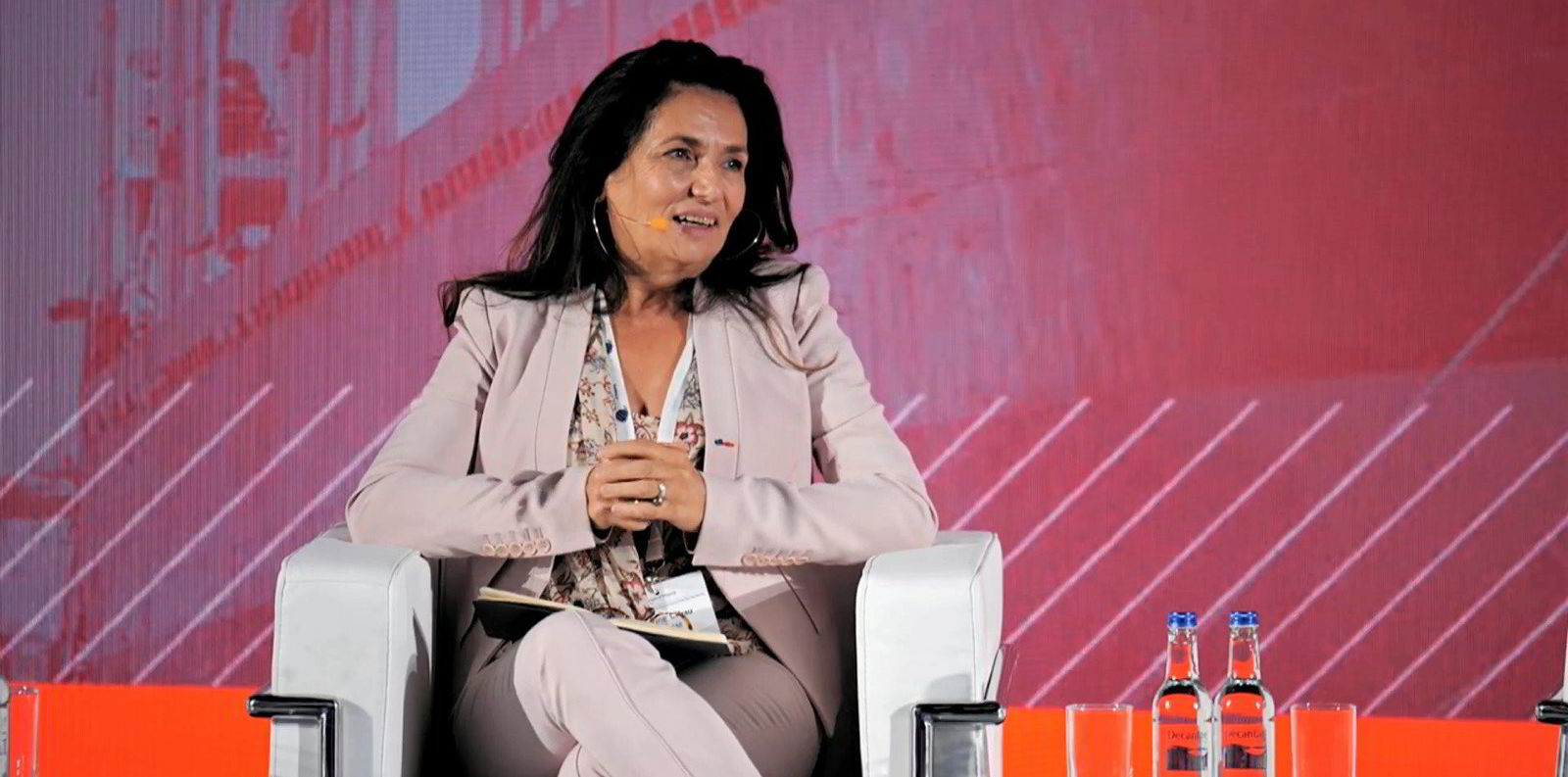 Christine Cabau Woehrel is executive vice president of assets and operations at French liner giant CMA CGM. Photo: ICS
When it comes to alternative fuels, CMA CGM has not put all its eggs in the LNG basket.
TradeWinds reported in February that the company is investing $2bn to build a series of methanol-fuelled container ships at Hyundai Samho Heavy Industries in South Korea.
The French liner giant's order reportedly involves a dozen 13,000-teu newbuildings.
And the company's CMA CGM Fund for Energies has supported construction of the Neoliner, which will be the first ro-ro powered by sail.
Roel Engels, a project manager at Titan, said the Amsterdam plant is a key stepping stone in the fuel supplier's efforts to build its own capacity to provide sustainable liquefied biomethane as a shipping fuel.
"We think it is one of the best contenders in the alternative fuel space," he said, pointing to several factors that support the case for liquefied biomethane.
LNG, he said, is already a good starting point, with lower emissions than conventional marine fuels.
"You can use it as a drop-in fuel in infrastructure that already exists … that will allow you to make any blend you want to make a gradual transition towards greener supply," he said.
Liquefied biomethane then provides a step towards carbon neutrality, with a future switch to e-LNG taking shipping further down that journey.
Even with the potential for renewable forms of the fuel, LNG has come under scrutiny because of methane emissions across the supply chain.
But Engels said engine improvements are addressing methane slip from ships and Titan is working to minimise fugitive emissions of the greenhouse gas in the supply chain of its plant.