Seaspan Corp has quickly established itself as the leading tonnage provider of ships in the 7,000-teu containership segment.
The Hong Kong and Vancouver-managed company announced an order for 10 such ships late last month.
This lifted its portfolio of 7,000-teu ships on order to 25 vessels — close to half of the global orderbook.
The strategic expansion is testimony to chief executive Bing Chen's belief that these designs could emerge as the future workhorse of the midsize container segment.
About 51 ships of 7,000 teu are on order globally, including the 10 ordered by Seaspan, according to Clarksons' Shipping Intelligence Network.
Chen believes these are well positioned to replace the ageing global fleet of 4,000-teu to 9,000-teu ships.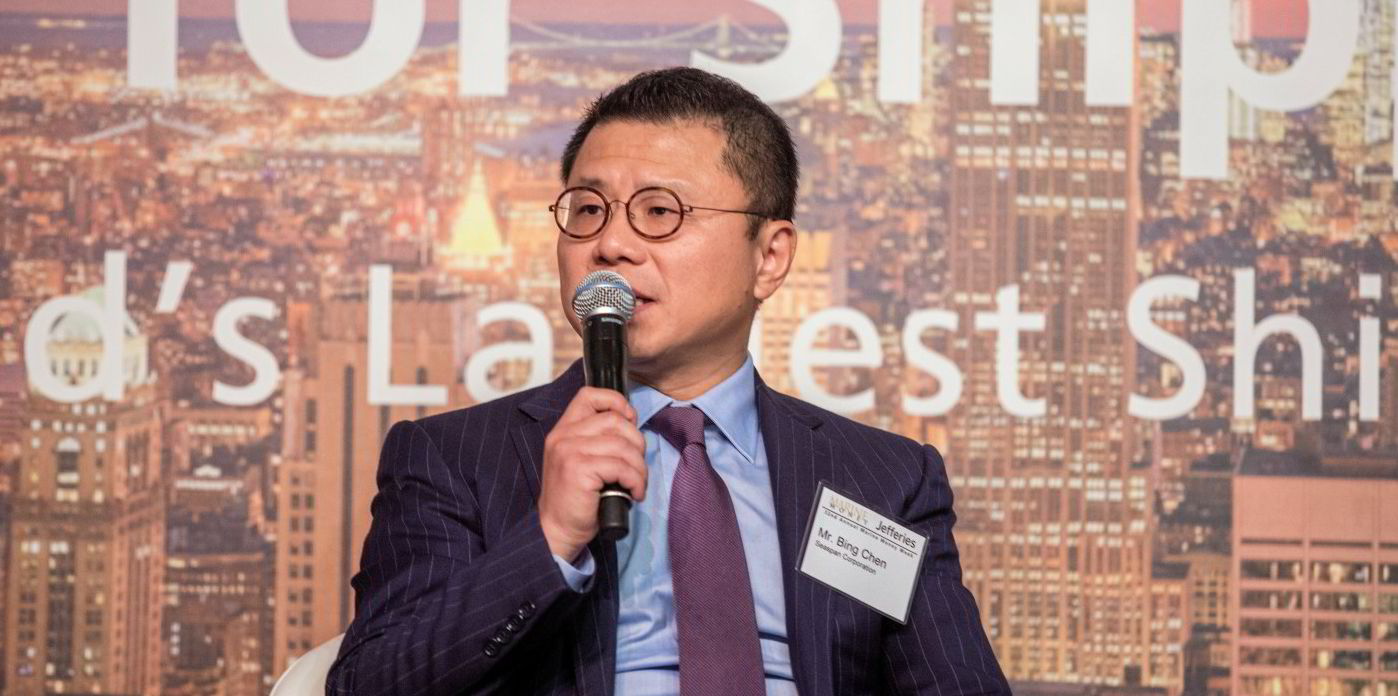 "There's a broader, stronger demand in the market for this segment and we are obviously the leaders in this market," he said.
He added that the ships are versatile enough to serve smaller ports, but large enough to meet global demand for tonnage.
He said they are also needed to serve short-haul routes, such as the intra-Asia trades, and can operate on the transpacific.
Seaspan has opted for two compact designs of 7,000-teu ships, which are 275 metres long and 42.8 metres wide.
Ten are SDARI Sealion 7000 types for charter to Japanese operator Ocean Network Express (ONE).
These to be constructed at Shanghai Waigaoqiao Shipbuilding at a total cost of $860m.
Fifteen are LNG-powered versions of Seaspan's in-house SAVER 7000 Cleanblue design to be built at Yangzijiang Shipbuilding for charter to Israeli carrier Zim.
Focus on LNG
Chen said the decision to construct the LNG-fuelled vessels came after talks with its liner shipping customers.
"There's no real black-and-white, clear path towards zero-carbon container shipping," he said. "We know it's going to get there at some point, but we don't know how.
"So we must start with what is commercially viable today. LNG fits that profile and provides the carbon reduction."
Chen acknowledges that LNG is a bridge fuel, and confirmed that Seaspan is looking at other technologies and alternative fuels.
"We also believe that there's more than one path to carbon neutral and we work with all parties to explore the different technologies," he said.
The orders for 25 ships of 7,000 teu puts further daylight between the world's largest containership lessor and its shipowning competitors in terms of fleet size.
With 1.1m teu on the water, Chen said the Seaspan fleet is 2.6 times larger than industry average.
After delivery of the newbuildings, it will be 3.4 times larger.
Its nearest competitors are Greek-owner Costamare with 579,000-teu of capacity over 80 ships, and Japan's Shoei Kisen Kaisha 563,000-teu over 60 ships, according to Clarksons Research data.
Chen also highlights the importance of the age of the Seaspan ships and charter contract lengths.
Seapan's fleet is half the age of its peers — a ratio, he said, that will drop to about one-third once fully delivered.
He added that the company also has some of the longest contract terms, averaging 7.2 years with a fully delivered fleet, compared with an industry average of three years.
Seaspan's fleet is larger than the average, with more than 80% of its vessels over 10,000 teu.