On a bright sunny morning outside AP Moller-Maersk headquarters, a choir began singing Bob Dylan's classic track The Times They Are a-Changin'.
The song was chosen as the backdrop to the naming of the 2,100-teu Laura Maersk (built 2023), which chairman Robert Maersk Uggla heralded as the first container ship designed to sail on green fuel.
While a small vessel, its "importance and impact transcend its size", Uggla said after the choir finished In Denmark I Was Born, written by national poet Hans Christian Andersen.
Maersk's first methanol-powered container ship got off to a high-profile start today as its godmother Ursula von der Leyen, president of the European Commission, wished the vessel "Godspeed".
She named the vessel after Maersk's first vessel, Laura, which sailed with a coal-fired steam engine.
This is "an industrial revolution of a green character", Uggla said.
He added that two and a half years ago, some saw LNG was the way forward, but soon realised methane slip is damaging.
He said Maersk had opted for methanol as the way forward and "this very ship has become the catalyst of change".
"We need the support of many customers, but the industry needs regulatory frameworks," Uggla said.
About 170 ships are being built or retrofitted to sail on methanol — not just in the container sector.
"Hopefully, this is the beginning of a green revolution of our global supply trades," Uggla added.
He said that the most important question is not how — but the speed at which green fuels are available — whether we will do it in time.
"We must jointly address the next challenge," he said. By 2030, Maersk alone would need five million tonnes of green fuel. He said the Laura Maersk and its successor were an acceptance that "we must make sure these investments happen".
First mover
The delivery of the vessel was an "inflexion point" for an entire industry, Maersk chief executive Vincent Clerc said.
He added that the vessel is a crucial first step for the shipping industry but may encourage the way forward for other hard-to-abate industries.
Now there are 100 methanol container vessels in the next few years, alongside other fuel choices and technologies.
"We are entering a phase where multiple technologies can exist side by side," Clerc said.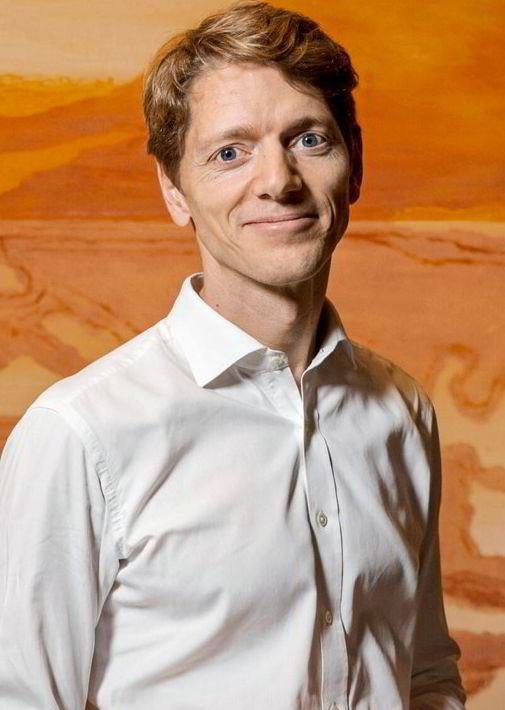 Clerc said the move made possible with the collaborative support of partners had turned "a vision into reality".
He added that the backing of customers is vital. Maersk has been offering green fuels in various forms since 2013 and these have been supported by shippers.
"Neither we nor others can afford complacency while waiting for other solutions," he said.
That is why Maersk would take delivery of bigger vessels in the coming years — "this time as a first mover".
Maersk has 24 additional methanol vessels on order for delivery between 2024 and 2027, and has a policy to only order new ships that come with a green fuel option.
Just the beginning
"We are acutely aware this is just the beginning, ahead lie significant challenges, but as with significant advances, it starts with one [mover]," Clerc said.
Maersk received plaudits from Von der Leyen, who flagged the goals of the European Union's Green Deal to make the shipping sector cleaner and more sustainable.
"Not only did Maersk see the direction of travel, but pioneers like you are shaping the economy of the future," Von der Leyen said.
She added that the next priority is to procure green fuels at scale and for the EU to back other green fuels such as hydrogen, as well as protecting first movers such as Maersk.
"This ship, this moment, embodies Europe's decision to fight against climate change," she said. "Let's do [take] the action that is necessary."