Vroon is set to complete its delayed debt restructuring with new leadership and a sale of its 40 offshore support vessels.
A group of banks will take control of the private Dutch shipping group in a debt-for-equity swap that will see the founding Vroon family move out.
Vroon will then focus on product tankers, high-heat tankers, emergency response & rescue vessels and livestock carriers.
Debt will be cut from almost $1bn to $350m, Vroon said in January last year.
Since then, the scheme has been delayed by market and geopolitical developments.
"Restructuring is necessary because of a debt level due to consecutive economic setbacks that is simply too high to be paid off through normal operational and financial performance," Vroon said on Tuesday.
The company is currently enjoying positive cash flow and a sufficient level of liquidity , it added, but the unsustainable high debt still requires action.
The "new Vroon" will have a solid financial basis with a long-term perspective for its fleet of 60 vessels, the company believes.
All 18 banks have now signed up and the deal will close by 31 March. Last January, 14 lenders had come on board.
"Given its focus, the new Vroon needs a renewed strategy. It makes sense to start this new era under new leadership," Vroon said.
CFO stepping up
As a result, chief executive Herman Marks has decided to step down after 22 years with the company.
Finance chief Rob Schuyt will take over on an interim basis.
"The company is thankful for the many years of leadership Herman has brought to Vroon," the owner added.
Vroon also said: "In an orderly process we will explore several options in the upcoming months to wind down our offshore fleet of 40 vessels."
It will be business as usual and the process will be completed within 18 months.
Robert Day, head of offshore at VesselsValue, told TradeWinds there is never a good time to go through a bank restructuring, but after the offshore sector recovery over the past year, Vroon might find it avoids some of the distressed prices seen in other fleet sell-offs.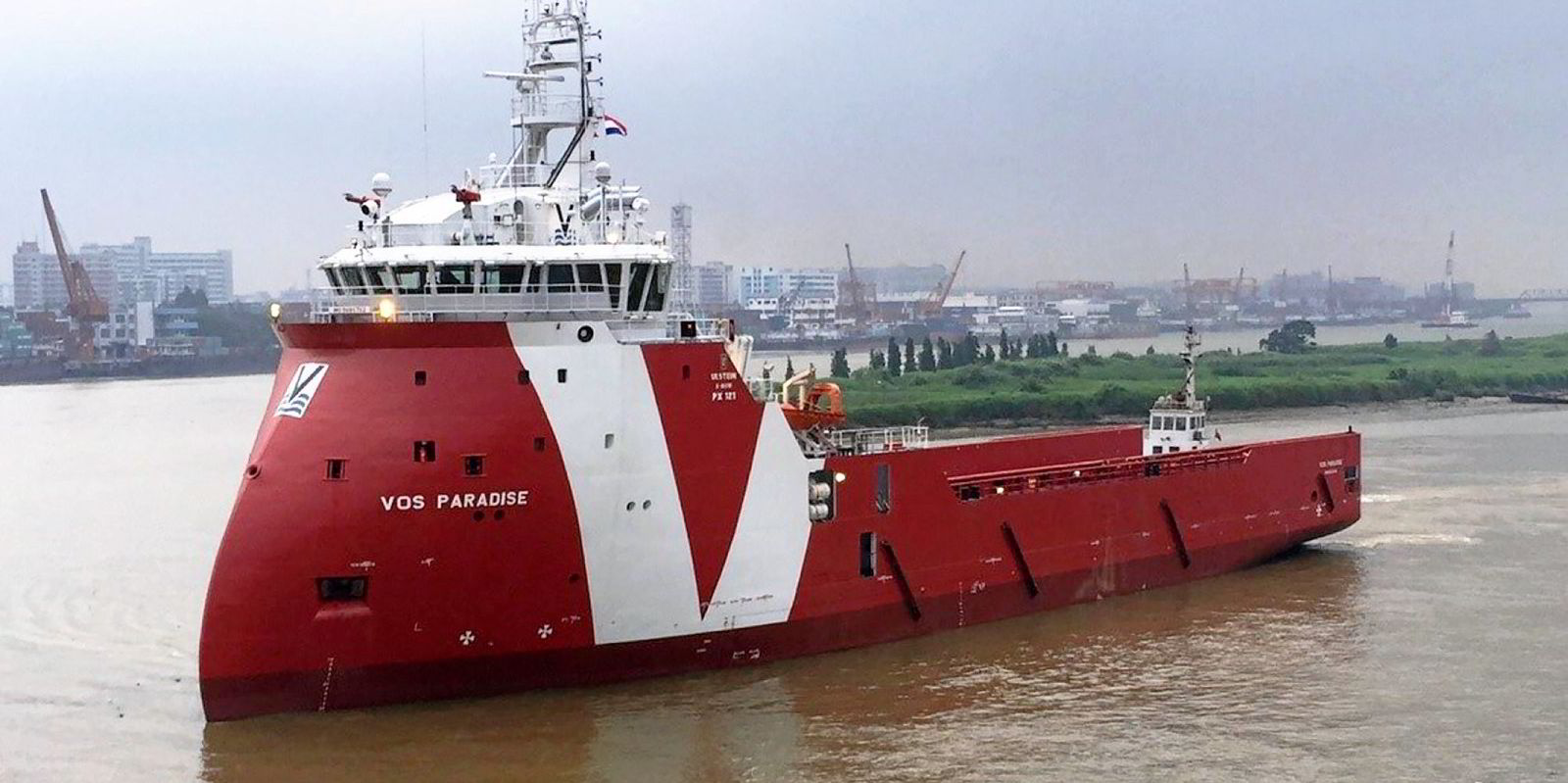 "There are buyers out there. Tonnage on the books is what people want," Day said.
It remains to be seen whether one buyer will come in and scoop up the lot, as US giant Tidewater did with the Swire Pacific Offshore fleet.
Day does not believe the sales will affect asset values, as demand remains strong.
There are no newbuildings on order and no suitable ships left to bring out of lay-up.
He sees the fleet of smaller anchor-handling tug supply (AHTS) units appealing to Middle East or South East Asian buyers rather than North Sea operators.
Lucrative sales?
The 17 platform supply vessels are rated as worth $182m by VesselsValue, the 16 AHTSs at $84m and four support ships at $60m.
There are also five wind installation, service operation and crew transfer ships.
Vroon has been selling vessels since 2016, including boxships, bulkers and car carriers, but found itself still significantly over-indebted.
It stopped repaying debt in June 2020 and finally agreed on the new restructuring term sheet with its banks in November that year.
The company's previous refinancing in 2018 involved $1.3bn of debt extensions into 2021.
Fourth-generation owner Coco Vroon stepped down as chief executive at that time.