Twenty-four LNG carriers have exchanged hands during 2022 in deals totalling more than $4bn, making it the busiest year on record for the sale of newbuildings and secondhand vessels.
The bonanza has been boosted by the offloading of at least seven LNG carriers and newbuildings that were previously under the control of Russian shipowner Sovcomflot (SCF Group). Possibly more are in the pipeline or have been concluded.
Affiliates of Idan Ofer-controlled Eastern Pacific Shipping proved a major buyer, snapping up four Sovcomflot vessels and two newbuilding resales originally contracted under the account of a West African trader.
Greek buyers Thenamaris, Alpha Gas and Capital Gas were also out in force, taking seven vessels in total, comprising under-construction vessels and existing LNG carriers.
At least two floating storage and regasification units were committed for sale, with other LNG carriers sold on to serve as the centrepiece for regas projects.
The year also saw the first sale of a floating LNG production unit, with Exmar's small-scale, 0.5 million tonnes per annum Tango FLNG (built 2017) sold to Italy's Eni for deployment to the Republic of Congo.
Fourteen 14 LNG carriers were sold in 2021, bolstered by Qatargas' 10-ship purchase from the Japanese owners it had been working with on long-term time-chartered tonnage. Three vessels were sold in 2020, none in 2019 and two in 2018.
Brokers expect this newfound liquidity in the LNG carrier sale-and-purchase market will continue into 2023, although they question how this sector might develop due to the huge uncertainties in the market.
They said there is interest from Asian buyers for older LNG carriers, and from Middle East parties and others seeking conversion candidates for project business.
In August, TradeWinds reported that producer Nigeria LNG was in the market looking to offload three of seven steam turbine vessels in its existing LNG carrier fleet.
They named Bonny Gas Transport's Moss-type 137,231-cbm LNG Rivers and 137,098-cbm LNG Sokoto (both built 2002) and 137,065-cbm LNG Bayelsa (built 2003) as the ships on offer.
But Nigeria LNG is understood to have been seeking a trio of modern ships to take in as replacement tonnage. Brokers said virtually no ships are available and the sales process on the steamships has not yet progressed.
Malaysian shipowner MISC is also gradually weeding out older tonnage. TradeWinds reported in August that the shipping subsidiary of state energy giant Petronas had put the 137,489-cbm membrane-type Puteri Intan Satu (built 2002) up for sale. Offers were due in that month, but no sale has been concluded.
Back on Russian tonnage, attention remains focused on Sovcomflot's 174,100-cbm La Perouse (built 2020), which is said to be in the process of a sale, although a deal has yet to be finalised.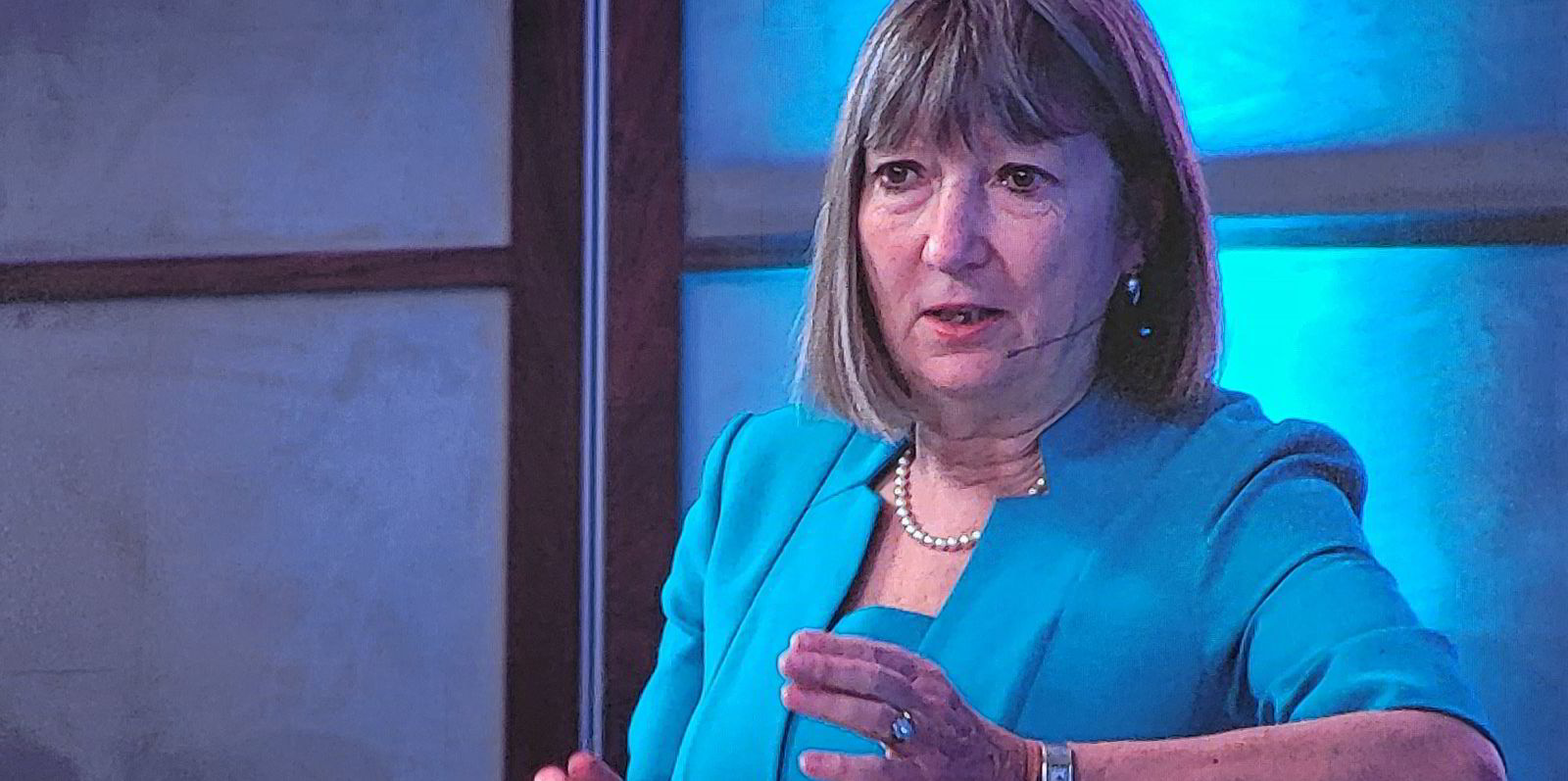 Brokers said 2023's S&P action will most likely centre on what happens in Russia and its war in Ukraine and the incoming Energy Efficiency Existing Ship Index and in particular the annual Carbon Intensity Indicator grades.
One broker described S&P for LNG as traditionally being "always very lumpy" and said it could continue to be hectic or completely die next year.
But Howe Robinson Partners' senior broker on LNG, Debbie Turner, said this marks a new phase for the LNG market.
Speaking at the World LNG Summit & Awards in Athens this month, she said the sector has never really had an S&P business, but now more steam and dual-fuel diesel-electric vessels are appearing for sale — not always openly but often "under the radar".
Sales of LNG carrier newbuildings and secondhand vessels in 2022
Ship name at time of sale (contracting party)
Size (cbm)
Built
Buyer
Price
New name/ owner
SCF Timmerman
174,095
2021
Eastern Pacific Shipping
$200m
Kool Orca/ CoolCo
SCF Barents
174,095
2020
Eastern Pacific Shipping
$200m
Kool Firn/ CoolCo
SCF Melampus
170,200
2015
Eastern Pacific Shipping
$150m
Kool Baltic/ CoolCo
SCF Mitre
170,200
2015
Eastern Pacific Shipping
$150m
Kool Boreas/ CoolCo
HHI Hull No 8196 (Bono Energy)
174,000
2025
Eastern Pacific Shipping
$231.7m
Unnamed, as yet
HHI Hull No 8197 (Bono Energy)
174,000
2025
Eastern Pacific Shipping
$231.7m
Unnamed, as yet
Hyundai Samho Hull No 8105 (Sovcomflot)
174,000
2023
Alpha Gas
$245m
Energy Fidelity
Hyundai Samho Hull No 8106 (Sovcomflot)
174,000
2024
Alpha Gas
$245m
Unnamed, as yet
Hyundai Samho Hull No (Sovcomflot)
174,000
2024
Alpha Gas
$245m
Unnamed, as yet
Gemmata
136,985
2004
Shandong Marine Energy
mid-$30m
Shandong Juniper
Methane Kari Elin
138,209
2004
PT Soechi Lines
mid-$30m
Prima Concord
Golar Tundra*
170,000
2015
Snam
$350m
Independence
170,000
2014
KN — declared purchase option
$153.5m
LNG Unity
154,472
2006
Karpowership
$40m
Karadeniz LNGT Powership Anatolia
Global Energy
74,130
2006
Jovo Energy
BW Singapore*
170,000
2015
Snam
$400m
Tango FLNG**
16,100
2017
Eni
$646.4m
Golar Arctic
140,648
2003
Snam
$288m
Kmarin Emerald
154,983
2007
Thenamaris
Just over $70m
Cool Rider
British Sapphire
155,000
2008
Thenamaris
mid-$70m
Cool Rover
Tristar Ruby
155,000
2008
Thenamaris
mid-$70m
Methane Shirley Elisabeth
145,127
2007
PT Sillo Maritime Perdana
$54m
Golden Isaia
Methane Heather Sally
145,000
2007
Huaxia Financial Leasing
$50m — with sale & leaseback deal
Trader
138,208
2002
Capital Gas
$26m-$28m
Trader II
*FSRU **FLNG