Flex LNG's next available LNG carriers, which do not fall open for another four years, are already the subject of discussions.
Speaking in the New York-listed company's third-quarter results presentation streamed on YouTube, chief executive Oystein Kalleklev said there is "a lot of interest" for those vessels.
He said the earliest available deliveries for LNG newbuildings are now 2027, and at current prices of around $250m per ship and higher interest rates, these would need charters of between 10 and 12 years at rates starting around $90,000 per day.
Kalleklev said Flex can offer more flexibility on the duration of the time-charter.
"We are meeting people, there are tenders in the market for these kind of delivery slots that is why we are also upbeat about re-contracting ships for longer durations at better rates."
Kalleklev, whose famously detailed presentations have previously left analysts almost silent, pulled a new stunt to liven up the webcast.
The effervescent CEO donned a pair of company branded shades and offered a selection of what he later described to TradeWinds as "Flex merch" as prizes for the best question.
Chief financial officer Knut Traaholt then fed these through as the two-man team hit its stride before heading off to catch a flight to New York.
Kalleklev once again batted sideways questions about fleet growth.
And the winner is...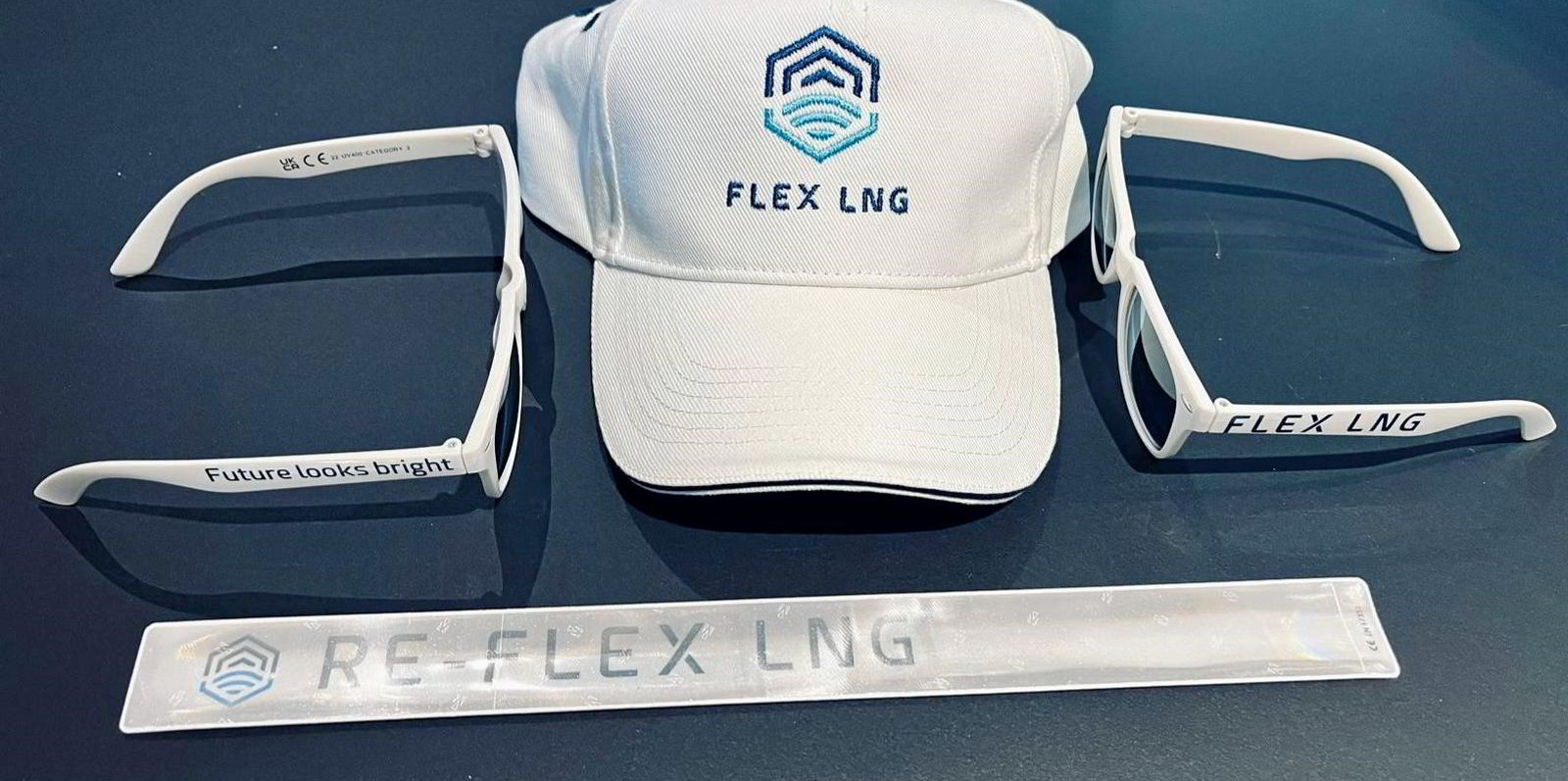 Who won the prize for the top question during Flex LNG's webcast?
This went to Awilco LNG chief executive Jon Skule Storheill for a question about why the LNG and LPG markets are so detached but the Flex and Avance Gas management are the same?
Kalleklev, who is also chief executive of Avance, and wasted no time mentioning the LPG company's upcoming results and urged potential shareholders who want more excitement in their lives and spot exposure to invest.
"We want to be disciplined," he said. "Our focus is not [on] running to the yard."
The CEO said Flex wants to secure employment for its existing ships and not tie up capital for long periods.
While Flex is open to growing the company, Kalleklev said it feels current newbuilding prices are "stiff".
But he said Flex would look at consolidation and could easily double its fleet on its existing platform.
Kalleklev said the winter of 2023 to 2024 could prove more challenging on LNG supply.
He said the big uncertainty is how much of the 35m tonnes of LNG equivalent Russian pipeline gas that has flowed to Europe this year will arrive in 2023.
Kalleklev flagged up the current contango in natural gas prices, which is incentivising the current trend that has seen an all time high of around 40 LNG carriers tied up in floating storage, tightening the spot market.
The CEO said the LNG spot market has been on such a bull run — with rates above all seasonal records and hitting around $500,000 per day — that Flex has had to change the axis on its graph.
Kalleklev said Flex is expecting "muted volume growth" in LNG supply through the next two years but a big ramp up in 2025 and 2026 which is good timing for the ships the company has coming open then.
He sidestepped a question about how plans to use the cash it is raising from refinancing its vessels, saying that for "blue-chip companies" this is the best financing market he has seen since 2014.
He also fielded a question about how involved Fredriksen is with Flex.
The chief executive described him as "the most successful shipping investor of all times" and said he likes the business. "He is a fantastic guy to tap for advice as he has seen everything in the past," Kalleklev added.