Shipowners chartering LNG carriers to US producer Cheniere Energy will soon be required to fit emissions monitoring equipment to their vessels as part of the company's move to provide cargo emissions tags (CE tags) on shipments.
Speaking to TradeWinds during Gastech in Milan, Cheniere vice president of LNG chartering James Allen said nine of a fleet of about 35 chartered vessels now have methane and CO2 emissions tracking technology installed.
Allen said this will now be a requirement for owners chartering vessels to Cheniere.
Cheniere started issuing CE tags for its free-on-board cargoes in the second quarter, under efforts to make emissions reductions across its entire supply chain.
Allen said the shipping team have been heavily involved in the CE tags that are presented with the bill of lading as part of the cargo documentation.
Cheniere managing director Eric Bensaude said the reaction has been "diverse".
Bensaude said buyers have asked for more details on how they are calculated, while others have wanted to know if they need to present the new documentation further downstream.
"I think it just opened their minds to the idea that there are emissions, and they can be quantified," he said. "It is a matter of transparency and I think that's what we've achieved."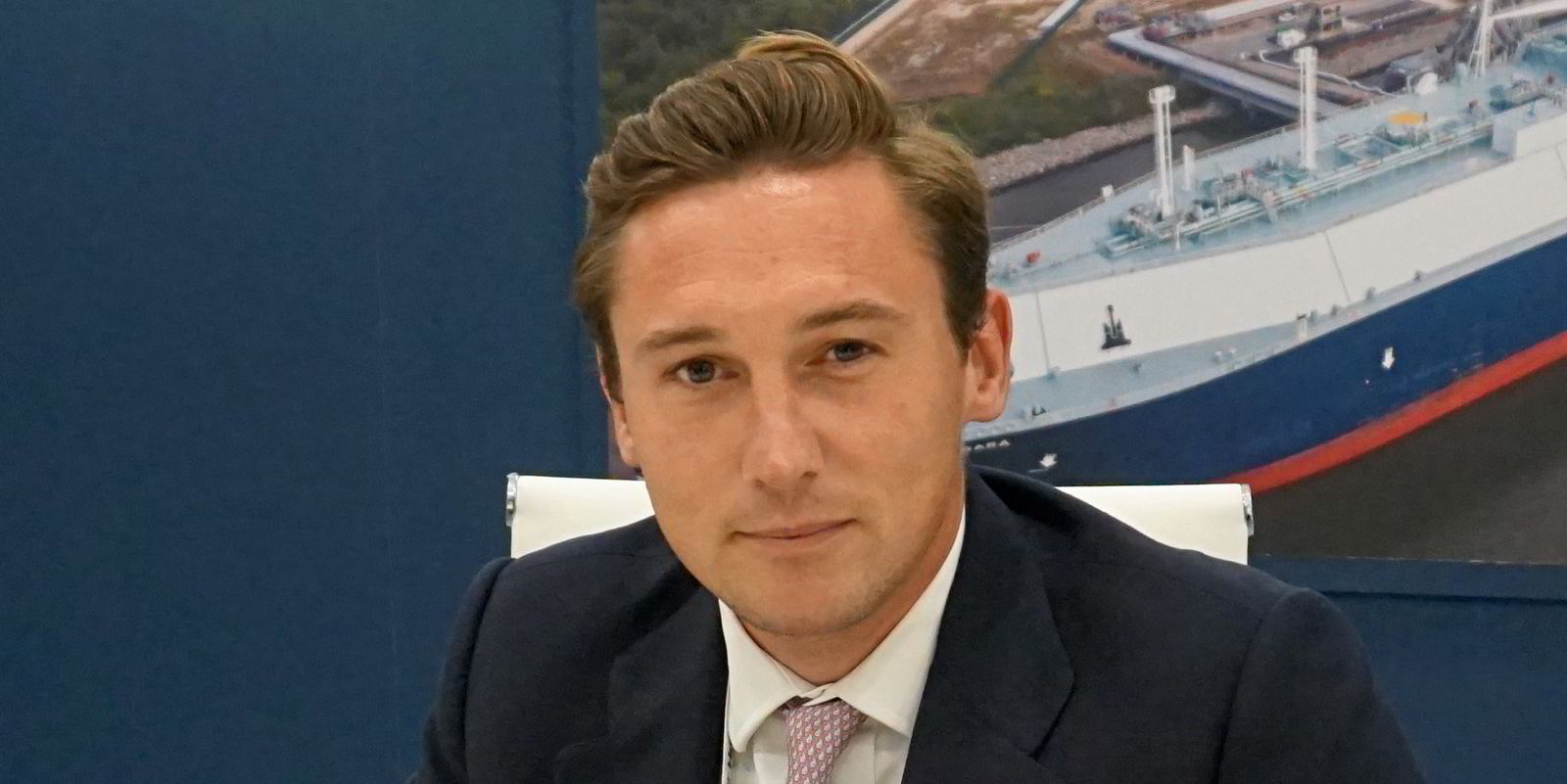 Cheniere chartered in its first LNG carrier in 2015.
Allen said today's fleet will expand to between 35 and 45 vessels once newbuildings are delivered, with the number dependent on decisions over optional periods on current ships.
Cheniere has moved fast. In 2020 and 2021, the company hoovered up open existing and newbuilding two-stroke LNG tonnage — some of it speculatively ordered — on three to five-year deals.
Allen said the company saw the emissions horizon and the newbuilding space tightening. The only way to make a difference quickly at the time was to take the best ships while the market was relatively soft, he said.
"We're fortunate in being a fairly big producer; we have some foresight on the market. We're fortunate to get the ships we got."
Today, Cheniere has time-chartered modern tonnage from shipowners that include Alpha Gas, Capital Gas, Celsius Tankers, Dynagas, Flex LNG, GasLog and TMS Cardiff Gas.
Allen said Cheniere has been focused on the X-DF, ME-GI and ME-GA propulsion systems.
He acknowledged that there is more methane slip with the X-DF engine.
Allen detailed that the company was involved in the decision to switch the engine type from X-DF, which was the choice for the first two of Dynagas' trailblazing 200,000-cbm Cheniere-chartered newbuildings, to ME-GA for the remaining seven under-construction vessels.
Allen said putting the emissions monitoring technology on board vessels is another step towards greater transparency and a better understanding of how using different voyage parameters and instructions can optimise fleet emissions.
Cheniere's four-person shipping team with 10 more staff on operations is run out of London.
Bensaude said that unusually the trading and chartering desks sit next to each other and have a strong connection.
Cheniere's operators not only deal with commercial contracts but also manage the shipping operations and the customer relationship for the commodity. "It makes communication very fluid and makes us very nimble," said Bensaude.
Cheniere covers the shipping of about 10 million tonnes per annum of LNG.
Around half of this is for its long-term sales for which the company takes vessels on 10-year charters with multiple options to protect the contracts, Allen said.
The other half is the volumes controlled by Cheniere Marketing International, which demands more shipping and is where the company locks in its three to five-year charters to protect its exposure should the market change.
In addition, Cheniere will charter in spot tonnage.
The company has also been on relets this year as more of its cargoes shipped the shorter distance to Europe rather than Asia.
All the LNG shipping length sits with the portfolio players today, Allen said. "We prefer to keep control as much as we can but obviously when the shipping market is strong and we have the length then there's a conversation that happens between trading and shipping."
So will Cheniere ever become a shipowner?
Bensaude thinks not. "We are an infrastructure company," he said.
Allen pointed to Cheniere's focus on emissions reductions and the difference between owners and charterers. "Being on the chartering side and whilst the market supports the seven and 10-year charters we have the ability to improve our technologies and therefore our emissions," he said.