US-listed New Fortress Energy expects to be able to supply some 7 million tonnes per annum of LNG by the end of 2024 as it brings volumes online from up to six planned floating LNG (FLNG) production units.
Speaking in third-quarter results, call chief financial officer Chris Guinta said the company's initial "Fast LNG" unit, FLNG 1, is scheduled to achieve mechanical completion on 17 March.
The unit will consist of three converted jack-up rigs, one of which will house the gas treatment equipment, another the liquefaction plant with a smaller accommodation and utilities module on the third rig.
Each of the topside units will be between four and seven levels high, he said, with the larger ones each weighing over 5,000 tonnes.
He said a commissioning team has been hired to complete as much work as possible at the yard. All subsea tie-ins, pipelaying, mooring and riser work finished, so operations can start immediately the unit is on site. Simulation work for operations is also underway.
Guinta said the first unit, which will be located off Altamira in Mexico and use pipeline gas to produce LNG, will come online in May or June 2023.
A second is being targeted at a site off Louisiana where New Fortress plans to deploy two units. The company hopes to receive its permits for this development in the first half of 2023.
New Fortress is also working on a third site for FLNG at Lakach off Mexico on which it is partnering up with Mexican energy company Pemex. The company is targeting its FLNG 4 — a conversion of a Sevan drillship — for this location.
The remaining five will be "turned on" before the end of September 2024.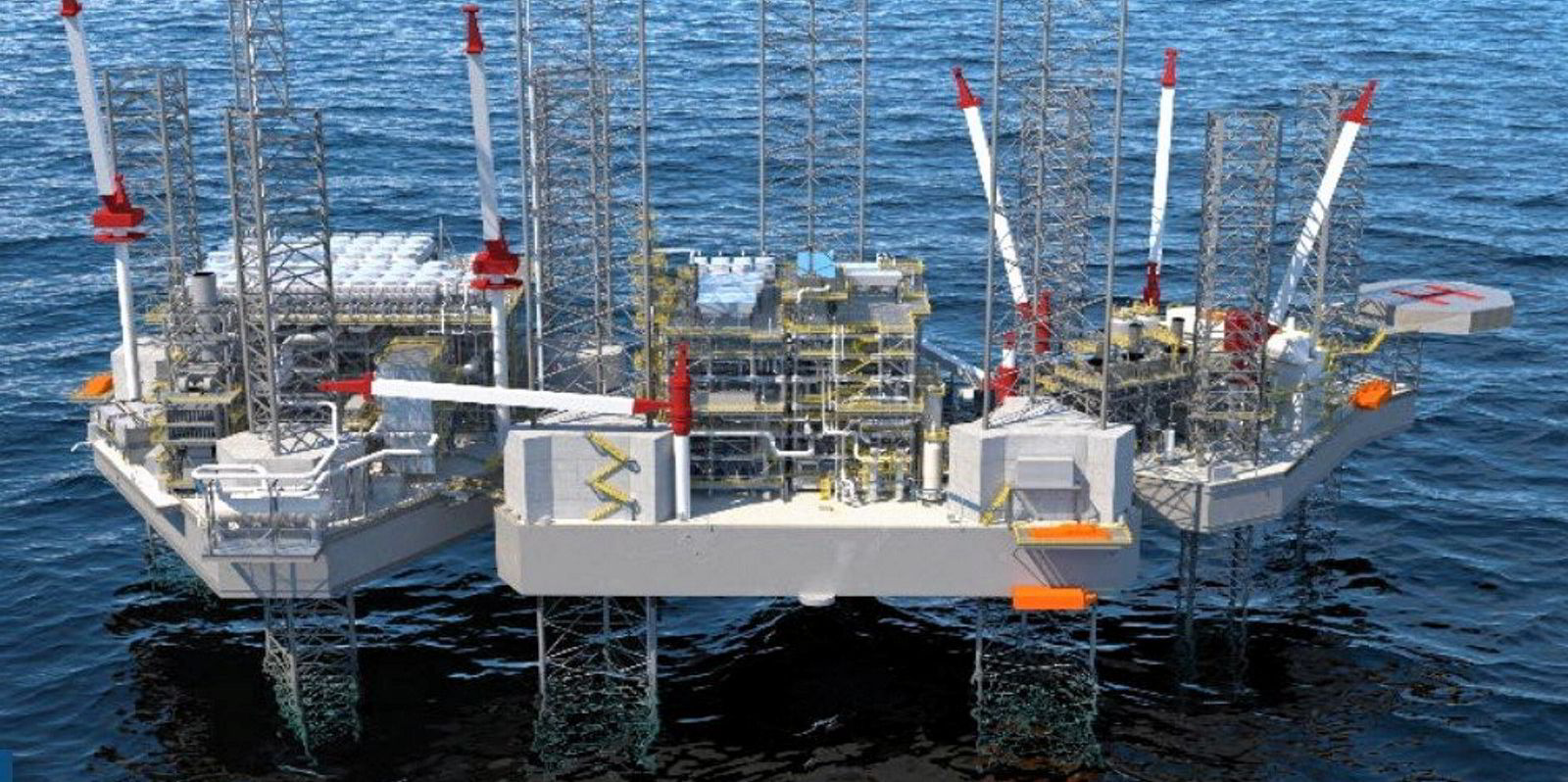 Guinta claimed that once complete the company is aiming to take between two to three months to mobilise the FLNG units and put them into operation.
He said by simplifying the design with a focus on repeatability New Fortress' timeline for FLNG units will be 18 to 20 months from taking a final investment decision to the commercial operations date on a floater.
New Fortress president and chief executive Wes Edens said that currently only 3% of the world's LNG is produced offshore and the company's planned FLNG units will transform it into the world leader in this sector.
Edens said FLNG is cheaper and faster to build and he expects that percentage of LNG production to change.
He said the next step for New Fortress is to use truly stranded feedgas for FLNG rather than pipeline gas.
New Fortress managing director Andrew Dete detailed that the cost of New Fortress' FLNG supply comes in at around $7 per MMBtu.
Dete said that in total by 2025 the company will have access to some 9.5 mtpa of LNG, adding that it is "an amazing time" to be building [LNG] supply and having a long position.
He said Europe needs to replace 1,500 LNG cargoes and add 20 plus more regasification terminals on top of the 30 it already has, to replace its Russian gas volumes.
New Fortress logged a third-quarter net income of $62m, a turnaround on a net loss of $10m for the same period a year earlier.
Revenue jumped to $799m for the three months, up on the $465m reported in the third quarter 2021.
The company said it has $1.4bn cash on hand and will inform on how it plans to use this in mid-December.
New Fortress investor relations managing director Patrick Hughes said the has started construction on its first green hydrogen plant at Beaumont in Texas.
Under its new hydrogen business, which is now dubbed Zero and for which Hughes acts as chief commercial officer, the 120 MW new plant will be able to supply 50 tonnes per day or 18,000 tonnes per annum (tpa) of green hydrogen.
The Beaumont plant, which Hughes said would rank as the largest of its kind in the US, is due to start operations in 2024.
Hughes said the company is aiming to have five clean hydrogen production hubs supplying 90,000 tpa of clean hydrogen which are expected to come online between 2024 and 2026.
New Fortress plans to capitalise this business separately.