Germany's raft of planned and newly installed floating storage and regasification unit-based LNG terminals will give the country the capacity to import 30 bn cbm per annum of natural gas.
Opening the new Wilhelmshaven terminal on Saturday German chancellor Olaf Scholz said: "That is equivalent to more than half of the entire volume of pipeline gas that flowed to Germany from Russia last year."
Scholz showed up at the weekend to inaugurate the 170,000-cbm FSRU Hoegh Esperanza (built 2018), which became the first regas unit in Germany when it berthed in the port on 15 December.
"This is a very important contribution to our security . . . and a good day for Germany," Scholz said.
His government has lined up five FSRUs — two from Hoegh LNG, another pair that will be supplied by Dynagas and one from Excelerate Energy.
In addition, a private project led by TotalEnergies and Deutsche ReGas has already berthed what looks set to become the second FSRU to go into operation in Germany, the 145,130-cbm Neptune (built 2009), in the port of Lubmin.
A third FSRU, the 170,000-cbm Hoegh Gannet (built 2018), is due to berth in Brunsbuttel on 15 January.
All three FSRUs are under the control of Hoegh LNG and its associates and will offer a combined capacity of 17.5 BCM.
Three more FSRUs are due to be installed in Wilhelmshaven, Stade and Lubmin with two land-based terminals planned.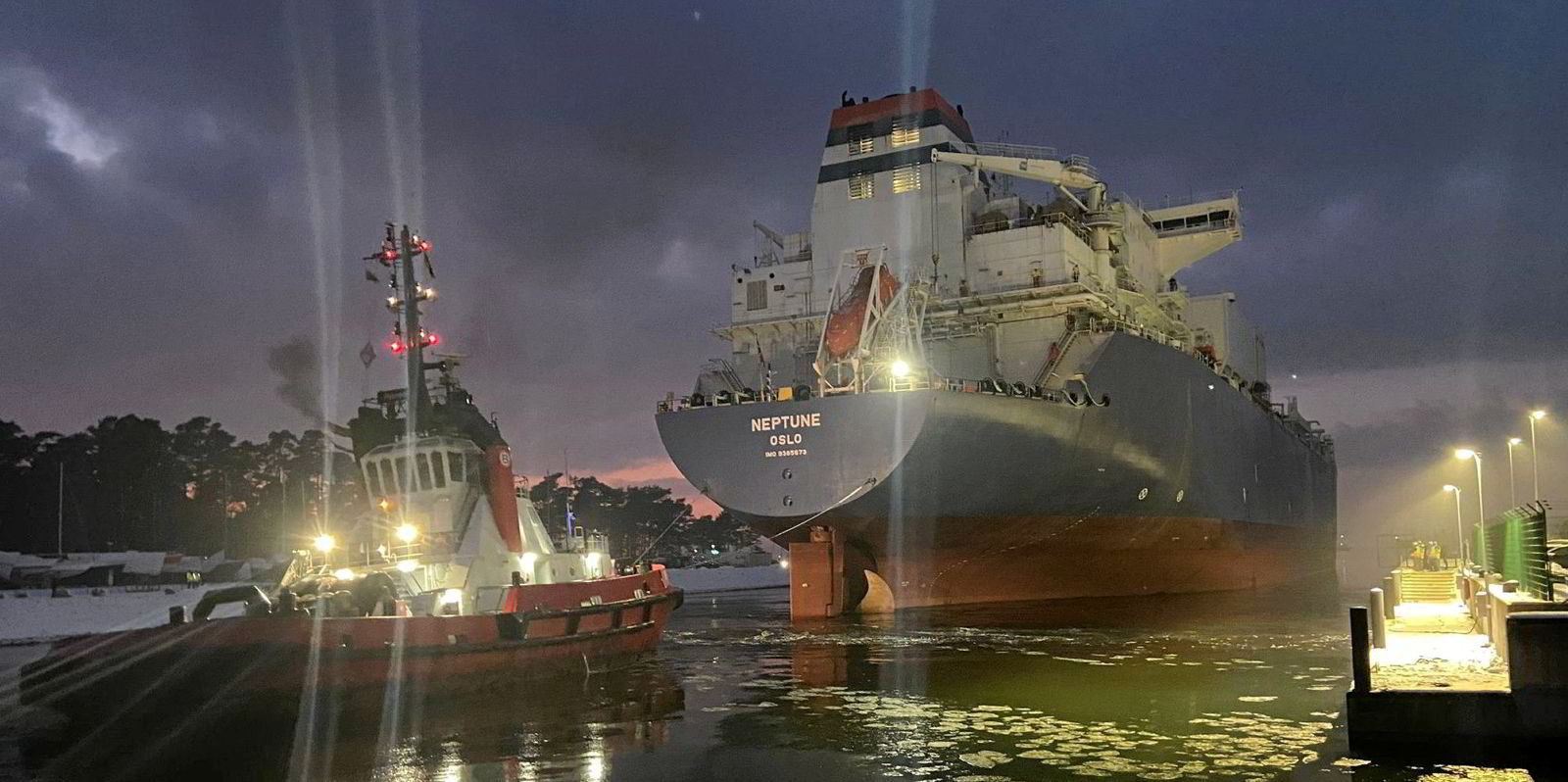 But there are concerns that while Germany has moved quickly to put new gas import infrastructure in place — installing Wilhelmshaven in just 10 months — it has been slow to secure term volumes of LNG to supply them.
Germany has signed up with QatarEnergy and ConocoPhillips to buy 2 million tonnes per annum of LNG over a 15-year period but these supplies are not due to kick in until 2026.
There are particular concerns being voiced about next winter when analysts believe it will be more difficult for Europe to restock its gas storage.
As Germany celebrates its first steps on its journey away from Russian gas, today European Union energy ministers are meeting in an effort to agree a cap on gas prices in an effort to tackle the energy crisis in the region.
Reuters said that under a new draft a cap would be triggered if prices on the Dutch Title Transfer Facility (TTF) gas hub's front-month contract exceeds EUR 188 per megawatt hour for three days. This is lower than a previous trigger of EUR 275 per MWh proposed by the European Commission in November.
It is unclear if the deal will go through.
Some countries including Belgium, Poland and Greece have demanded a cap below EUR 200 per MWh to tackle the high gas prices.
But others like Germany, the Netherlands and Austria fear the cap could disrupt Europe's energy markets and divert much-needed gas cargoes away from the EU towards other gas-hungry nations in Asia which would lengthen the tonne mile balance for LNG shipping.
At the same time, energy ministers are also trying to move forward with a new EU law that would cut methane emissions.