Ordering methanol-powered vessels has grown in popularity as an alternative fuel since AP Moller-Maersk began signing newbuilding deals to begin using the fuel in its container ship fleet.
About the Green Seas First Movers report
This story is part of a TradeWinds Business Focus exploring shipping companies that are early adopters across a range of green shipping technologies and fuels.
But currently, most methanol is made from natural gas, meaning its role in cutting shipping's carbon emissions will depend on ramping up development of greener versions of the fuel.
With 19 ships on order, how will Maersk gain access to green methanol to power its vessels in a carbon-neutral way?
In recent months, the Danish shipping giant has opened its pocketbook to team up with companies that are bringing lower-carbon methanol to markets.
In January, the Copenhagen-listed liner operator invested an undisclosed sum in C1, a Berlin-based start-up that has developed a catalytic process that offers low-carbon methanol bunkers without the need to pony up for more expensive sustainable volumes.
That came a month after Maersk signed up with Houston-based SunGas Renewables to buy its entire 390,000-tonne production capacity. The Texas firm will use its System 1000 technique to convert sustainability produced residues from forestry and wood products industries into green methanol.
A growing orderbook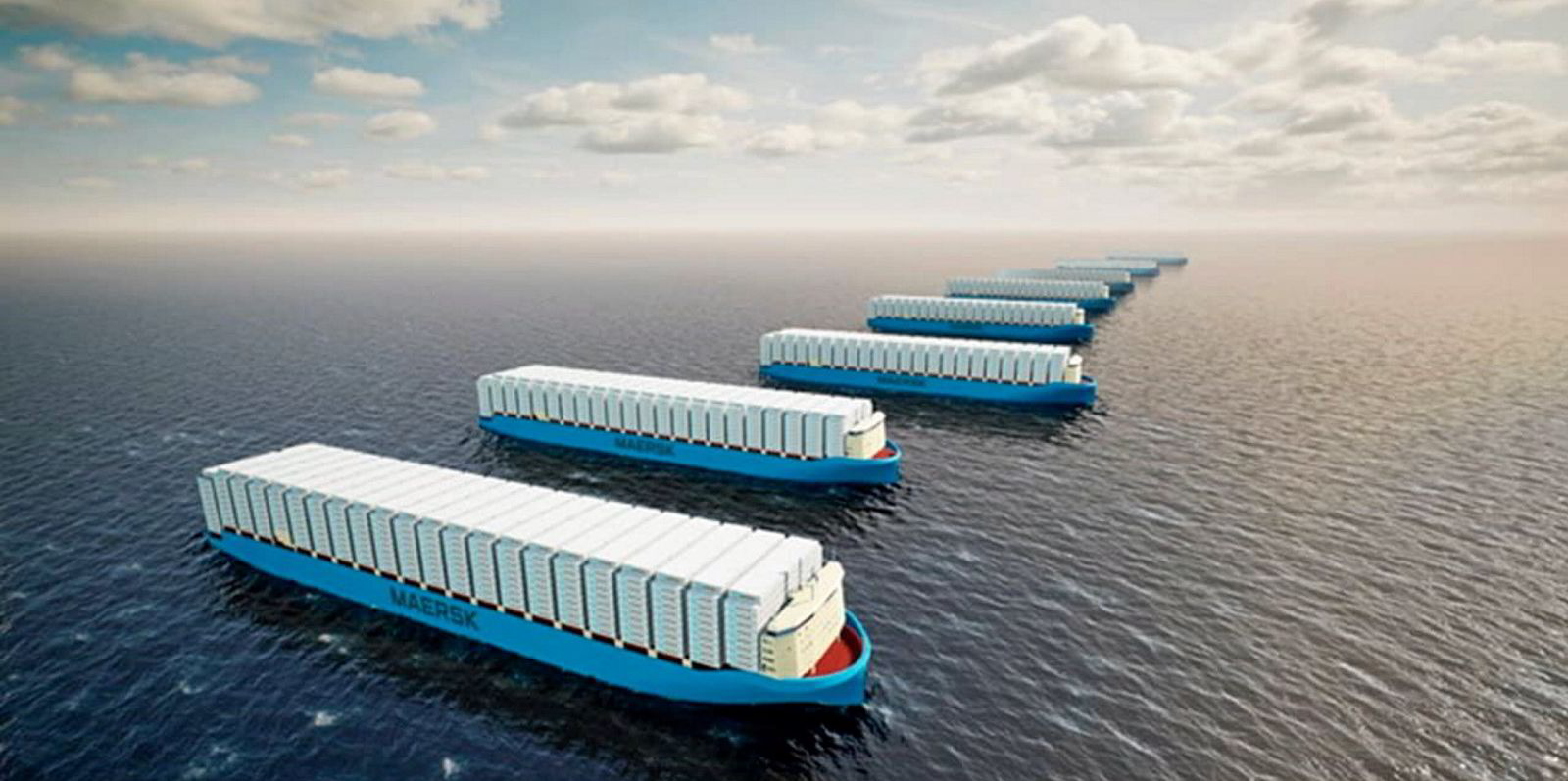 An artist's rendering shows Maersk's planned methanol-fuelled ships. Photo: AP Moller-Maersk
After Maersk's groundbreaking orders, several other shipowners, including in the container shipping space, have placed contracts for methanol-fuelled vessels.
According to Clarksons, some 43 vessels of those ordered in 2022 were dual-fuelled for operation on methanol. That represented 5m gt, or 7% of the orderbook.
In container shipping, HMM, CMA CGM, China Cosco Shipping and MPC Container Ships have all placed orders for vessels powered by the fuel, and Cargill and Mitsui & Co have teamed up to commission the first bulkers to run on methanol.
"We also see that we are not the only ones showing demand for green methanol, which is very good, because it really is a sign that this transition is getting going," said Berit Hinnemann, head of decarbonisation business development at Maersk.
It was Maersk's ninth letter of intent to buy methanol for its ships.
Berit Hinnemann, head of decarbonisation business development at AP Moller-Maersk, told TradeWinds the reason the reason for the order of 19 ships in the first place was to move at "maximum speed" towards energy transition.
That involves tackling the challenge of solving alternative fuels' chicken and egg problem — whereby shipowners do not invest in the technology because of doubts over supply and suppliers do not invest in new supply because of doubts over demand — with similar speed.
"It is really about 2030," she said, referring to the year that Maersk aims to cut its emissions per transported container by 50%. "It is really about getting the supply rolling and getting the market created … and we see it happening."
She said Maersk is aiming to bring green methanol to the vessels as soon as possible. It is looking to develop the partnerships it has made and it is in conversations for new ones.
Hinnemann said the partnerships include both types of green methanol: bio-methanol, which is produced from feedstocks such as agricultural residues, and e-methanol, which is made using renewable electricity.