Strong demand for LNG carriers and dual-fuel vessels has helped China's shipyards to climb the construction value chain — moving up from building simple bulk carriers and tankers to high-tech vessels.
The country is set to receive more than 50 LNG carrier orders by the end of this year. These include about 30 ships at Shanghai-based Hudong-Zhonghua Shipbuilding (Group) — a stark increase on the total there last year of six newbuildings.
Until now, Hudong-Zhonghua has been the only shipyard in China capable of building high-tech LNG carriers. But today, four more — Jiangnan Shipyard, Dalian Shipbuilding Industries Co (DSIC), Yangzijiang Shipbuilding and China Merchants Heavy Industry Jiangsu (CMHI-Jiangsu) — are joining the small league of international yards capable of the work.
Although newcomers, Jiangnan, DSIC and Yangzijiang have already secured 11 vessels this year while CMHI-Jiangsu is poised to receive up to 12 ships from a Danish owner.
China's yards have been eyeing the sector for some time and have entered now on the surge in shipping demand for LNG, driven by QatarEnergy's huge shipbuilding programme and the Russia/Ukraine conflict.
Speaking to TradeWinds, Jiangnan's chief of corporate technology Hu Keyi agreed that global demand for LNG carriers had enabled yards such as his to move into the business.
He added that the demand for dual-fuel vessels, such as pure car/truck carriers (PCTCs), has also helped yards to break into the market for high-spec ships that have previously been dominated by South Korean and Japanese shipyards.
Clarksons' Shipping Intelligence Network shows China dominates the orderbook for car carriers, building 75 of the 90 units that are slated for delivery by 2027.
One broker said the container ship boom has also benefited large Chinese shipyards such as state-owned Jiangnan, Hudong-Zhonghua and DSIC, as well as privately owned Yangzijiang and New Times Shipbuilding.
Each has the capacity and proven shipbuilding ability, and is competitive in price compared with their rivals in Japan and South Korea.
China's yards have used South Korea's shipbuilders as a yardstick in terms of capacity and advanced shipbuilding technology.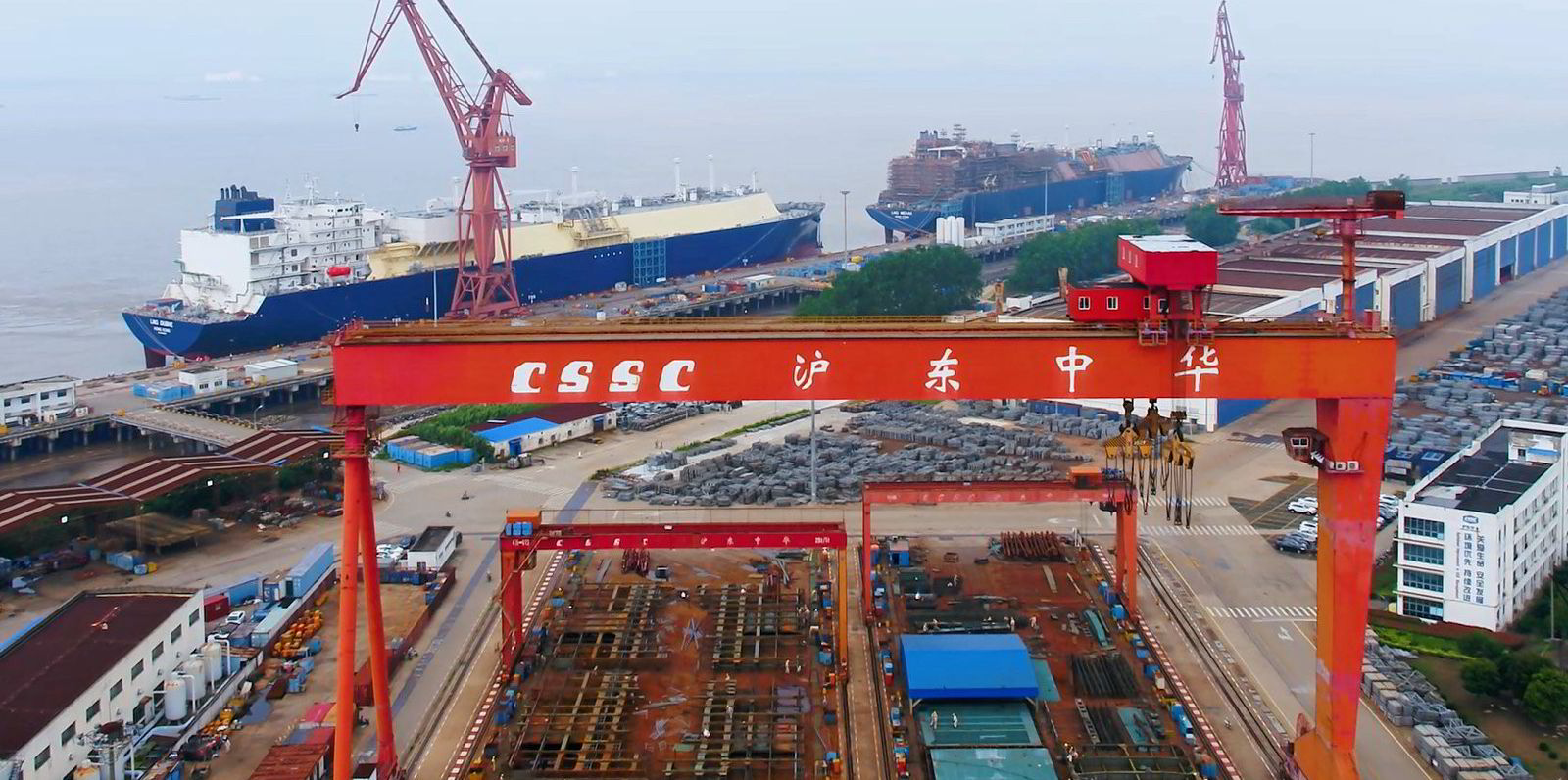 Hu said China's shipbuilding industry is slowly inching up on South Korean yards' capacity and the ship types they build.
"But there is still a difference in speed and efficiency when it comes to constructing the newbuildings," he conceded.
Hu said Chinese yards need more than 20 months to build an LNG carrier where South Korean shipbuilders would take about 16.
But he added there is still a price gap of about 5% to 7% for an LNG carrier when ordered in China as opposed to South Korea.
Hu said China's price competitiveness comes from the country's lower labour costs, which he termed "a special feature" of Chinese shipbuilding.
"We categorise our labour force into three groups — one employed by state-owned shipyards, one by large privately owned yards and another by small shipbuilding companies," Hu said.
"The labour cost at each category is different and it is this differentiation that enables small shipyards to build small to medium conventional vessels that still rake in profit.
"If our labour costs were the same for all shipyards, small shipbuilders would not exist."
The shipbuilding boom for LNG carriers, PCTCs, container ships and dual-fuel vessels has mostly benefited large shipbuilding companies as they are sitting on packed orderbooks and have sold out of early delivery slots.
A shipbuilding broker said some small privately owned yards that survived the last shipyard capacity cut have managed to survive on orders for feeder boxships and other smaller types of vessels, which are not of interest to the major shipbuilders.
But others are still hungry for new contracts due to dwindling demand for simple small to medium-size bulk carriers, which have been the bedrock of China's success.
The high shipbuilding price and wobbly dry bulk market have not encouraged shipowners to justify the spending on new tonnage.
The broker added that Chinese banks remain cautious of the shipbuilding market, which has proven a challenge for the small yards in securing refund guarantees.
"They [shipyards] have to pick the right project with a sustainable profit margin," he said.
Chinese shipyards: LNG carrier orders
Shipowner
No. of vessels
Capacity (cbm)
Charterer
Delivery dates
Hudong-Zhonghua Shipbuilding
CNOOC, CMES, NYK
6
174,000
CNOOC
2026-2027
CNOOC, CMES, MOL
6
174,000
CNOOC
2024-2026
CMES, K-Line, CMC
4
174,000
Petronas
2025-2027
Cosco HK LNG
2
174,000
Sinochem
2025
Tiangin Southwest Maritime
3
174,000
ENN
2028
MOL
3
174,000
ENN
2027-2028
CSSC Leasing
1
174,000
CSSC
2024
MOL
7
174,000
QatarEnergy
2024-2026
NYK, K-Line, MISC & CLNG
5
174,000
QatarEnergy
2024-2026
K-Line
1
79,600
Petronas
2023
Shenzen Gas
1
79,600
Shenzen Gas
2023
Total:
39
Jiangnan Shipyard
Adnoc L&S
6
175,000
Adnoc
2025-2026
Jovo
1
79,800
Jovo
2023
Total:
7
Dalian Shipbuilding Industries Co
China Merchants
4
175,000
China Merhants
2025-2026
Total:
4
Yangzijiang Shipbuilding
Hammonia Reederei
2
175,000
Unknown
2025-2026
Total:
2
Totals:
52