Much like some of its long-standing members — historic shipping names such as Norden, AP Moller-Maersk, J Lauritzen — Danish Shipping knows it cannot sit on its laurels but must continuously evolve to stay relevant, both to its members but also to the wider Danish society.
As the first female CEO in Danish Shipping's history, Anne Steffensen is part of that evolution.
"The big task at hand in terms of making sure that we are also relevant in tomorrow's world or in the future is to make sure that we get the green transition right," Steffensen told TradeWinds.
"If you ask me what is the most important aspect of the shipping industry today in order to stay relevant, it is that we can get that right because that will make sure that we also will be an important part of the global trading system, making sure that we provide the connectivity that can keep trading patterns and trade volumes at high level also in the future."
One of the big things going forward is to make sure that we also have the offshore maritime services that can provide the necessary services to build these great big wind parks offshore

— Steffensen
The organisation has two main workstreams in this area. One is working to make sure that existing ships are as energy-efficient as possible — "and that's everything from the way we operate them, how we can digitalise some of the working processes, how we can make sure that we get as much data as we can from the way that we operate and sail the ships, so that we can constantly improve on our performance", Steffensen explained.
The second workstream is even bigger in scope and looks at all the ways in which shipping can transform itself into a zero-emission industry by 2050.
"That will require something else — that will require that we have the green e-fuels that we will need in order to make sure that new ships will be completely zero-emitting of all greenhouse gases," Steffensen said.
The offshore wind sector is also a big growth area for maritime services in Denmark and there are even ambitious plans for carbon capture at sea, which could also support the sector.
"We very often are very much concentrating on the traditional shipping segments where you are transporting goods from A to B, but actually one of the big things going forward is to make sure that we also have the offshore maritime services that can provide the necessary services to build these great big wind parks offshore," Steffensen said.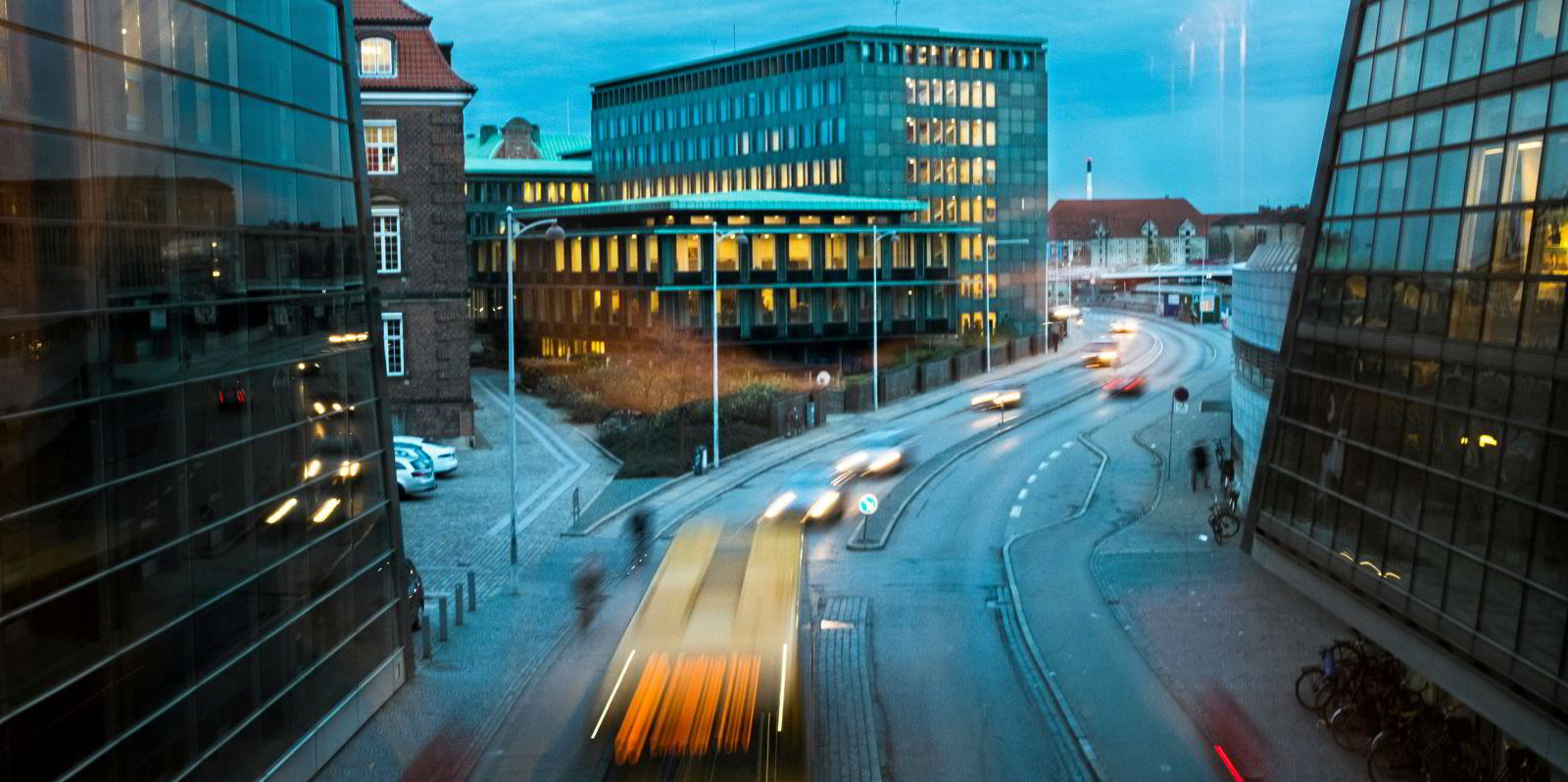 For years, oil installations have been taking oil and gas from under the North Sea. Now, those same facilities are being viewed as sites to store CO2.
"We're looking into having carbon capture, transport and storage — so we can make sure we get this carbon that we capture stored safely in the old oilfields in the North Sea," she said.
BY NUMBERS
Denmark operates the sixth-largest merchant fleet in the world by tonnage. It is estimated that a Danish-operated ship calls at a port somewhere in the world every five minutes.
The members of Danish Shipping together own around 33m dwt, which accounts for over 95% of the Danish merchant fleet flying the Danish flag.
Danish Shipping has been based at its historic offices on Amaliegade in Copenhagen for 100 years this year. The organisation itself was founded in 1884.
"Part of that equation is also to build new ships that can carry CO2 and transport it either from Denmark to the North Sea or from other parts of the world to North Sea for storage. That's another part of the green transition — that we're taking carbon out of the atmosphere," she said.
Within Denmark, the association is working to ensure that the shipping community has internationally competitive regimes, such as tonnage tax and on net-wage schemes.
Danish Shipping has enlarged its membership in recent years by including ship managers that operate Denmark-flagged ships on behalf of its traditional shipowning members. Steffensen estimates that today Danish Shipping's members are responsible for around 98% of tonnage operated by shipping companies in Denmark.
But with certain countries courting protectionist national policy, Danish Shipping also has a role to play in highlighting the importance of a globalised, highly connected world.
"Many, many people around the world including in a number of developing countries, have been taken out of poverty because they have been integrated into a global trading system and I think it will be of great concern if that development was going to go backwards," Steffensen said.
"We have to be outspoken about the advantages of continuous trade, but we have to make sure we are not naive when it comes to very critical things, for example, to drive our healthcare system."