At the close of the 1990s, Belgian gas shipowner Exmar gave South Korea its first export order for an LNG carrier newbuilding when it contracted a vessel that would later be named after the legendary mythical sword — Excalibur.
Over 20 years on — and after seven to eight years that Exmar executive chairman Nicolas Saverys told TradeWinds had, until recently, been some of the most difficult of his life — the 138,000-cbm steam turbine ship Excalibur (built 2002) is heading for a new life as a floating storage unit in the Republic of Congo.
Exmar is also about to embark on a new life as Saverys moves to take the Euronext-listed company private again.
"A shipping company should not be on the stock exchange," Saverys told TradeWinds.
The gas-focused executive said shipping moves fast, and quick decisions need to be taken that are not easy to explain to shareholders, who can be remote and inactive in the company.
Saverys is also damning in his criticism of emissions reduction rule-making.
"If we are now having a shipping industry which will be based on rules and regulations decided upon by some politicians in Brussels or some people from the administration of the IMO … and we as an industry are going to obey and make investments worldwide of billions of dollars, it is failed as from day one," he said.
Saverys is also no fan of the Carbon Intensity Indicator (CII) regulations and believes companies will try to "cheat" the system.
"I have not found anyone yet on CII who really understands how it will have to be applied, how it will be accounted for and what it means for the bottom line on their ships."
He said fuelling decisions have become complicated for shipowners and if they pay out extra capital on a dual-fuel propulsion system but have chosen wrongly their vessel could be obsolete on delivery.
After Exmar chartered out and sold off its floating storage and regasification unit and floating LNG production barges last year, Saverys said the company was in a position to pay a fair price with a premium for the outstanding company shares.
"It is the right time to go and do it," he said.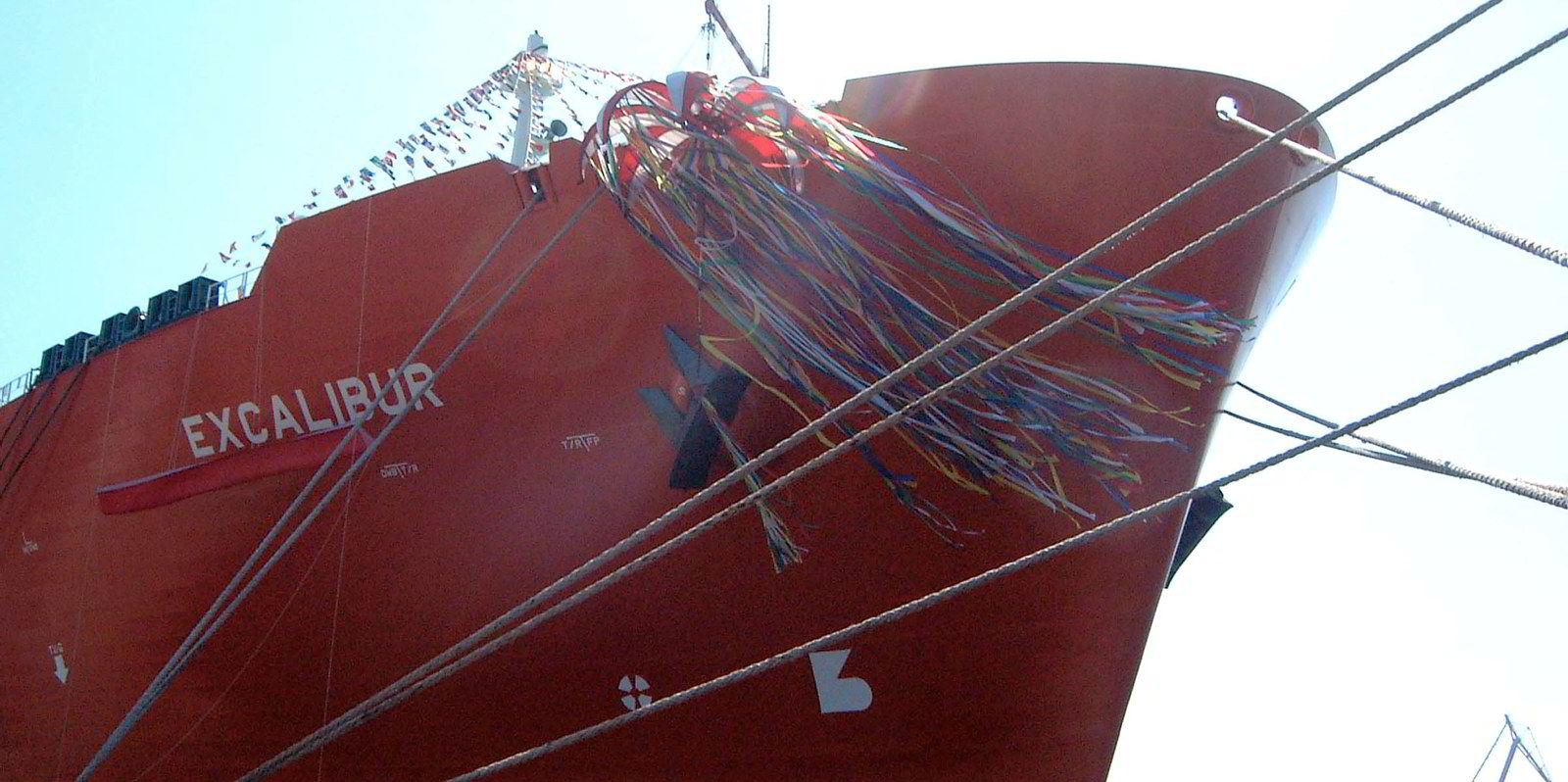 Saverys, who now boasts 15 grandchildren, admits he is "meant to be retired".
In 2020, he assumed his current role, shifting over to act as the primary spokesman of the board of directors, handling direct relationships with shareholders and financial institutions, and aiding the sign-off on strategy. But those who know him well said he remains closely engaged with the company.
He is clearly taking a very active interest in the next steps for Exmar.
The company has taken the plunge on LPG and ammonia carrier newbuildings, contracting four vessels, and Saverys said it may do more, although he highlighted that there are few available slots and prices are high right now.
LNG, however, will remain on Exmar's playlist.
Saverys said the company is looking at more LNG infrastructure business including both floating storage and regasification and FLNG units.
He revealed that Exmar is working closely on Ceiba Energy's Portocem LNG-to-power project in Brazil, which would require the company to acquire an LNG carrier to convert into an FSRU.
Exmar is also in talks with Italy's Snam on its planned FSRUs.
On FLNG, he believes Exmar can be competitive on a cost per tonne basis of LNG production even with huge land-based liquefaction projects like those in Qatar, which he said proves the advantage of the floating solutions.
Saverys added: "We are looking at maybe taking over some companies, which may be undervalued."
But the market is not likely to see Exmar ordering LNG carriers on speculation or competing for LNG newbuilding tenders.
"I think that LNG shipping is a game for financiers where some people are taking risks on the long-term charters at very low returns," Saverys said.
"At single-digit returns, no thank you very much," he said, detailing that some of these ships have returns on equity that are just above 5%. "This will not work," he added.
Saverys admitted the secondhand LNG carrier market could prove of interest, particularly if Exmar was looking for a vessel to convert into an FSRU or an FLNG unit.
"We could maybe sit on one [vessel], operate it a bit and have it as a spare for conversion," he said.
Further ahead, future business areas for Exmar could include CO2 carriers, although Saverys said the market is not there yet.
He describes hydrogen as "the most beautiful product that exists". But he is concerned about how expensive it will be and is no believer in the large hydrogen carrier largely due to the amount of energy that would be required to liquefy cargoes.
Saverys said the LNG shipping market remains difficult to read. It is not very liquid and has many dominating gas producers.
Low returns
He said the LNG carrier business has become a battle of people who want to put up together a financial product that has low returns but a very long-term investment.
"Some may like that, but I don't think it's the business for a real shipowner."
"I don't think that a shipowner would be happy with these kinds of returns but maybe some owners want this kind of stability at low returns because they have the other parts of the business which are much more cyclical," he said. "But we are not in that category."
His advice to LNG shipowners with steam turbine vessels like the Excalibur? "Sell them to Exmar for scrap and we will do something with them."