Cooperation between government and industry on decarbonisation in Japan is helping the maritime industry get ahead in the race to develop zero-emission ships.
Japan's Ministry of Land, Infrastructure, Transport and Tourism (MLIT) has been supporting the country's leading engine manufacturer to develop large marine two-stroke ammonia and hydrogen engines.
Japan Engine Corp (J-ENG) has already begun tests on ammonia and hydrogen fuel-engine technology which, if all goes to plan, will position the country to deliver the first zero-emission ships in 2026 and 2027.
Green innovation funding for the engine's research and development has come from Japan's New Energy and Industrial Technology Development Organization (NEDO), which provides backing for decarbonisation projects across multiple industries.
The technical development also provides backing for the Japanese government's position at the International Maritime Organization that shipping should decarbonise by 2050.
"The transition to zero-emission shipping by 2050 is clearly a major challenge, but we want to help turn this into an opportunity for the Japanese maritime industry," said Akihiro Tamura, director at the MLIT's environmental policy division.
Zero-emission ships will also form an important part of Japan's wider energy policy. There is a national project to use ammonia at coal-fired power plants to significantly reduce carbon emissions.
Around 3m tonnes of ammonia are planned to be shipped to Japan annually by 2030.
"Ammonia trade routes are being planned and ammonia plants are being developed," said J-ENG chief executive Ken Kawashima. "It follows that there will be an increase in orders for ships to carry ammonia in the coming years and, along with that, there will be an increase in demand for ships using ammonia as fuel," he said.
The development of ammonia and hydrogen fuel engines still faces major technical hurdles on the road to zero-emission shipping.
J-ENG is working together with compatriot shipbuilders and shipowners to come up with the engine and other technology that will enable the first zero-emission ships.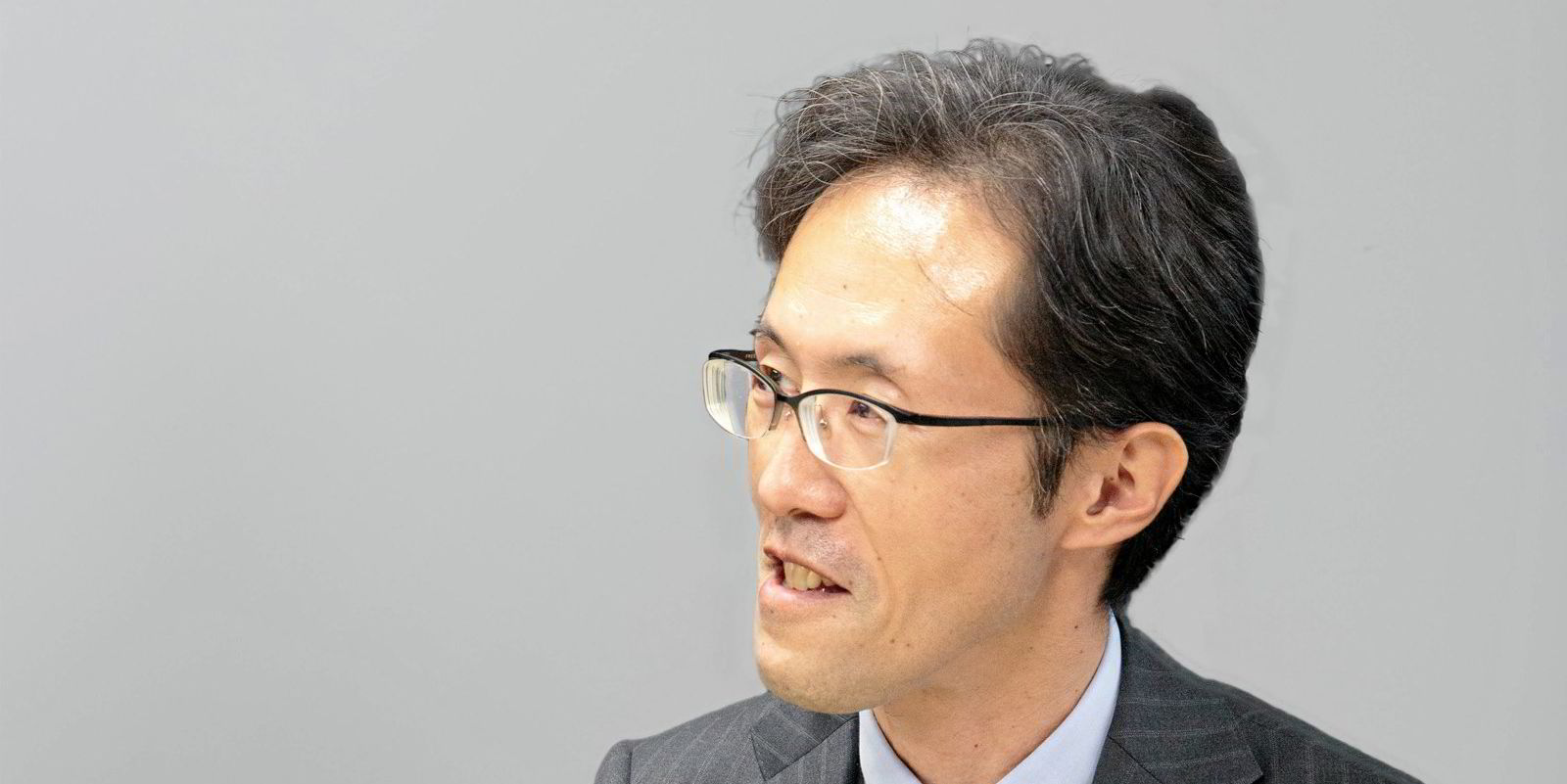 The technical challenges are considerable because, from an engine manufacturer's point of view, ammonia and hydrogen have completely different properties. Ammonia is difficult to burn, but hydrogen is easily combustible.
J-ENG's ammonia technology is now being trialled on a converted diesel test engine at Mitsubishi Heavy Industries' innovation centre in Nagasaki.
A unique fuel-injection system applies the ammonia and the pilot fuel in a stratified pattern from the same valve rather than using separate valves.
For hydrogen, a high-pressure gas injection system has been developed to supply the hydrogen under high pressure to the pilot fuel to achieve more stable combustion and is also now being tested.
The aim is to produce a demonstration engine for each fuel type in 2025 that will pave the way for the first ammonia-fuelled vessels to debut in 2026 and hydrogen vessels in 2027.
There are other technical issues related to alternative fuels that are being addressed with Nihon Shipyard and other players in the Japanese maritime cluster.
Because of poor energy density, ammonia will be required in around 3.3 times the volume and hydrogen around 4.5 times that of conventional marine fuels. This will require considerably larger fuel tanks.
There are also issues around the toxicity of ammonia, which will require leak prevention and detection measures such as double wall piping for fuel pipes.
The more volatile hydrogen fuel will require new sealing technology to guard against leaks.