A major Chinese scrubber manufacturer is about to carry out a carbon capture utilisation and storage (CCUS) retrofit on a giant container ship.
Zhejiang Energy Marine Environmental Technology (ZEME), the marine technology unit of state-owned energy giant Zhejiang Energy Group (ZEG), will undertake the project on a 24,000-teu vessel of liner giant MSC Mediterranean Shipping Company.
ZEME unveiled details of the project during the company's first-ever public event in Greece, held at the Piraeus Yacht Club by the Chinese company's exclusive Greek agents, Optima Shipping Services.
Developed by ZEG's Baima Lake Laboratory on the basis of the amine chemical absorption method, the $9m retrofit installation will take between 30 and 45 days and help save 24,000 tonnes of carbon per year.
Assuming a carbon tax of $100 per tonne of CO2, an economic analysis presented by ZEME suggests the system would help MSC save $34.5 per tonne of carbon or $828,000 per year.
That calculation includes potential earnings from captured carbon sales to the tune of $33 per tonne.
ZEME offers to collect the carbon captured on ships to manufacture bricks at an onshore facility it is developing in China.
Scrubbers ahoy
The MSC project is intricately linked to ZEME's role as a major scrubber manufacturer. The firm has already completed a study on how to upgrade existing scrubber exhaust systems into carbon capture units.
MSC alone accounts for about one-third of the more than 600 scrubber orders that the Chinese company has received so far. The volume of MSC's scrubber contracts at ZEME has reached $800m.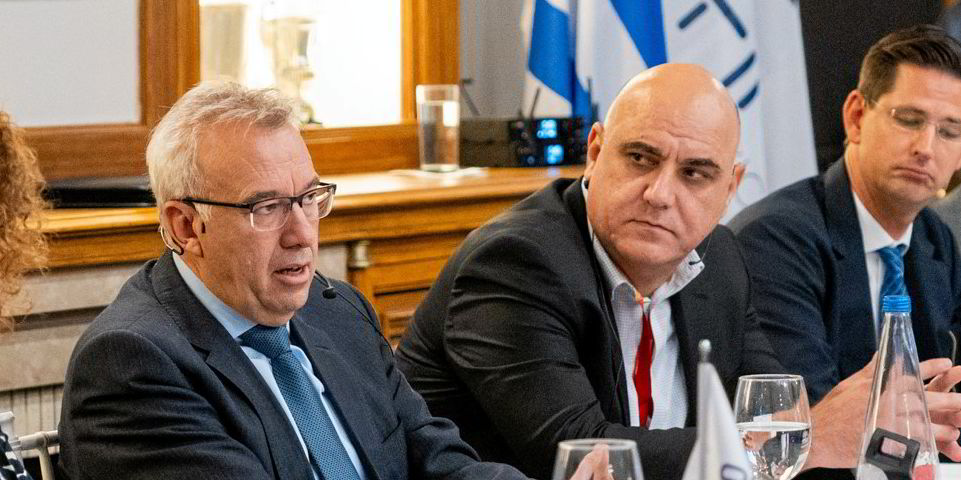 About 240 of the total 352 scrubbers that ZEME has already installed on boxships, tankers and bulkers are open-loop scrubbers, with the rest employing hybrid-loop technology.
With about 150 scrubber orders placed by Greek companies so far, Hellenic business accounts for an increasing part of ZEME's scrubber making.
George Procopiou's Dynacom group agreed last month to install ZEME scrubbers on two VLCCs and one suezmax.
Dynacom and bulker affiliate Sea Traders embarked on a wide-ranging scrubber installation programme last year, fitting out 15 VLCCs, five capesizes and a few suezmaxes with such systems.
ZEME is about to install scrubbers on four more existing Procopiou ships and will furthermore account for the large majority of scrubber installations on the Greek owner's extensive newbuilding fleet.
The Chinese manufacturer attracts Greek scrubber clients with relatively low prices, established relations with Chinese shipyards and installation periods of three weeks for open-loop scrubbers and five for hybrid systems.
Competition between manufacturers and increased production have helped drive costs down. Market sources speaking to TradeWinds say the cost for turnkey installation for an open-loop scrubber has dropped, in some cases to below $2m for VLCCs and to $1.3m for a kamsarmax bulker.
About 100 guests from 70 Greek companies gathered at the Piraeus Yacht Club event to discuss and hear presentations including technical managers and representatives of major energy companies such as Dynacom, Capital Ship Management, Laskaridis Maritime and Pantheon Tankers.