Ocean carriers are pulling out the stops to avoid idling container ships as slumping demand shows no sign of receding and freight rates slide.
Capacity management measures include diverting ships for longer voyages, super-slow steaming and deferring newbuilding deliveries, say analysts.
These are helping keep idle teu capacity at just 2.2% of the commercially active fleet, excluding vessels in repair yards, according to Alphaliner.
Several carriers have already begun diverting ships on the backhaul trip from Europe and the US East Coast.
They are being sent on the longer route around the Cape of Good Hope rather than through the Suez Canal or Panama Canal.
That requires extra vessels and sucks into operation ships that might otherwise be idled.
By super-slow steaming as low as 10 knots, the detour from Europe will absorb two extra vessels for every weekly loop, Alphaliner estimates.
The route also makes financial sense for carriers by avoiding hefty fees to transit the canals.
Vessels taking the detour around the Cape of Good Hope include the 19,870-teu Al Nefud (built 2015), operated by Germany's Hapag-Lloyd.
Bigger problem
Several ships of The Alliance carriers (Hapag-Lloyd, HMM, Ocean Network Express and Yang Ming Marine Transport) have started diverting ships.
That is seen as "a clear sign that excess tonnage is now the bigger problem for carriers while congestion has been relegated to a secondary concern", according to Linerlytica.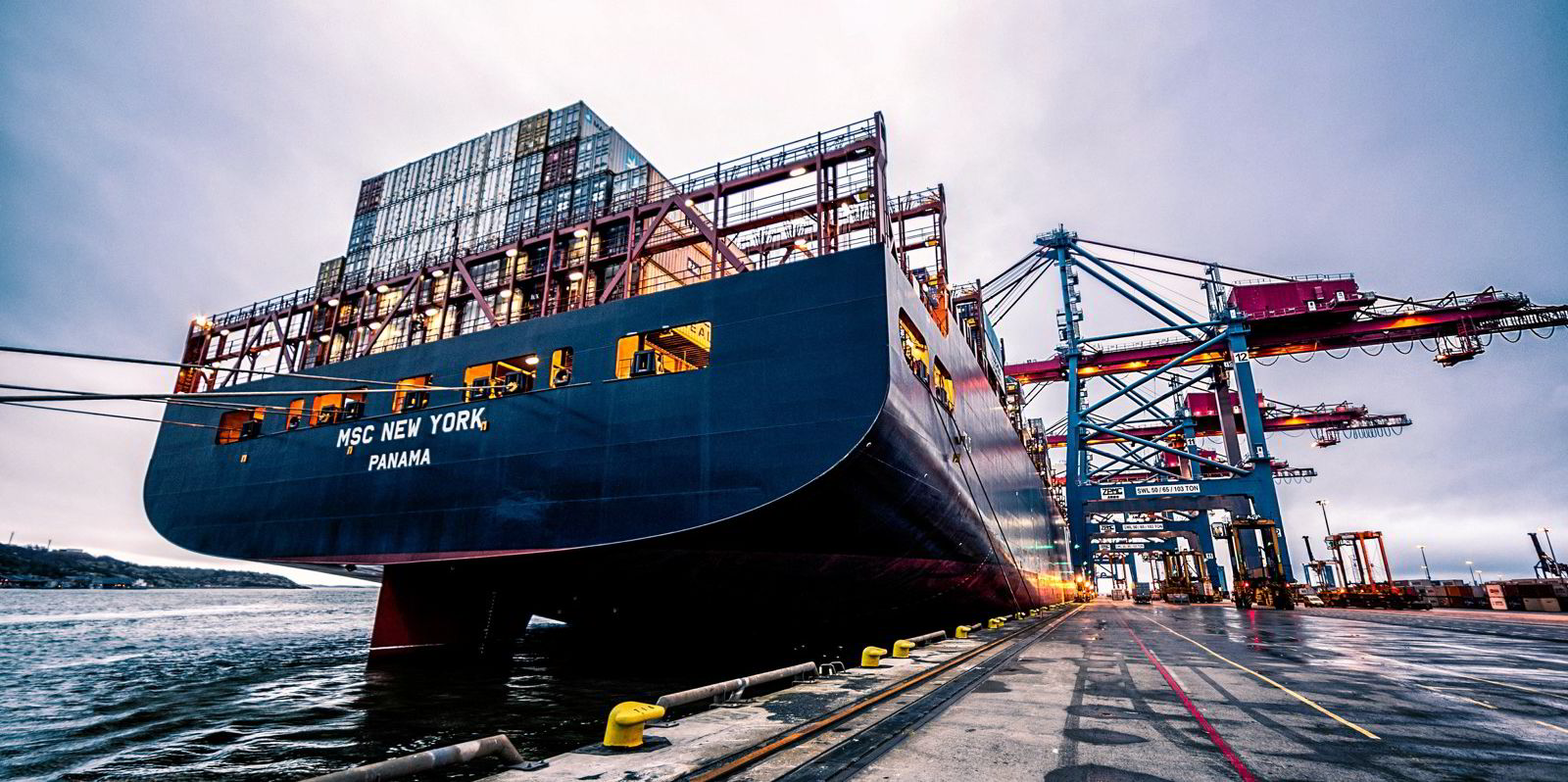 Operators are also seeking to strategically defer delivery of many large container ships from late 2022 to early 2023, Alphaliner believes.
Mediterranean Shipping Co (MSC) looks set to push deliveries back: about 20 ships officially earmarked for delivery in December are expected to slip into 2023, it said.
The 24,116-teu newbuilding MSC Tessa was initially expected to join MSC services in November 2022 but has had its phase-in postponed to February.
"Carriers and shipyards have apparently negotiated later deliveries that will turn many a big ship from a 2022-built vessel into a 2023-built ship," Alphaliner said.
Forlorn hopes?
Carriers are hoping for a pick-up in demand in the coming days to push through a new round of rate increases on 1 January 2023.
So far, that looks elusive, with freight rates still sinking.
Rates from Asia to the US West Coast ended 2022 at $1,379 per 40-foot equivalent unit (feu) — 91% lower than a year earlier.
Rates from China to North Europe are $2,636 per feu, down from close to $15,000 per feu a year ago, according to the Freightos Baltic Index.
Liner operators have unveiled a wave of blank sailings ahead of Chinese New Year, when shipments out of Asia are expected to slump further.
On Thursday, the 2M Alliance partners AP Moller-Maersk and MSC said they would void the Asia-Europe sailing of the 16,652-teu MSC New York (built 2014), which was scheduled to sail from Ningbo in China on 4 January.
"As a consequence of the forecasted reductions in global demand, Maersk is looking to balance the network accordingly," the Danish carrier said.