Hyundai Samho Heavy Industries and HJ Shipbuilding & Construction will build what are said to be the world's first methanol-fuelled neo-panamax container ships for HMM.
Hyundai Samho has won seven vessels while HJ Shipbuilding will build two.
HMM said the order is part of its carbon-neutral push. The total value of the order is KRW 1.41trn ($1.112bn) or about $123.5m per ship.
The South Korean liner giant is scheduled to take delivery from 2025 onwards.
One shipbuilding broker said there was no referent price for the newbuildings, as HMM is the first company to have opted for methanol to power 9,000-teu boxships.
"Previous orders for methanol-fuelled container ships were either for more than 15,000 teu or for feeder ships," said a shipbuilding expert.
According to Clarksons' Shipping Intelligence Network, 55 container ship newbuildings of between 8,000 teu and 11,400 teu are under construction at shipyards in the Far East, of which 34 will be powered by LNG and the rest by conventional fuel.
The broker believes the price paid by HMM is "fair".
"The container ship market may have collapsed but that is not going to send shipyards to drop their prices to win new deals," said the broker.
"We don't think shipbuilding prices will be coming down, as shipyards have strong orderbooks and shipbuilding materials and labour costs are not coming down."
Experts said that if HMM opted for LNG to power the nine vessels, it would need to pay at least $5m per ship more due to expensive cryogenic bunker tanks and fuel gas-handling systems.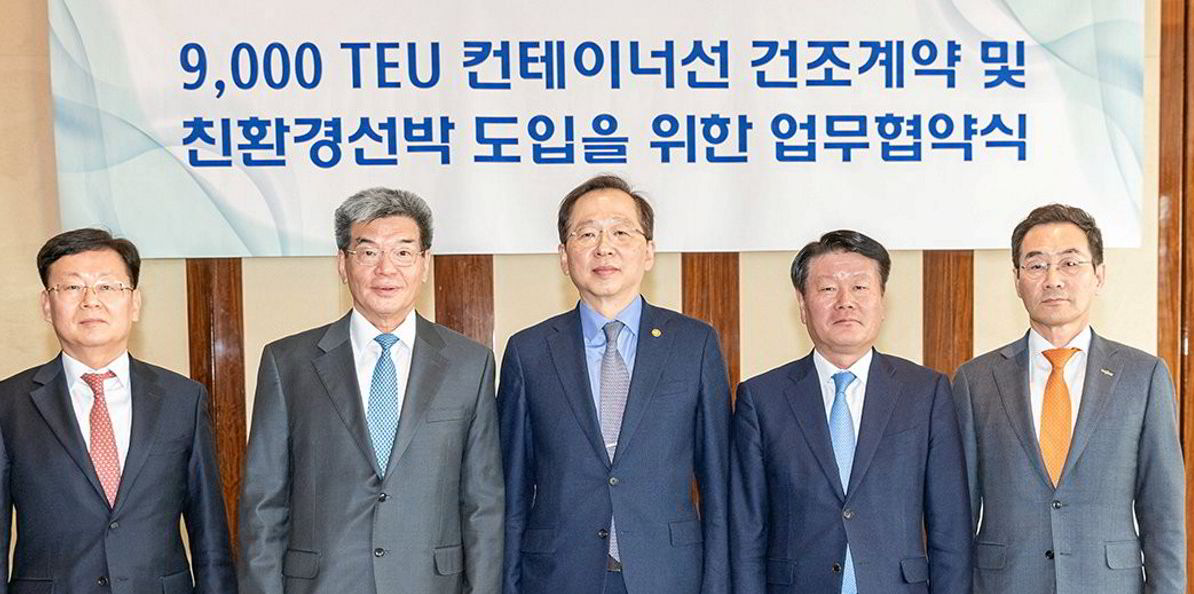 Rising interest in methanol
HMM said methanol-powered vessels have been drawing attention from shipowners because they produce less sulphur oxide and other pollutants than ship oil.
It will operate the vessels on routes to South America, India and North America.
HMM said it has signed preliminary deals with five foreign and domestic energy companies, including European Energy, on the production and supply of methanol.
Its orderbook includes 12 conventionally powered 13,600-teu ships from Daewoo Shipbuilding & Marine Engineering and HHI, as well as three conventionally powered 1,800-teu Bangkokmaxes from Hyundai Mipo Dockyard.
It will also charter two LNG dual-fuel ships of 7,700 teu that Greece's Navios Maritime Partners is set to receive in late 2024 and early 2025.
Alphaliner lists HMM as the eighth-largest liner operator, with 78 ships of 816,000 teu.
State-backed Korea Development Bank (KDB) holds 20.69% of the company, while the government has 20% through the Korea Ocean Business Corp.
The state is looking to sell off HMM. KDB was reported to have approached potential buyers that include LX Pantos, the logistics arm of the LX Group; Hyundai Motors; Hyundai Glovis; and steel maker Posco.