A Crowley official who played a major role in the maritime conglomerate's push into the renewables sector has reportedly left after a sexual harassment complaint.
The reported departure of Crowley vice president of wind services Jeff Andreini comes after a complaint by the top official at the Redwood Coast Energy Authority in Eureka, California, where Crowley has been working to develop a port terminal to serve the renewables sector off the US west coast.
Authority executive director Matthew Marshall told Crowley chief people officer Megan Davidson in an email that he and other witnesses saw "egregious" behaviour against a "junior, subordinate" employee of Crowley, according to a copy of the email seen by TradeWinds.
Subscribe to Green Seas
TradeWinds' weekly newsletter on sustainability and the business of the ocean digs into environmental issues every week in the maritime industries. Get it in your inbox by subscribing.
The name of the alleged perpetrator is redacted from the email, but Northern California news site Lost Coast Outpost reported that Marshall has confirmed that his email focused on the actions of Andreini.
Andreini, whose LinkedIn profile says he worked at Crowley until August, did not immediately respond to TradeWinds' email seeking comment on the allegations.
According to the emails made public by the Redwood Coast Energy Authority after an open records request by the Outpost, the alleged sexual harassment took place at the Dive Bar in Sacramento during the Pacific Offshore Wind Summit in May.
"I'm disappointed to have to share this troubling information with you, but after speaking with numerous local women subsequent to the above incident my impression was that this behaviour was not an untypical or one-off situation and so I would feel remiss in not escalating the matter," Marshall wrote in the August email.
Crowley spokesman David DeCamp confirmed to TradeWinds that Andreini no longer works at the company but did not say whether he quit or was fired.
"While this is pending litigation and we don't discuss an individual case, what I can tell you is Crowley makes the safety of all our people and partners essential to what we do. We take these specific allegations seriously," he said.
"The safety and dignity of every person is paramount, and we are committed to their welfare and opportunities."
In an email responding to Marshall, Davidson said that the company was not aware of the incident when it happened in May.
"We have since been apprised of the situation and are handling the matter," she wrote on 22 August, explaining that employee privacy prevented the company from providing details about the actions it took.
"However, please know that the safety and well-being of our employees is important to me and the entire leadership at Crowley."
Marshall, however, was not satisfied with the response.
"I infer from your message that you do not feel the need to gather additional information from eyewitnesses to the incident, which I find rather surprising," he wrote. "But if that is not the case, please don't hesitate to contact me."
Andreini, whose LinkedIn profile says he started at Crowley in 2020, had been a key figure in the company's efforts to break into the offshore wind market.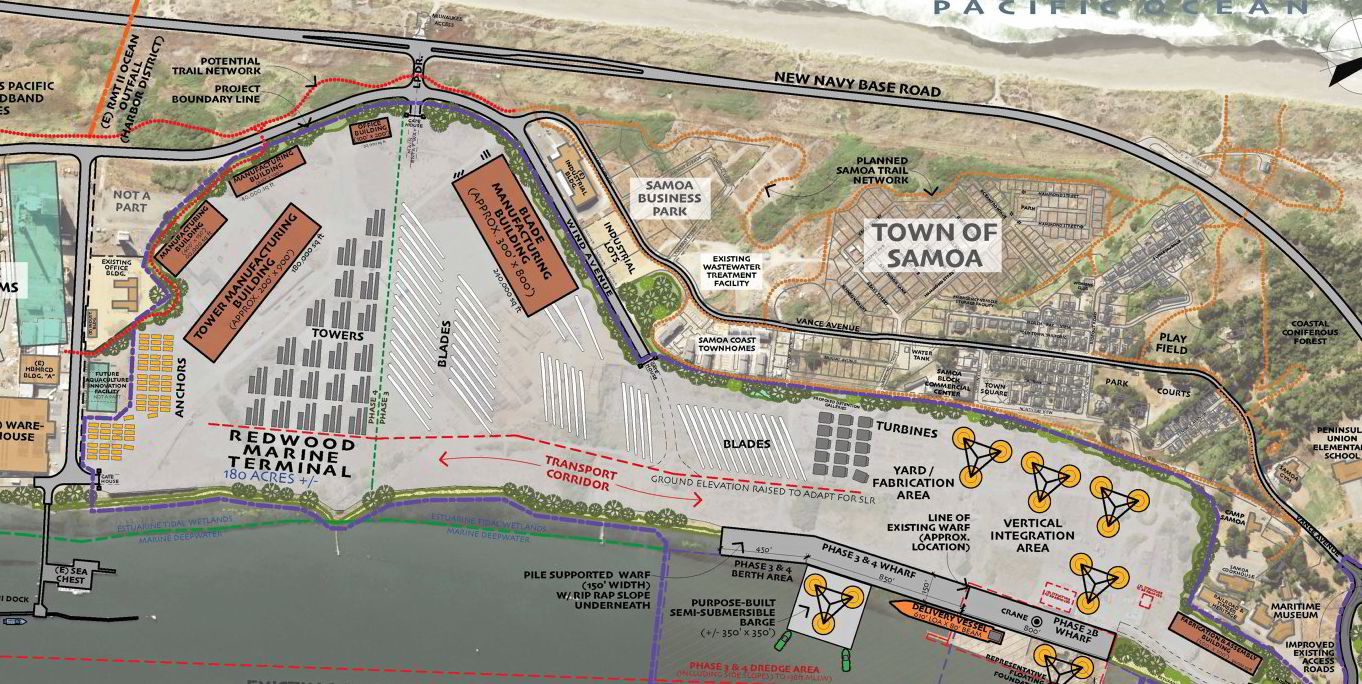 In Eureka, California, the company is working to build the Humboldt Bay Offshore Wind Heavy Lift Marine Terminal.
"I remember the first time that I went there," he told the Green Seas podcast in November. "I said, 'If we can get this, it's the crown jewel of anything that we will do in the United States'."
He was based in the company's office in Rhode Island, where it is working to build an offshore wind port in neighbouring Massachusetts.
The allegations against Andreini come as Jacksonville, Florida-headquartered Crowley fights back against two lawsuits by two Salvadorean women over the behaviour of former supervisor Juan Emilio Blanco, who had worked in the company's inland shipping department until 2018.
One woman, who remains anonymous, alleged sexual harassment by Blanco, while former employee Vanessa Treminio accused Blanco of assault and rape. Both have claimed that the incidents, which allegedly occurred when they travelled to the company's Florida headquarters from El Salvador, amounted to sex trafficking.
Blanco's lawyer has denied all allegations against him and Crowley has said that claims of sex trafficking were "false and without merit" as both defendants pursue motions for a summary judgment in their favour in Treminio's lawsuit and for dismissal of the anonymous employee's case.
DeCamp said that Crowley requires every employee to complete training to proactively prevent sexual harassment and discrimination. Managers must also go through training to identify and prevent harassment and discrimination.
"We have a strong policy of not just prohibiting harassment and discrimination, and we also have zero tolerance for retaliatory actions," he said.