People in shipping are certainly not holding back in letting their feelings be known about the Carbon Intensity Indicator (CII), which entered into force this year.
The incoming secretary general of the International Maritime Organization, Arsenio Dominguez, was at pains to tell London International Shipping Week's headline conference that the United Nations agency has already begun reviewing the controversial regulation, which measures and rates how efficiently a ship transports goods or passengers in terms of CO2 emissions.
"The fundamental problem is the CII is not fit for purpose," said Scottish shipowner John Denholm, immediate past president of the UK Chamber of Shipping, speaking from the audience.
Denholm pointed to the fact that in its current form, the regulation is too easily gamed and leads to ships being operated in such a way that they attain a higher CII rating but may in fact emit more carbon.
"We need incentives to make owners and charterers work here. The incentive we need is a market-based measure that incentivises owners to move towards decarbonisation by 2050. And without that, I don't believe the industry will make it," Denholm said.
Baltic Exchange council member and environmental consultant Martin Crawford-Brunt, who was moderating the panel discussion, said he agreed.
"If you're connecting a performance standard with something which isn't consistent, you are going to frustrate that process," he said.
Shipping barrister Poonam Melwani KC, head of Quadrant Chambers in London, said an underlying problem is the contractual issues CII causes because it rewrites the conventional relationship and legal responsibilities of owners and charterers.
"Now, you've got the rating of the ship, maintaining it and improving it, being the owner's responsibility under the regulations, but with charterers' actions and orders, which they are entitled to give under the charterparty, having a huge impact on whether owners will be able to comply or improve the rating," she summarised.
"Sitting down as a lawyer, and as Bimco and the IMO have acknowledged, the CII regulations cut through that traditional relationship and there are going to have to be innovative ways to go forward and amend charterparties if we're going to try and make the CII regulations work."
Dominguez, who will start in the top job at the IMO in January, told delegates: "We are hearing you loud and clear."
The review process has already started.
"We have several proposals that have already been put forward with the experience, the challenges," he said.
"That's why when the relationship was introduced with a soft approach in the beginning, it's to get all this feedback, get this information and it was introduced with a review course — so we are going to look into it.
"When it comes to the economic measures, it is on the table, it's actually one of the decisions of the strategy. And by 2027, we will have a set of regulations — both technical and economic measures — that are actually going to take us on a pathway to decarbonisation."
To this day, it is believed that the Bimco CII clause has never been incorporated into a charterparty contract in its unamended format, but amended versions are beginning to do the rounds, Melwani said.
"After it was published, a group of 23 influential charterers wrote a letter to Bimco, saying it was very disappointing because it was, in these charterers' view, too owners-biased, too much in favour of owners," she explained.
"There are charterers coming up with variations of it and different versions of it, but people are to my knowledge looking at versions of it to implement because it's going to have to happen."
There is still time to develop clauses that both contractual parties are happy with, she added. "That's how we get there," Melwani said.
Japanese shipowner Toshinobu Shinoda, senior managing executive officer of Japanese shipowner Mitsui OSK Lines, said he sees the contractual issues associated with CII will be resolved over time.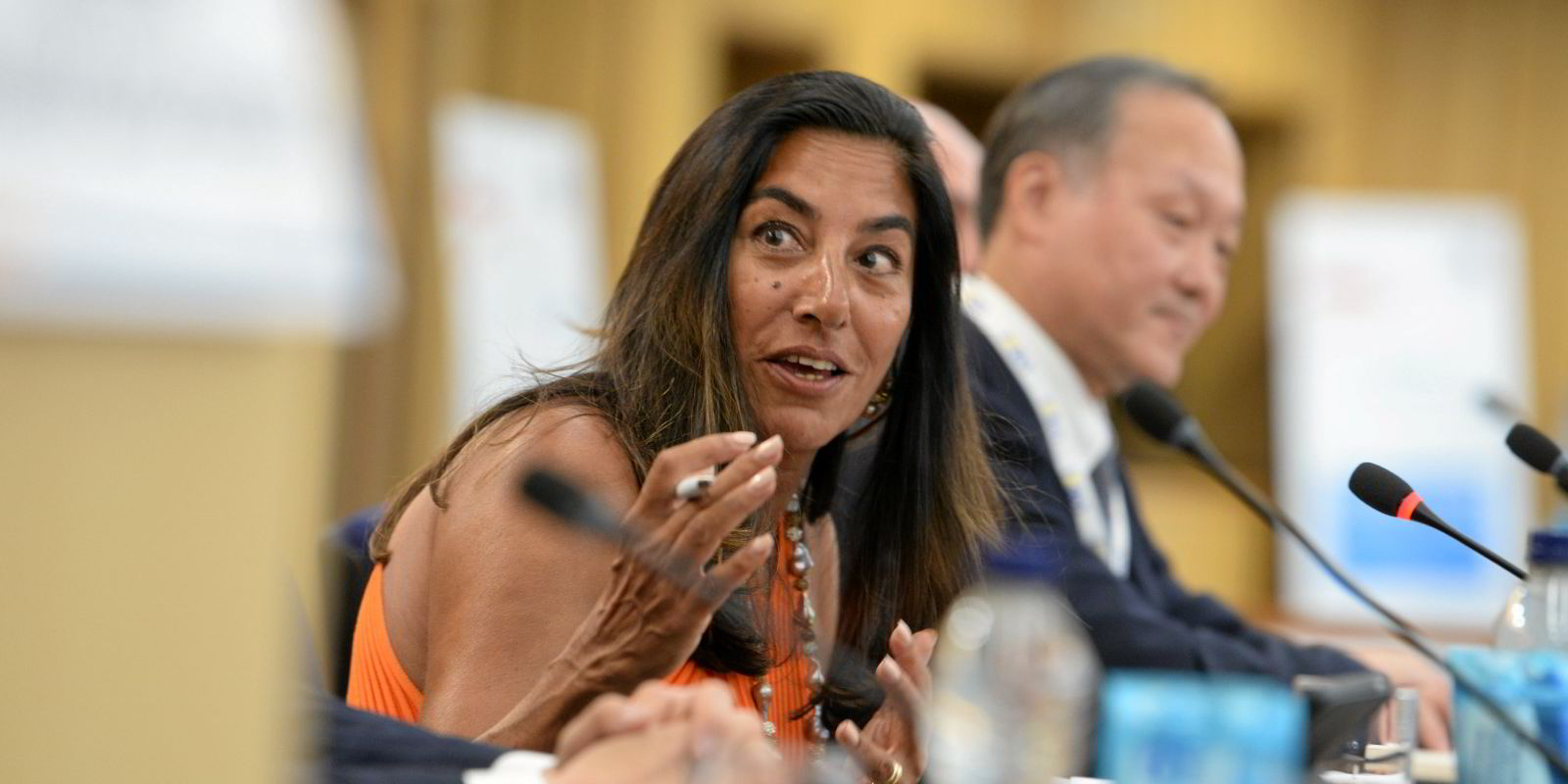 "CII is very symbolic to introduce to the market the vessel's performance related to the emissions for the first time, this is very simple. In future, this will be properly incorporated in the contract," he said.
Shinoda said that collaborative initiatives such as green corridors would be good ways to decarbonise industrial shipping.
For Dominguez, the solution lies in having time, patience and — to use a word that was coined too often to count during London International Shipping Week — collaboration.
"Just keep having faith in this organisation because we continue to deliver, but we need you on board because sometimes, you know, there will be challenges ahead. It's how we face them together," Dominguez said.