Mitsui OSK Lines chief executive Takeshi Hashimoto has urged shipowners to take advantage of a "special time" in the industry to commit to decarbonisation through investment.
Speaking at the TradeWinds Shipowners Forum Tokyo this week, Hashimoto described how he is steering the company's giant 800-ship fleet to net-zero emissions by 2050.
He said the decarbonisation challenge comes just as MOL has benefited financially from the post-Covid container ship market boom.
"It is a special time for us," he said.
"We recognise the world is rapidly changing and promoted a feeling in our organisation that we are behind the global change.
"It is a rare opportunity, so we decided to do as much as we can."
He said the improved financial situation in the shipping industry is a good opportunity to make the capital expenditure to decarbonise.
"Now is the time to invest, this will not continue forever, the next two to three years will be critical," he said.
The company recently laid out its decarbonisation strategy in its business plan, Blue Action 2035. It includes ¥650bn ($4.3bn) in cumulative environmental investment between 2023 and 2025.
There are plans for 90 LNG and methanol-fuelled ships and 80 ships to be fitted with the company's unique "Wind Challenger" sails by 2035.
Hashimoto said it pays to be bold in making decisions on technology solutions.
"If we have a clearer idea than our competitors, we can differentiate ourselves," he said.
"We might make some mistakes, but if we get seven out of 10 right, that is good enough for me."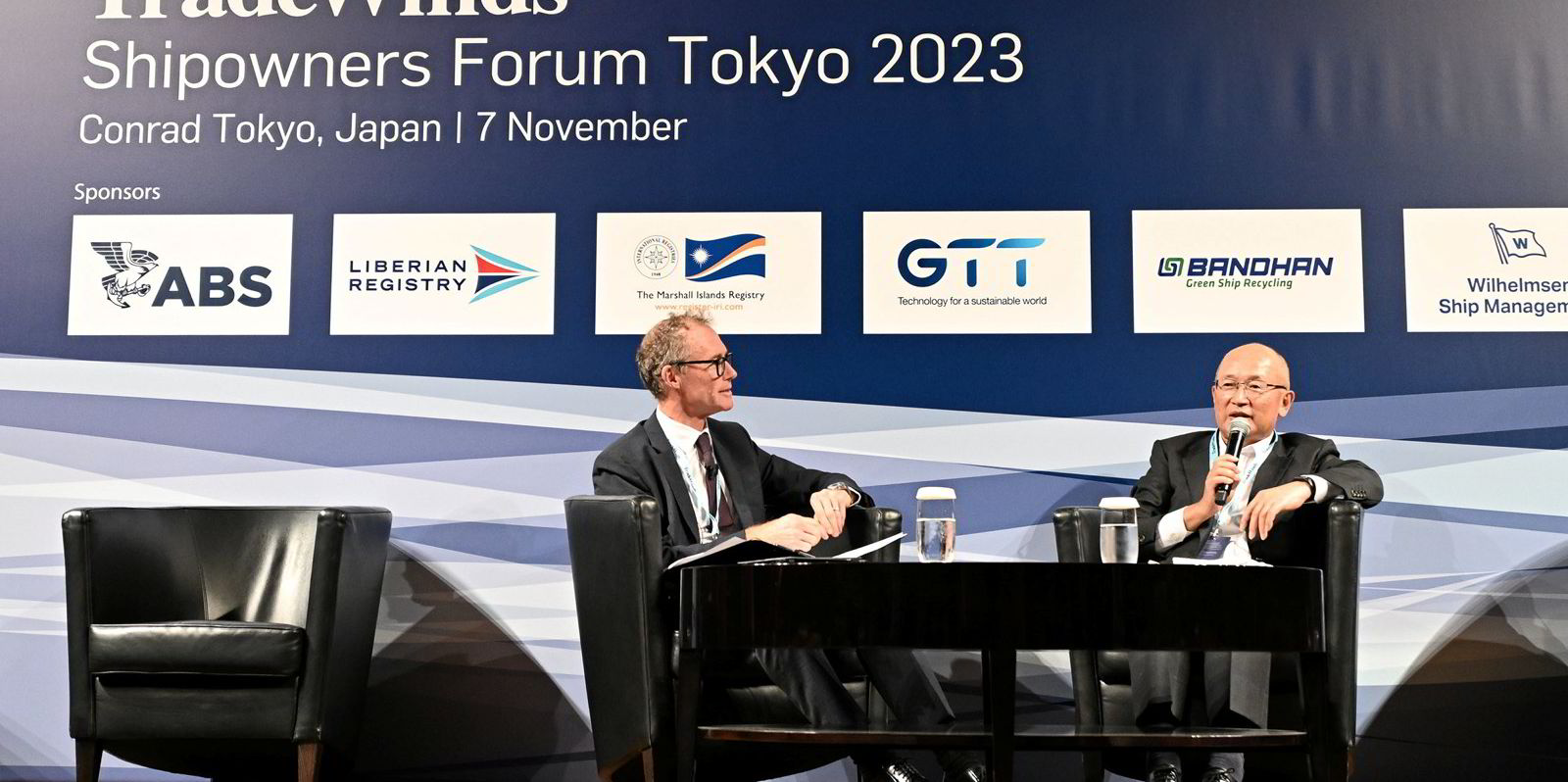 Hashimoto said it is important to explain to shareholders the need for green expenditure.
"Our shareholders need a solid return every quarter," he said.
"So I must explain that if we just concentrate on quarter-to-quarter profit, the best way would be to order a conventional ship with a scrubber — but in five to 10 years we will be in trouble."
The decarbonisation plan is also taking place as MOL adapts to changing trading patterns and continues to globalise the company and improve its transparency and governance.
He backed LNG to continue to be a part of the world's fuel makeup despite attracting criticism as a fossil fuel.
"There is a need to reduce carbon emissions but in Asia, we should look at coal consumption," he said. "Many industries are still using huge volumes of coal. LNG can be a good alternative.
"The world cannot continue to rely on piped Russian gas, we need LNG from the Middle East or America, and we will need large volumes of LNG for the next 20 to 30 years."