Matson has pumped $565m into a fund for ship construction, fuelling expectations that it is moving a step closer to ordering container vessels as it looks to upgrade its Alaska services.
As it revealed a more bearish estimate for its third-quarter earnings, the Hawaii container ship and container ro-ro operator disclosed that it had put more cash into its capital construction fund (CCF).
The deposit goes towards a $1bn renewal programme for its Alaska fleet, said Stifel analyst Benjamin Nolan.
"While the new larger ships have not yet been ordered, we expect this should take place before year-end," he said in a note to clients.
In August, chief executive Matt Cox said Matson would make a "sizeable cash deposit" into the fund in the third quarter.
The move was couched as a way to apply the tax benefit of the deposit to the US company's 2021 tax filing. Chief financial officer Joel Wine told analysts in August that a $500m deposit was expected to lead to a refund of a "significant portion" of its $242m tax payment for last year.
"Going forward, we expect to continue to add cash to the CCF before and during construction on the vessels to take full advantage of the CCF tax benefits and lower our cash taxes," he said during a conference call at the time.
Wine said the company is leaning towards moving three vessels from its CLX service between China and Long Beach to its Alaska run. It would then upsize the transpacific service between Asia and California with three Aloha-class, 3,220-teu newbuildings, which would be readied for potential LNG fuelling.
Aloha class
Matson spent $418m in 2013 to order two of the Aloha-class vessels at Philly Shipyard in Philadelphia. The owner, which took delivery of the ships in 2018 and 2019, operates vessels that qualify for the US Jones Act, which requires domestic construction.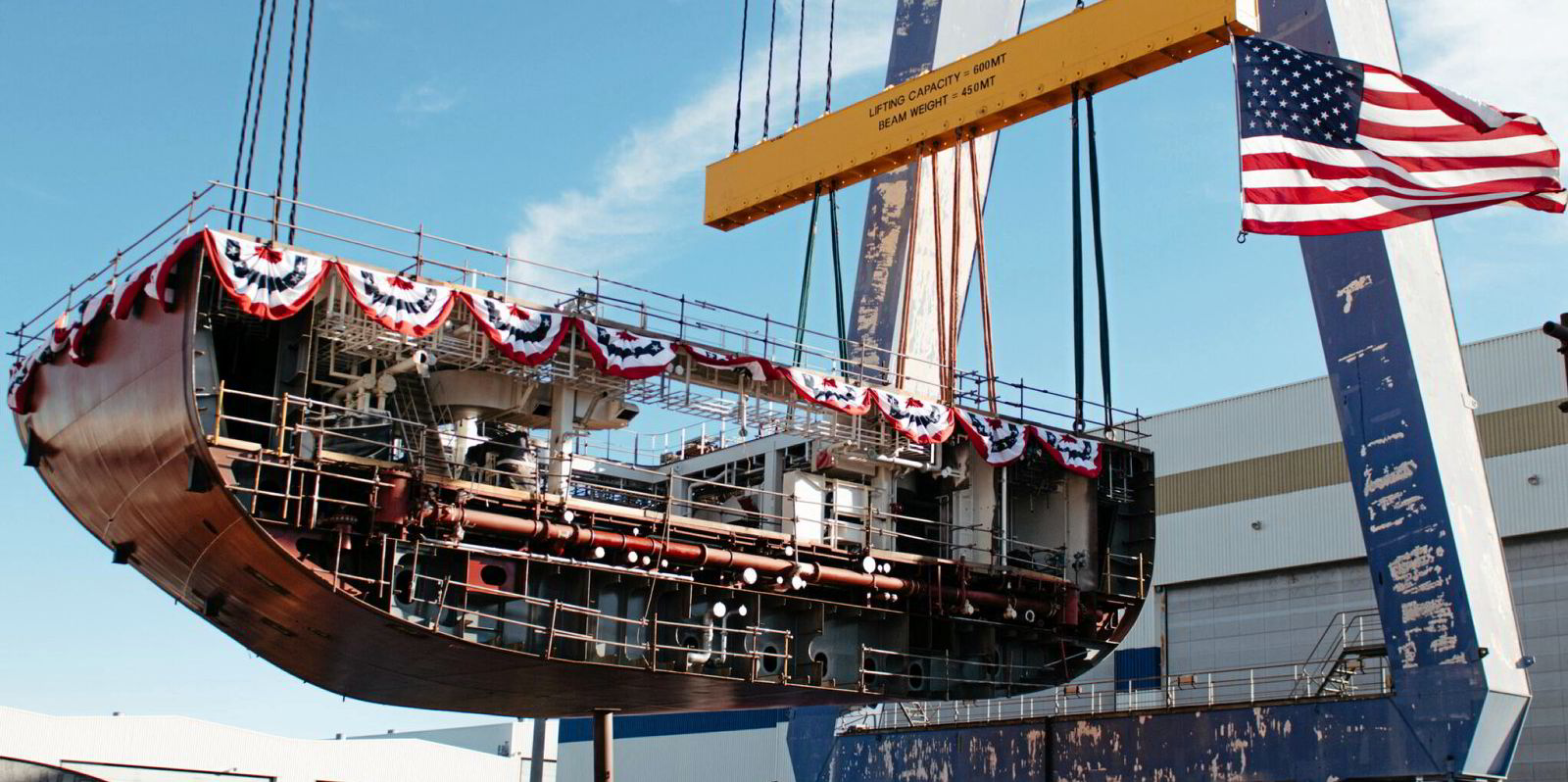 The CLX service links China and California, returning via Honolulu, Guam and Japan's Okinawa on the return journey, with shipments between the Hawaiian capital and the US mainland requiring Jones Act vessels.
While Matson operates a handful of foreign-flag vessels on the transpacific for non-Jones Act cargoes, it also uses three 2,890-teu vessels that were built in the US between 2003 and 2005 for CLX.
On its service between Tacoma in Washington state and Alaska, the company operates three 1,668-teu vessels built in 1987, in addition to the 2,019-teu RJ Pfeiffer (built 1992), according to a vessel schedule.
Putting away cash for newbuildings was not Matson's only capital move.
It also spent $88.4m to purchase 1.1m shares off the market. Nolan said that means the New York-listed company has cut its outstanding shares by 12% in the past year-and-a-half, "with more likely to come".
The shipowner is preparing to release its quarterly earnings report on 2 November.
This story has been amended since publication to accurately reflect the CLX service's route.