Some have cake, others a fancy reception or dinner but industry body the Society of Gas as a Marine Fuel (SGMF) opted for a day-long forum, albeit in Paris, with some exceptionally warm October sunshine thrown in.
SGMF general manager Mark Bell — a first hire for the then-new body in 2013 — clinked celebratory champagne flutes on stage with host GTT's president and chief executive Philippe Berterottiere well before 10am and mused about how they had managed to plan the event in France on a day with no Rugby World Cup matches.
But then it was down to business with shipowners, fuel suppliers, technology and equipment providers to have their say, with SGMF company secretary and BSM Group corporate expert on liquefied gas Chris Clucas playing chair and compere.
Bell said SGMF needs to be clear in the roadmap for fuels, "set a firm course" and while the fuel is important, companies' operations are also key.
He said more collaboration with other organisations is needed, naming the Maersk Mc-Kinney Moller Center for Zero Carbon Shipping as one body that SGMF is working with and embrace other sectors to learn about the fuels, how to use them and optimise logistics and operations.
Bell also challenged SGMF to communicate more broadly or others will do it for them.
"Let's shout about what we are doing and say it clearly as," he urged.
Ammonia proved a hot topic throughout the day with some lively comments aired about how its toxicity, safety and acceptance are, and might be viewed.
In an audience online poll 65% thought SGMF's secretariat should prioritise its efforts on ammonia with onboard carbon capture and storage next up at 17%. But 50% said safety concerns are the primary impediment to the adoption of the fuel.
End game
Bell told TradeWinds that SGMF will produce its first lifecycle analysis of the emerging new marine fuel in early 2024.
He said SGMF has chosen to do ammonia as it is seen as "the end game". However, he added that it is difficult to perform this, with the data available for the well-to-tank aspect but more information needed for the tank-to-wake section.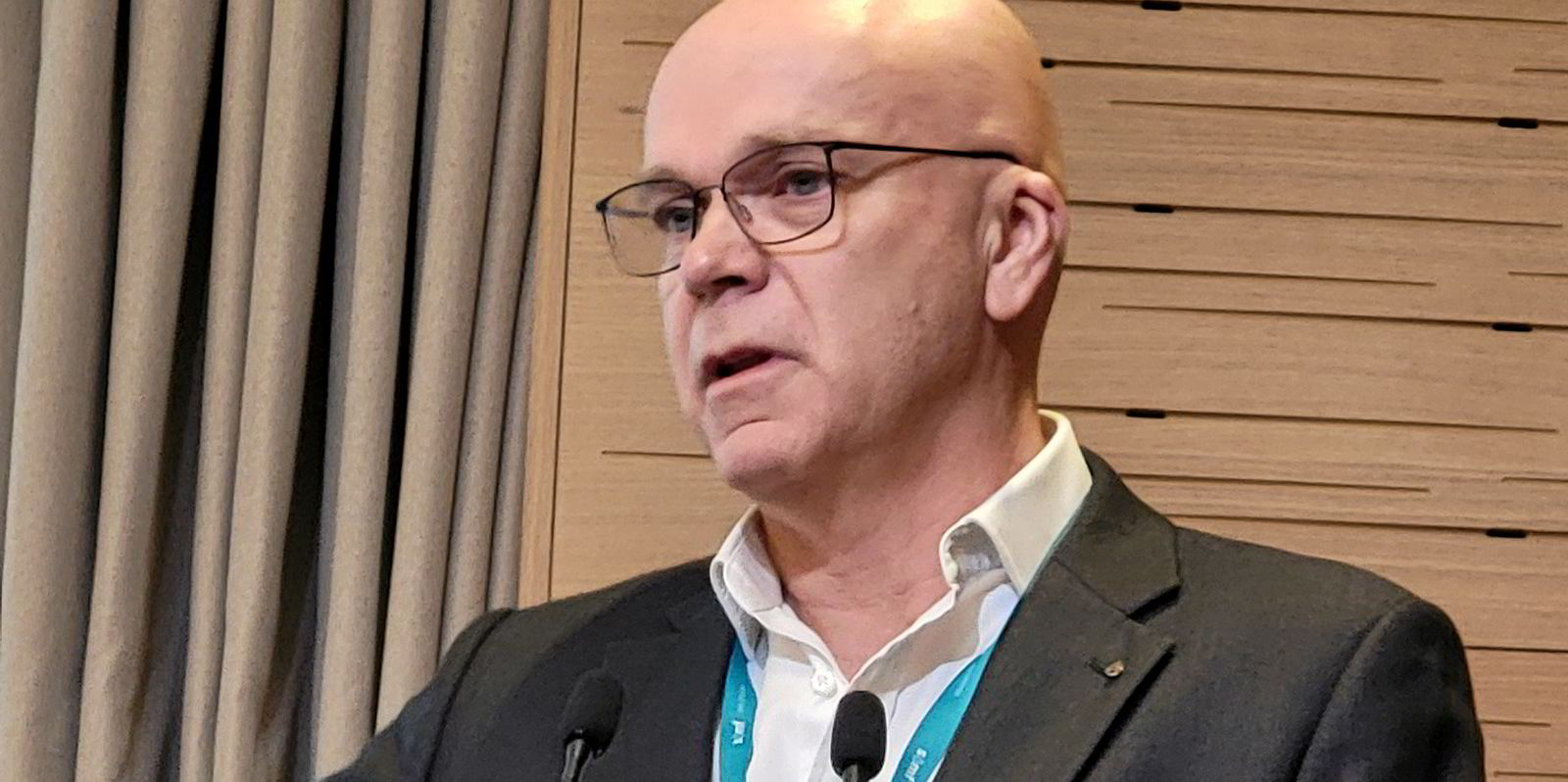 In a panel session, Anthony Veder commercial and sustainability director Bjorn van de Weerdhof welcomed the development of alternative fuels but said they may not be available at scale so there will be competition for them.
He praised SGMF for its integrity, factual independence, authority and very knowledgeable secretariat. But he warned that the society needs to stay relevant for all and needs a broader perspective drawn from a more diversified membership pool.
"We need to adapt quicker than before and we need a concrete plan and a strategy," he said. "We should learn from each. Let's celebrate our differences to make a difference."
SGMF+
GTT commercial vice president David Colson said innovation is going to be important moving forward revealing that the LNG-focused containment system design company is also working on an onboard carbon capture solution and wind sails.
Mireille Franco, head of HSEQ and technical department at TotalEnergies, came up with the new name for the organisation as it moves into its second decade. She said SGMF has been "an enabler" for LNG as a marine fuel and now SGMF+ can also act as a "facilitator and an accelerator".
"You are our showroom and what is needed to balance all the information available in social networks," she told the society.
Clearly the members group on fuelling has not worked for all though. It emerged that AP Moller-Maersk — the Danish shipping giant and championer of methanol as a marine fuel — had opted to leave SGMF.
Go green or go home
Looking forward, Bell said where gaps exist in the knowledge, SGMF is there to fill them as quickly as possible.
He introduced new SGMF principal technical advisor Andy Alderson, who has come onboard alongside technical advisor Stephen Gallagher and their existing counterpart Gianpaolo Benedetti, who covers energy transition and regulatory affairs.
Bell recalled that only 0.2% of the world fleet was using alternative fuels when SGMF was established. He said it is now closer to 2% and moving the decimal point again to 20% in the next 10 years seems possible.
He called on the members' organisation, which has advisory status at the IMO — the youngest organisation to be given this, to move quickly and anticipate what is coming next.
But maybe Martin Cato Pettersen — vice president of technology at Azane Fuel Solutions — summed it up when he concluded his presentation by telling delegates: "Go green or go home."