Containment system designer GTT has unveiled a new LNG carrier design with three cargo tanks instead of four, which could offer a lower cargo boil-off rate while reducing newbuilding costs.
The French technology, a specialist in membrane containment systems, said on Tuesday that it has secured approvals in principle from classification societies DNV and Bureau Veritas for the new LNG carrier concept.
The new design is based on a 174,000-cbm vessel and could feature three identically sized tanks of around 55,000 cbm to 60,000 cbm. An alternative design features one smaller bow-mounted tank of between 25,000 cbm to 28,000 cbm and two large size tanks of 70,000 cbm to 75,000 cbm.
Building a vessel with three tanks over the traditional four would remove the need for one cofferdam, a pump tower and related cryogenic equipment, the company said. It would also reduce the surface area of the vessel's cargo containment system — as designed by GTT — by around 2,000-cbm cutting materials and construction costs.
GTT said it estimates that a three-tank design built using its Mark III Flex membrane system — which currently gives a boil-off rate of 0.085% of the cargo volume per day from in-operation vessels — would be able to cut the boil-off rate to 0.08% per day. This is due to there being less surface area in contact with the LNG cargo.
The company anticipates that the boil-off rate on its Mark III Flex Plus and upcoming Next1 systems, which are at 0.07% per day, would be even further reduced using the three-tank design.
"This new design could also offer time-savings for shipyards and optimise their construction schedule," the company said.
Speaking to TradeWinds, GTT chairman and chief executive Philippe Berterottiere said the company has been working on the new LNG carrier concept for around 18 months.
Berterottiere estimates that the new style vessel, which would still need to be worked up into a detailed design by yards, would likely shave under 1% off the construction cost of a vessel.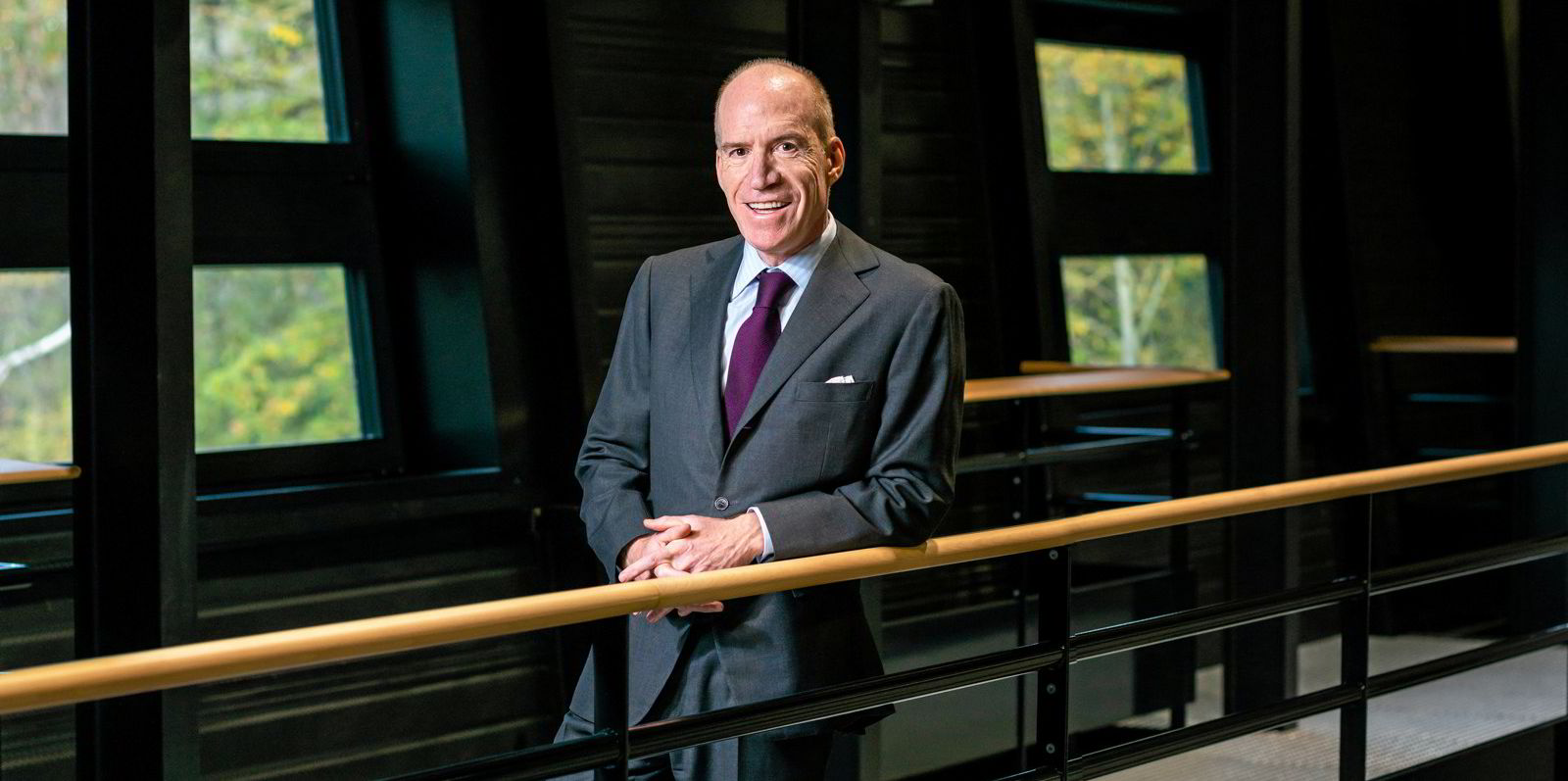 He also acknowledged that cutting the area of containment system required would result in lower royalties being paid to GTT. These currently amount to around 3% of the construction costs of a vessel.
But he said GTT should be focused on what can improve LNG carriers rather than having a "short-sighted penny-pinching approach" or it risks facing competition.
"If there is something that can be done then we do it," he said.
The GTT boss said considerable work has gone into longitudinal liquid motion analysis on the design because, while the breadth of the vessel would be the same, its tanks will be longer.
He appreciates that some owners may want to stick to four-tank solutions but said others may be interested in reducing the cost of the ship. Charterers have also shown interest in the design.
Berterottiere said in theory an owner could order a three-tank vessel in 2023, although he acknowledged the crush at yards for LNG carrier slots.
The chief said the issue will be whether yard are going to be able to add more LNG carrier slots and accelerate their production processes.
He believes there are still more LNG orders to come in 2022 which will see twice the number of orders for GTT over the previous year which was also saw a record tally for the company.