Energy major Shell is pursuing a new design of LNG carrier which can be upgraded as new fuelling alternatives emerge towards a net-zero vessel while also offering more cargo carrying capacity.
Speaking at London International Shipping Week on Wednesday, Shell senior vice president and global head of shipping and maritime Karrie Trauth said the company is working with engine designer Wartsila, China's Hudong-Zhonghua Shipbuilding (Group) and class society ABS on the design of a modular ship that can be upgraded over time in a planned way towards a net-zero emission vessel.
Expanding on this Shell said the design concept is based on a scaleable hybrid arrangement with a fully-electric drive train.
The major said the design uses a combination of LNG dual-fuel and LNG pure gas four-stroke engines that can be upgraded to use alternative future fuels when they emerge at scale. The engines can also be exchanged for alternative energy converters such as fuel cells, that potentially offer higher efficiency.
Shell said that the compact nature of the hybrid arrangement could enable more cargo onboard for the same hull dimensions and displacement, and so offer improved carbon intensity.
Giving details of the new design — which showed an image of 185,000-cbm hybrid electric LNG carriers, Wartsila said that the new vessel would have five compact generating sets instead of the two large two-stroke engines and four auxiliary generating sets on a typical LNG newbuilding today.
The engine designers said this would allow for space saving allowing the cargo capacity of a standard 174,000-cbm vessel could be increased by 9,000-cbm below deck.
It would also reduce equipment weight by 40% so that even with more cargo, the overall vessel displacement, draft, and hull performance will be the same as current designs, enabling it to be compatible with standard large LNG terminals.
Wartsila claims this could lead to higher trading revenues, lower unit freight costs and reduced emissions per ton mile.
The company also said the new, modular hybrid electric design would be able to achieve a 10% cut in fuel consumption, a 15% reduction in greenhouse gas emissions and over 20% drop in methane slip.
It added that maintenance costs will also be "significantly lower".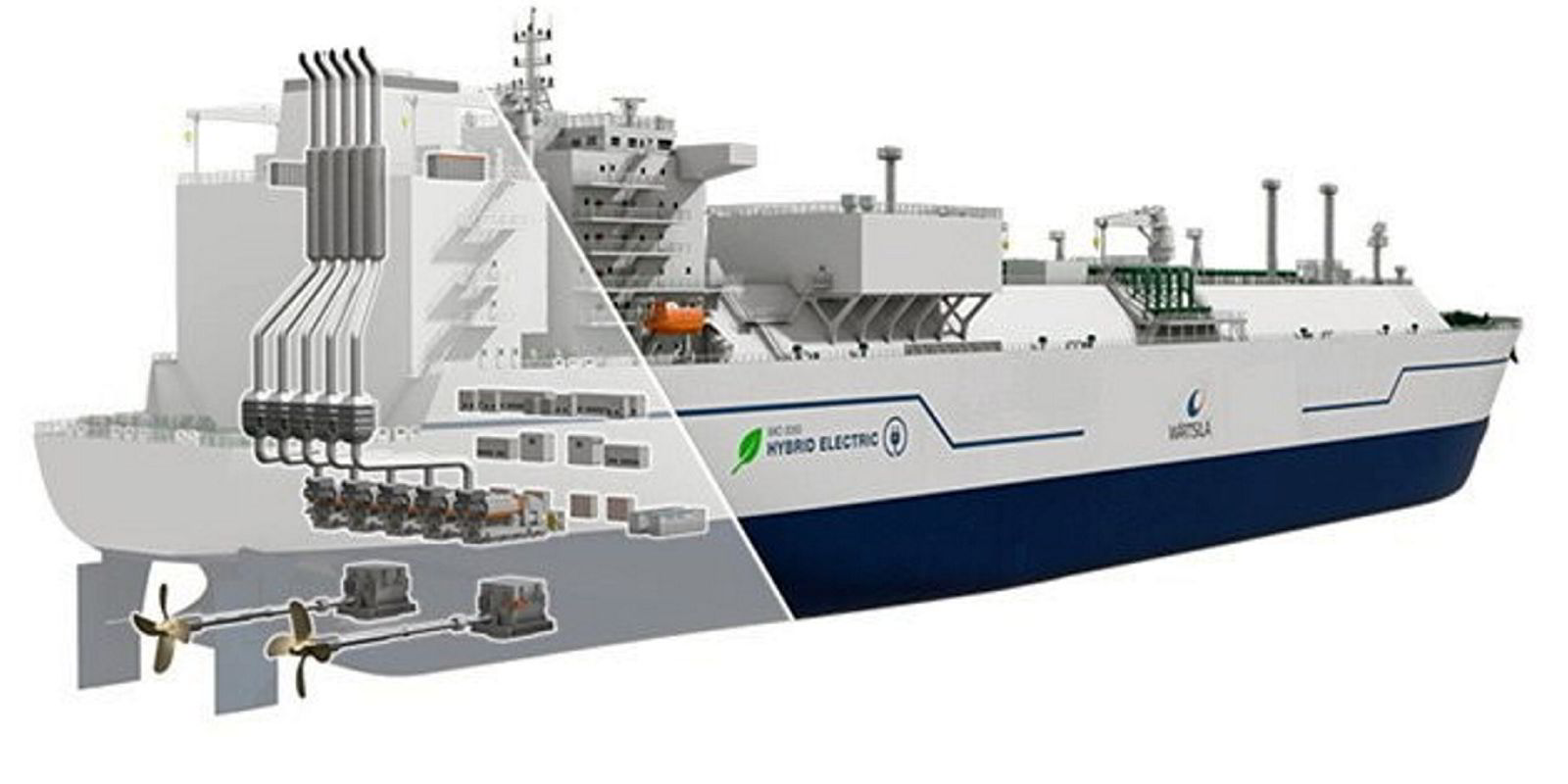 Shell said the aim of the new design is to provide flexibility to integrate future fuels and technologies as they become available, and in theory eliminate the risk of stranded assets.
"The design could help to overcome the 'chicken and egg' debate for alternative fuels as the technology could be adapted for whichever fuels emerge during the transition," the company said.
"An adaptable design that can be compatible with future technologies could prove essential for decarbonisation and a gradual transition in the industry as we progress towards our target of net-zero emissions by 2050."