French energy major TotalEnergies will be operating 10 LNG dual-fuelled tankers out of the 50 it has on long-term time charter by the middle of this year.
The company already boasts three LNG dual-fuelled VLCCs — two from AET and one from Maran Tankers — along with two aframax tankers. It will take on another four aframaxes this year plus a 20,000-dwt vessel, which it is treating as something of a trial.
Jerome Cousin, senior vice president of shipping at TotalEnergies, said size matters in running an LNG dual-fuel fleet because having more ships enables the company to "turn some volumes" in the big bunkering hubs, optimise this fleet and make the right call when switching fuels.
Cousin said the high price of LNG in 2022 meant it was not a good choice as a bunker fuel. But with the price of LNG bunkers touching parity with marine gasoil, he said this month that it is possible to consider switching back to using it in emission control areas.
TotalEnergies used conventional fuel in 2022, but Cousin can envisage the energy major using LNG, or blending this with bio-LNG to optimise its fuelling.
So is the company wedded to LNG as a marine fuel?
"We think today this is making a lot of sense as a marine fuel to climb the first steps of shipping decarbonisation," Cousin said, adding that it is available today, the logistics are in place and the onboard technology is safe.
"This is why we wanted to grow the LNG dual-fuel fleet as fast as possible to have critical mass," he said.
For smaller vessels, Cousin added: "We do not think it is necessarily the best option. Methanol could be good competition, especially because the extra capex to have this extra fuel optionality is not as expensive as for LNG."
He said today's challenge is how much green or zero-carbon methanol can be sourced and at what price. At present, this is unanswered but the company is confident that this, or at least a blend with lower carbon content, will be available in several years.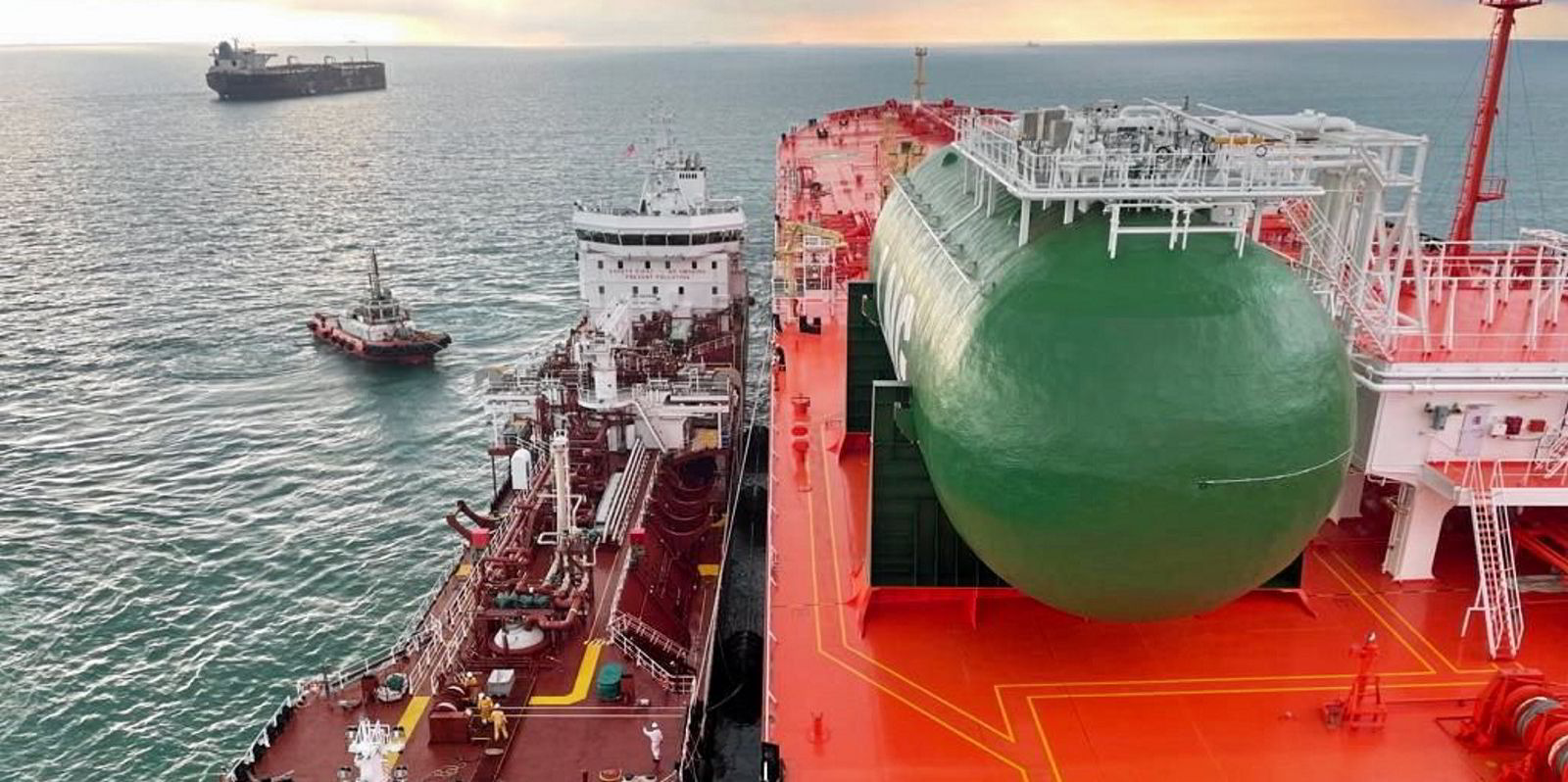 Longer-term, TotalEnergies — which has joined the Castor Initiative — is also looking into ammonia as a marine fuel.
Cousin said this remains "very challenging", with the toxicity and the safety aspects not yet solved.
But as the shipping entity within TotalEnergies, he said: "We want to look into this fuel alternative and make sure we understand together with market players and be ready to order or enter into time charters when the conditions are met."
There will be volatility between the different fuel alternatives moving forward. In 2022, it was LNG. Next year it might be green methanol.
"The important thing for me is the agility and the ability to switch fuel and keep this fuel optionality," he said.
Cousin has a larger brief these days.
The former vice president for LNG shipping now heads up TotalEnergies' entire 120-person, Geneva-centred shipping division, where he is responsible for tankers, LPG carriers, LNG vessels and some bulkers. Other operations, such as vetting, technical and demurage, also fall under his brief.
The move up the company follows an internal reorganisation last year that has followed a common theme within the group, whereby its different businesses have been pulled together under a new One Shipping arm.
Under his control are around 80 to 85 vessels chartered on a long-term basis, comprising around 50 tankers — some 20% of the tanker tonnage is from major charters — 20 LNG carriers and 15 LPG vessels including 10 VLGCs. Its first two LPG dual-fuelled vessels joined the fleet in 2022.
On top of this are its spot-chartered ships, which include some bulk tonnage for its refinery products and the remaining 80% of the tankers it takes in.
The logic is to have all of TotalEnergies' commodities trades covered by its in-house One Shipping organisation, whose fleet undertakes more than 3,000 voyages each year.
Cousin said TotalEnergies prefers long-term charters for what is its 18-vessel LNG fleet at present.
The company, which is in the process of trying to shed its last owned LNG carrier, has more newbuildings being delivered this year and in 2024. It is also working towards a goal of 20 vessels by 2025 to serve the major's 50-million-tonnes-per-annum LNG portfolio.
On the tanker side, Cousin said the company is benefiting from a much more liquid shipping market so tends to have lower numbers on period hire. But it still operates a sizeable fleet of around 50 crude and product carriers on term charters.
He said the aim is to have a certain exposure as a time charterer in each tanker segment size so the company can optimise this fleet and not simply take vessels from the spot market.
"We like to be on both sides buying and selling freight wherever possible," Cousin said. "That is very important to us."
'Very risky'
But he admits that optimising the company's LNG fleet by reletting ships would have been "very risky" in 2022, as it would for other players in the tight market seen last year.
However, there have been surprises.
Cousin said some vessels "unexpectedly" left the fleet in 2022 — the major handed the 174,100-cbm SCF La Perouse (built 2020) back to Sovcomflot as the Russian owner was a sanctioned entity.
"Our management has been very clear in putting the red line on our code of conduct regarding the Russian conflict," he said. "We are very strict on how we implement these rules."
TotalEnergies did restock LNG carriers.
Mitsui OSK Lines indicated it had chartered a vessel to the energy major. But Cousin said rumours about the number of ships taken were "a bit inflated" and describes the number fixed as "just a couple". He added that it was not an easy call to add long-term charters at what can be seen as a peak in the market cycle.