More than $4.2bn-worth of LNG carriers and floating storage units for Russian LNG business remain under construction at shipyards despite wide-ranging international sanctions that have stopped construction on other LNG-related units for Russia.
The vessels comprise 19 LNG carriers — the hulls of three of which have been delivered to Russia's Zvezda Shipbuilding Complex — and two supersize FSUs.
The LNG ships are being built to serve the Novatek-led Arctic LNG 2 project, which was originally due to start-up this year but has been delayed by 12 months.
Twelve of the ships, including the two FSUs are under construction at Daewoo Shipbuilding & Marine Engineering, with Samsung Heavy Industries named as the builder of the remaining nine — after constructing the hull blocks of the three ships already delivered to Russia.
The bulk of the vessels are due to be delivered this year.
Eagle industry eyes are watching three Arc7 LNG carrier newbuildings originally ordered by Sovcomflot at DSME at the same time as MOL booked a similar trio. All six vessels were booked against long-term charters with Russia's Novatek, through its Singapore-based chartering arm of Novatek Asia.
While MOL is continuing to build its three Arc7 vessels, DSME cancelled all three of the Sovcomflot ships one by one during 2022.
At the time, it was said key equipment suppliers for the LNG newbuildings were unable to supply kit and materials for the ships under the sanctions imposed on Russia following its invasion of Ukraine.
But DSME, which is in the process of being sold to Hanwha Group, has taken over the construction of the specialised ice-breaking LNG carriers and is completing them for its own account.
There is speculation in the industry that a buyer with links to Novatek may already have been lined up for these ships when they are completed this year.
Industry watchers are also awaiting the delivery of two giant, 361,600-cbm FSUs from DSME.
The two FSUs were ordered by Moscow-based State Transport Leasing Co (GTLK) for deployment on the Northern Sea Route.
They are delayed after originally being scheduled for handover last year.
A first FSU is expected to emerge this quarter but will require towage to either Murmansk or Kamchatka.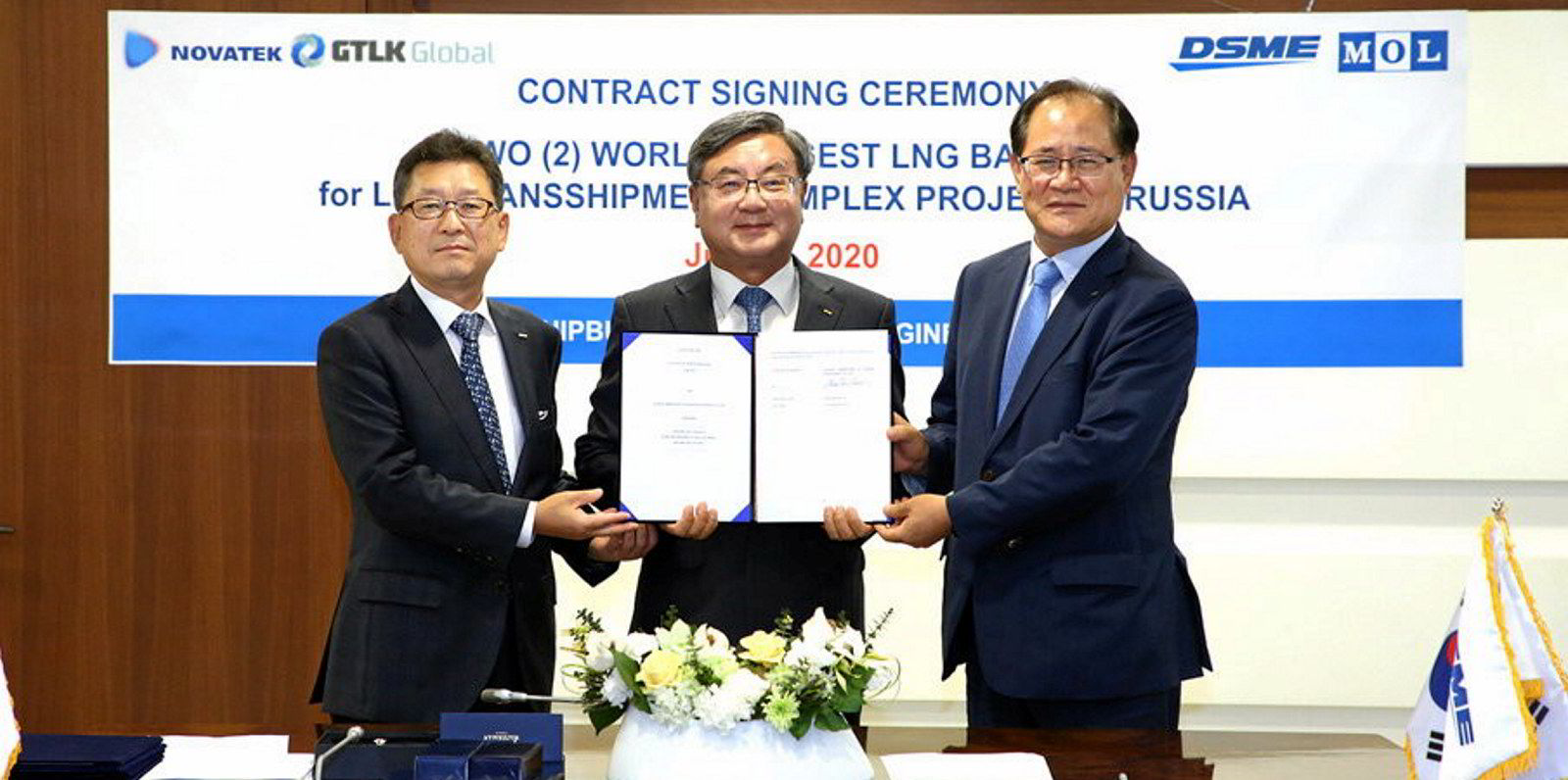 Attention has also been focused on the 15 vessels that Russia's Zvezda yard is building with assistance from SHI.
Sources following the business told TradeWinds that three hulls have been delivered from SHI to date. The first of these — for the Sovcomflot-owned, 172,600-cbm pilot vessel Aleksey Kosygin — arrived in October 2021. It was originally scheduled for delivery next month.
Two more hulls for the Novatek-Sovcomflot joint venture Smart LNG's first two vessels — the Pyotr Stolypin and Sergei Witte — have also arrived at the Bolshoi Kamen-based yard in Russia's Far East.
A fourth hull remains in SHI's shipyard in Geoje. TradeWinds understands that SHI may complete the fifth LNG carrier in South Korea. But the future of the contracts for the remaining 10 hulls remains unclear, with sources indicating that they are unlikely to be built by the Korean yard.
In January, French LNG cargo containment system design specialist GTT announced that it was pulling out of Russian business after an in-depth analysis of European sanction packages No 8 and 9, which prohibit engineering services with Russian companies.
GTT told TradeWinds that it consulted specialised lawyers and took French government advice on the sanctions before making its decision.
But the company maintains a skeleton presence in Zvezda to oversee the safety of its tank design construction on the three Arc7 vessels.
Of the other Russian business-related LNG newbuildings, two Japanese owners contracted 11 of the vessels, with Mitsui OSK Lines ordering seven of the LNG carriers and NYK — originally in partnership with Russian owner Sovcomflot (SCF Group) — inking the other four.
These vessels are scheduled to be delivered to Singapore-based Novatek Asia and construction is said to be ongoing with all of the ships.
MOL chief executive Takeshi Hashimoto said in his New Year message that MOL would continue shipping LNG from Russia for "as long as we can".
Hashimoto has said previously that Japan has no option but to keep importing Russian LNG due to the lack of viable alternatives for the country.
"Some companies decided to withdraw from Russia-related business, but our group will continue to offer stable transport services, placing the highest priority on securing the safety of crew members, cargo, and vessels," he said.
In August last year, TradeWinds reported that NYK had, or is in the process of, taking over the ownership of the four Arc4 LNG carriers it originally contracted with Sovcomflot from the Russian owner.
Under construction LNG carrier newbuildings and floating storage units for Russian business
Shipowner
No. of ships
Capacity (cbm)
Ice
class/Ship type
Deliveries
Yard
Price
Charterer
MOL
3
172,600
Arc7/LNG carrier
2023
DSME
$290.7m
Arctic LNG 2
DSME
3
172,600
Arc7/LNG carrier
2023
DSME
$290.7m
Arctic LNG 2
MOL
4
174,000
Arc4/LNG carrier
2024
DSME
$211.5m
Novatek Asia
NYK
4
174,000
Arc4/LNG carrier
2023/4
SHI
$202.9m
Novatek Asia
GTLK
2
361,600
FSUs
2023
DSME
$376m
Novatek
Sovcomflot
1
174,000
Arc7/LNG
2023
Zvezda
$303m
Arctic LNG 2
Smart LNG
2
174,000
Arc7/LNG
2023
Zvezda
$303m
Arctic LNG 2
Smart LNG
2
174,000
Arc7/LNG
2023
SHI
$303m
Arctic LNG2