Hornbeck Offshore Services has signed a deal with Florida's Eastern Shipbuilding Group to convert one of its US-built vessels to serve the growing offshore wind sector.
And chief executive Todd Hornbeck told TradeWinds that the company has more candidates in its fleet for similar conversions.
The New York-listed company said the shipbuilder will convert the offshore supply vessel (OSV) to work as a service operation vessel (SOV), although it will also be able to serve as a floating hotel in the oil and gas market.
Subscribe to Green Seas
TradeWinds' weekly newsletter on sustainability and the business of the ocean digs into environmental issues every week in the maritime industries. Get it in your inbox by subscribing.
Hornbeck said the project will cost less than $100m, substantially lower than the $170m price tag of constructing an SOV at a US shipyard to meet the requirements of the Jones Act, which requires domestically built tonnage to carry equipment and personnel to installations in waters off the American coast.
He said the company is converting the 4,500-dwt platform supply vessel HOS Rosebud (built 2013), which was constructed by Panama City-based Eastern Shipbuilding, without a charter contract in place.
"It's on speculation, but we see enough demand in both our core markets," he said.
As wind farm construction ramps up in waters off the east coast, a fleet of vessels constructed at US shipyards and controlled by domestic shipowners will be needed to serve construction and later operation of the infrastructure.
But while some shipowners are turning to newbuildings, offshore vessel owners have been exploring whether assets built to serve the oil and gas industry can be repurposed for wind work, because of the high cost of construction at US yards, coupled with charter rates and contract lengths that do not justify that investment.
Responsible shift
"Financial responsibility has to come into the market," Hornbeck said, citing the rise in newbuilding SOV prices from $90m to $170m in recent years and the potential that a slump could eventually follow a boom in wind farm work.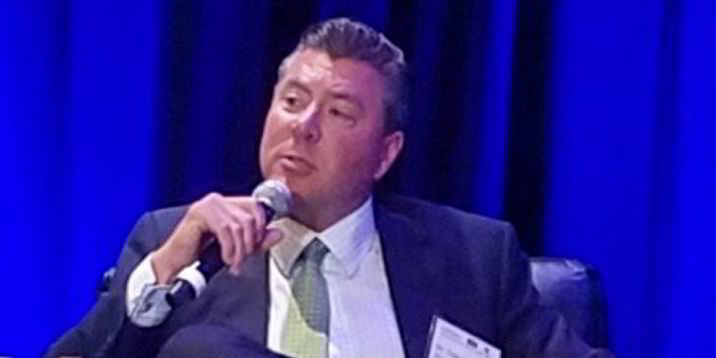 But ultimately, he believes all of the company's US-flag ships are suitable for the wind farm market: "There's a lot of opportunity in that space. There's a lot of other conversion candidates that we have."
Quixote's steed
Once converted into what Louisiana-based Hornbeck Offshore is calling a HOSSOV 300E, the HOS Rosebud will be able to support wind farm construction, as well as operation and maintenance activities once turbines are up and running. Vessels built for both tasks are often described as commissioning SOVs.
Norway's Vard, which designed the HOS Rosebud, also carried out design work for the conversion. The vessel will be renamed HOS Rocinante, a reference to Don Quixote's horse.
The ship will be able to accommodate 90 people when it is operating as either a flotel or a wind farm SOV.
The conversion will also involve the installation of a 1,500-kWh battery hybrid power system, in addition to its existing diesel-electric powerplant.
Walk to work
The vessel will be built to the standards of the American Bureau of Shipping's Comfort Class hospitality notation, and will have a 30-metre, motion-compensated offshore gangway for walk-to-work transfers, a 10-tonne crane, helideck, step-free boat landing and an enclosed warehouse.
In addition to the increasing number of offshore wind projects off the US East Coast, Hornbeck said the ship will be able to serve growing demand for flotel services in the oil and gas sector.
"We are excited to expand our deep experience in walk-to-work and offshore accommodation services with a fully capable SOV for the benefit of the offshore wind community and our offshore petroleum clients," he said.
"The SOV is a welcomed addition to our high-spec fleet of vessels, as we continue to grow in both our core oilfield and diversified non-oilfield businesses."