One of the reasons Pareto Securities is confident in the offshore sector is that things have gotten weird in the secondhand market.
While giving an overview of the offshore vessel market during Pareto Securities Energy Conference on Wednesday, analyst Jorgen Sovik Opheim recounted the saga of the 5,400-dwt Rem Crusader (built 2010).
The ship was previously known as the Havila Crusader and was sold to a Greek owner for $11.5m in 2021 for conversion into a yacht.
The end of its life in the offshore trades meant its removal from vessel databases — only the ship never made its way to the yard and 18 months after the initial sale was found by a Pareto project finance team, which bought it for $19m.
Repainted red, it now trades as part of Remoy Shipping's fleet.
"We think the coming years will be very bright for vessel owners and investors," Opheim said.
"Despite the fleet being 10 years older than the previous cycle, we don't think that stands in the way of a repricing. In a few years' time when I stand here and talk about how newbuild economics are great and the orderbook is no problem, everyone here should be very, very rich."
He said things were looking up across the market, as utilisation was peeking up for all ship types and rising rates were due to demand, not dwindling supply.
Opheim said subsea vessels were particularly in demand and used the 178-loa offshore construction vessel Normand Maximus (built 2016) as an example.
The ship, owned by AMSC and on bareboat charter to Solstad Offshore, brought in $43m in Ebitda between 2016 and 2020.
That figure fell precipitously in 2021 and 2022, but in 2023 the vessel earned $50m and even more in 2024.
"It's a shorter contract, but nevertheless it tells a compelling story in our view," Opheim said.
Owner confidence
His bullishness was echoed during the company presentations, with owners describing a strengthening market with plenty of room to run.
"I have never seen a better outlook in the 25 years I have been in this industry," said Solstad Offshore chief executive Lars Peder Solstad.
He said the market was being driven by activity in renewables and the traditional oil and gas business and a small orderbook.
"Contracts that we are signing now are at historically high rates and tender activity is very high," he said.
Tidewater chief executive Quintin Kneen said he gives an ambiguous answer when asked how high OSV rates can go.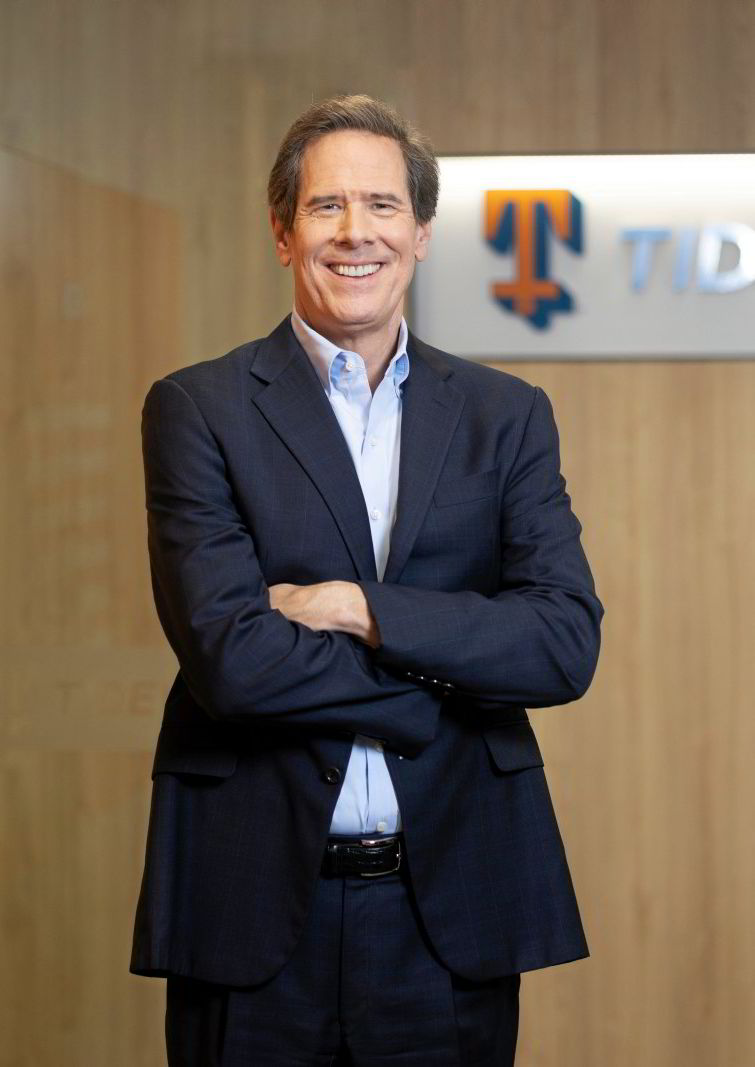 "We're going to find out," he said he tells investors. "There really are no constraints."
Kneen told attendees that Tidewater's operational and financial performance was up across the board, as were rates, which for the company's largest ships surged from $14,382 per day in 2021 to $29,958 per day in the third quarter of this year.
He said the fleet is of a much higher quality than it was the last time the offshore sector rallied in 2014, which suggests an even better upcycle.
"The fleet makeup has changed substantially so the peak day rates you'd naturally assume are going to be much higher than we've seen in the past," he said.
Standard Supply chief executive Espen Landmark Fjermestad said last winter's market was terrible, with rates in the doldrums.
"Today, the opposite is actually happening," he said. "At the moment, we're fixing vessels in the winter months for $15,000 per day to $20,000 per day."
The Oslo-listed company's eight platform supply vessels were earning average day rates of $19,000 per day, he said.
The largest have contract coverage into the middle of 2024, but the smaller vessels are coming open in the fourth quarter.
"These are the vessels we're now fixing" in the high teens Fjermestad said. "Rates you'd be happy with in the summer market."