Mediterranean Shipping Co (MSC)'s massive expansion in secondhand vessels, newbuilding and charter markets has proven unrelenting.
The world's largest liner operators' extraordinary secondhand purchase spree has already added around 250 vessels to its fleet in the past two years.
Factor in newbuildings and forward charter commitments, and it amounts to what one shipowner calls "the greatest bet in container shipping history".
A seemingly remorseless expansion has included recent additions such as the 5,618-teu sisters Conti Canberra (renamed MSC Sydney VI), the 6,078-teu Conti Darwin (both built 1999), and the 2,702-teu X-Press Kangchenjunga (renamed MSC Aria III, built 2008).
That continues a secondhand shopping spree which may have cost MSC between $5bn to $6bn, according to Neil Dekker, senior analyst at Infospectrum.
MSC's newbuilding orderbook is equally impressive.
At 1.95m teu, MSC orderbook of 146 ships is equivalent to 43% of MSC operating fleet of 4.5m teu, according to Linerlytica estimates.
At that level, its orderbook alone is larger than the fleet operated on the water by most operators up to the industry fifth largest carrier Hapag-Lloyd.
Differences within 2M
That begs the question what Gianluigi Aponte-controlled MSC plans to do with such a large fleet, especially at a time of weaker demand and falling freight rates?
Tellingly, the strategy appears in contrast to its 2M Alliance partner AP Moller-Maersk. Maersk chief executive Soren Skou said the markets have "plenty of dark clouds on the horizon".
Yet there are signs that MSC has doubled down on its commitment to taking boxships from the market.
This month's announcement by Costamare of forward fixtures involving up to 11 container vessels have been linked to MSC, which traditionally has a close relationship with the Greek owner.
Among the deals is the 8,531-teu Navarino (built 2010) which is on charter to MSC through to 2025. It has been forward fixed through to January 2029.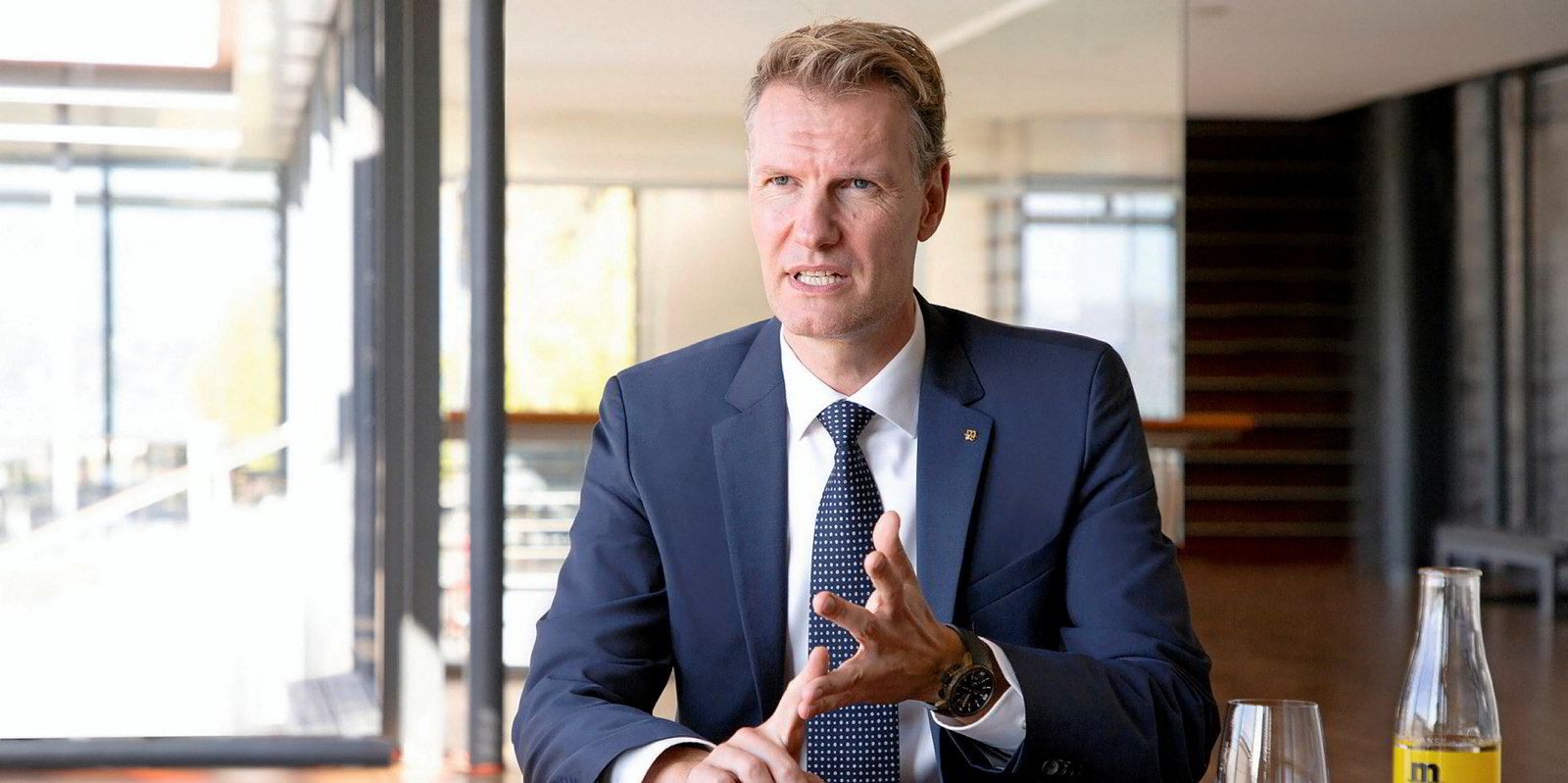 "One cannot refrain from questioning what MSC is seeing what others do not and what the long term strategy behind all this may be," shipbroker Braemar wrote after the deals were announced.
The forward charters are one of many deals between the two partners and emerged shortly after Costamare sold to MSC of the 6,648-teu sistership trio MSC York VII, MSC Michigan VII and MSC Illinois VII (all built 2000).
That was after MSC chief executive Soren Toft posted on social media that "there will no doubt be some difficult quarters ahead", due to rising inflation, rising interest rates and rising energy prices.
Scrapping tonnage
MSC's release valve in a falling market may be simply to scrap the secondhand tonnage as its newbuildings are delivered.
That would fit in with the company's decarbonisation strategy.
This is a core driver for the significant investment in new tonnage and emphasis on utilising greener fuels, said Dekker. He notes that many of MSC's newbuildings are in the 15,000-teu and 16,000-teu size range and are either LNG or ammonia-capable.
But scaling down the fleet would relinquish some of the strategic advantages of having such a large container fleet.
"Growing the fleet substantially opens the path to a future where MSC achieves a scale whereby they no longer need to be a member of an alliance in order to field a broad and competitive network on the major east-west trades," analyst Lars Jensen of Vespucci Marine said.
"Essentially they become masters of their own destiny again."
The implication is that MSC will be large enough for the carrier to operate as a stand-alone carrier in the east-west trades — the first to do so.
That raises questions about the future of the 2M Alliance operated by Maersk and MSC.
Dekker points out that MSC has during the pandemic launched several of its own transpacific services with excess tonnage outside of the 2M Alliance.
But it remains unclear at this stage how the newbuildings will be deployed, and whether that will be together with Maersk within the 2M Alliance agreement or as independent services.
"Ultimately, all liner operators are entering a new phase in the market, with significantly weaker sentiment after the bull run of the last two years," he said.
"Vessel deployment, whether as an independent or an alliance member, will be key to keeping stability at the trade route level and maintaining profitable freight rates."