A few weeks ago, the rain poured from the sky in buckets and all was quiet in my suburban bubble, other than a few tornado warnings.
But 30 minutes away in Fort Lauderdale, the storm that local officials described as unprecedented flooded streets and homes, shuttered the international airport and caused irreparable damage to city hall.
The storm's impact reverberated into my neighbourhood a few days later, when a shortage of gasoline led cars to queue up for fuel.
The reason: the flood waters surrounded fuel tanks at Port Everglades in Fort Lauderdale, blocking access to the main source of gasoline for South Florida.
In TradeWinds' Green Seas newsletter, I've been writing about the challenges that climate change poses for ports.
And while much focus is on rising seas, the floods in Fort Lauderdale served as a reminder that climate resilience at ports is also about the water that falls from above, and the fuel shortages showed how the impacts of extreme weather can ripple through the economy in unexpected ways.
While this single storm cannot be attributed directly to climate change, scientists point to more extreme weather and increased precipitation resulting from the phenomenon.
Risk Footprint president and founder Albert Slab, whose Florida company provides climate assessments and advises on resilience, told TradeWinds that fuel tanks around port areas are often in places at risk of flooding.
Hurricane Harvey's deluge
And he said public officials are misleading the public by describing the storm that clobbered Fort Lauderdale with 24 inches (63 cm) of rain in a day as a 1,000-year storm, given that Hurricane Harvey dumped 60 inches of rain on Houston in 2017.
"We've seen hurricanes now that just sit there and pump unbelievable amounts of water," he said.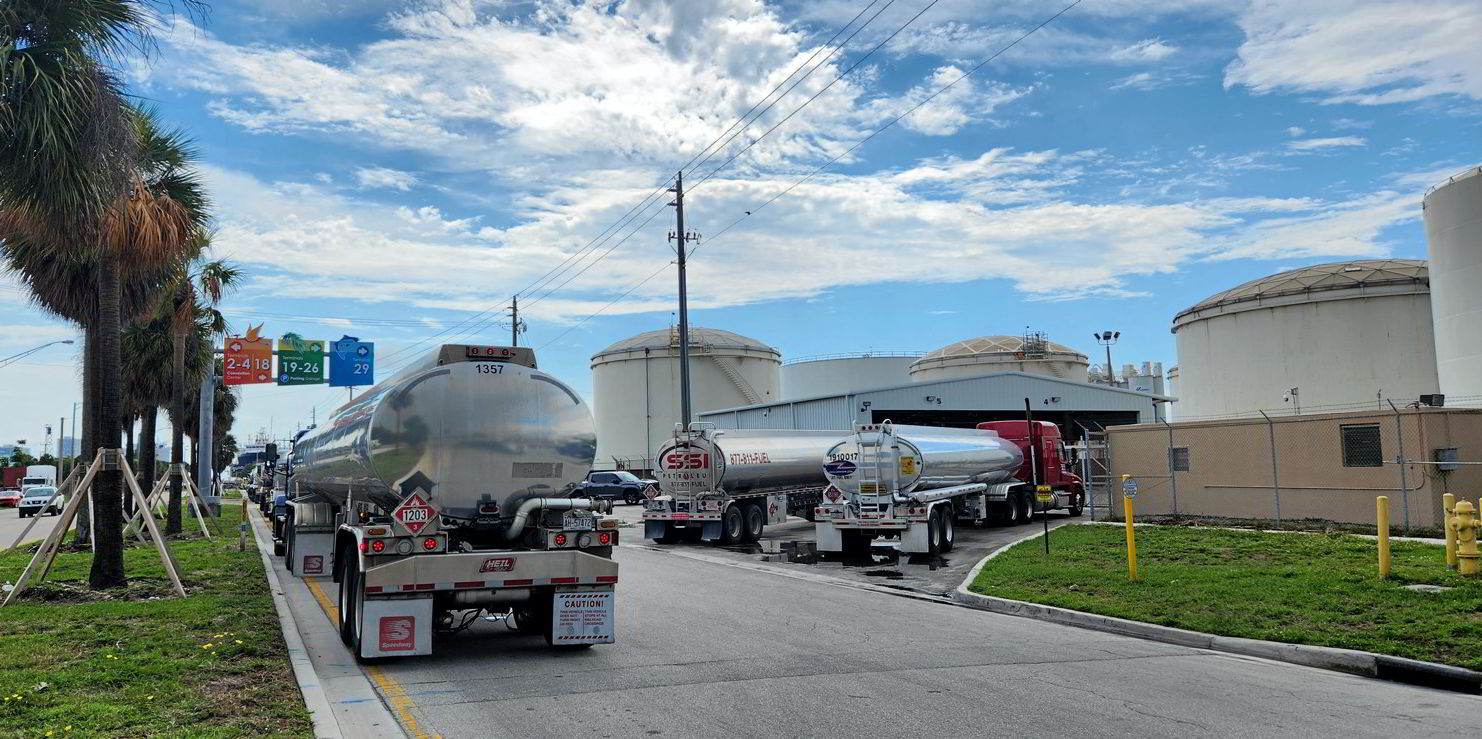 Ports and the cities that surround them have to make their stormwater systems able to handle larger events, Slab said.
And the resilience expert said cities and ports cannot raise their infrastructure all at once.
"You have to be selective, and that takes some thought as to what roads, what infrastructure, what facilities on the electric grid … are in that critical path," he said.
Raising bulkheads
Port Everglades has been taking action on climate resilience.
In February, the port was awarded a $32m grant to mitigate threats from flooding and rising sea levels. The funding, part of a $275m pot for resilience projects administered by the Florida Department of Environmental Protection, will allow the port to replace bulkheads that will factor in sea level rise as far down the road as 2096.
Subscribe to Green Seas
Get our weekly newsletter on sustainability, ESG and decarbonisation to stay on top of the developments as the shipping industry faces pressure to transform.
But not everything that contributes to flooding is in Port Everglades' control.
"They're far ahead of most of everybody else on the infrastructure side and good for them, because they're doing what they can do," Slab said of the port. "But they can't just go out and raise streets and improve the storm water in the streets and put pumps in."
Controlled by petroleum companies
Asked about additional resilience efforts following the storm, Port Everglades spokeswoman Joy Oglesby said the historic flooding was on private land held by petroleum companies.
"Those companies are within the port's jurisdictional area, however, as private entities they do not report to us," she said. "It's my understanding that the companies are assessing what can be done to minimise fuel interruptions due to such weather events."
Transport resilience, including ports, is on the minds of officials in Washington as well. The $1trn Bipartisan Infrastructure Bill, which US President Joe Biden signed into law in 2021, included a $7.3bn grant funding programme for resilience projects, with ports among the recipients.
That is a start.
University of Oxford's Environmental Change Institute estimated in a January study that ports around the world face $7.6bn in climate risk per year, with facilities in Asia, the Gulf of Mexico and Western Europe in particular peril.
The ripple effect from that leads to even greater risk trade, to the tune of $67bn per year, according to the institute's estimates.
1,000-year storm?
Local officials in Florida described their deluge as a 1,000-year storm even amid the growing risks of climate change fuelled by extreme weather and rising sea levels.
"It makes the public go back to sleep instead of really demanding the kind of resilience both in the infrastructure and in commercial, industrial and multi-family buildings and critical buildings," Slab said of such claims.
After all, are such storms really unprecedented if we know they are coming?