Is it becoming risky to order tonnage from the world's leading shipbuilder and workshop to the world, China? There are reports that shipowners are becoming increasingly tough in their contractual relations with Far Eastern yards.
Owners fear that escalating tensions over Taiwan and Russia's invasion of Ukraine are going to lead to trouble for them via a serious geopolitical if not military standoff — and then sanctions.
Already many Western manufacturing companies have started to "derisk" operations by switching some of their outsourcing from China to Vietnam, India and other locations.
Shipping is nervous because it has already been at the sharper end of the international fallout from the war in Ukraine and knows how disruptive — if sometimes incredibly lucrative — that can be.
Former British prime minister Liz Truss has been preparing for a trip to Taiwan, a centre of tension due to China's ambition to bring it under Beijing's control.
Truss told the Politico website that any threat to Taiwan that goes unanswered by the West would embolden Russia and Vladimir Putin, who, she said, is working with Chinese leader Xi Jinping.
"I don't think Vladimir Putin was serious about sanctions before we put them on. We have to be absolutely clear that if there was some kind of escalation in Taiwan, there would be a very severe and serious reaction," she added.
The last thing owners want is to find their new vessels are stuck on the slipway, locked in by rows and legal disputes between Washington, its European allies and Beijing
Truss described China as "the largest threat that we face in the free world" and called for more "action" from Western allies to combat it.
Such provocative talk is encouraging owners who are contracting new vessels to ask for break clauses in agreements to ensure they can walk away in the event of sanctions being imposed on China.
The last thing owners want is to find their new vessels are stuck on the slipway, locked in by rows and legal disputes between Washington, its European allies and Beijing.
This kind of worried thinking might have seemed unlikely two years ago. But the invasion of Ukraine and the wave of sanctions on Russian companies and activities has awoken maritime groups to the moral jeopardy, legal barbed wire and reputational damage that can suddenly emerge.
Patrick Murphy, a shipping lawyer with Clyde & Co, told me: "I think what has transpired to be the eventual extent of the sanctions against Russia, and the speed with which we got there, has been a wake-up call for industries such as shipping, which again has seen itself at the sharp end of policy-makers' focus.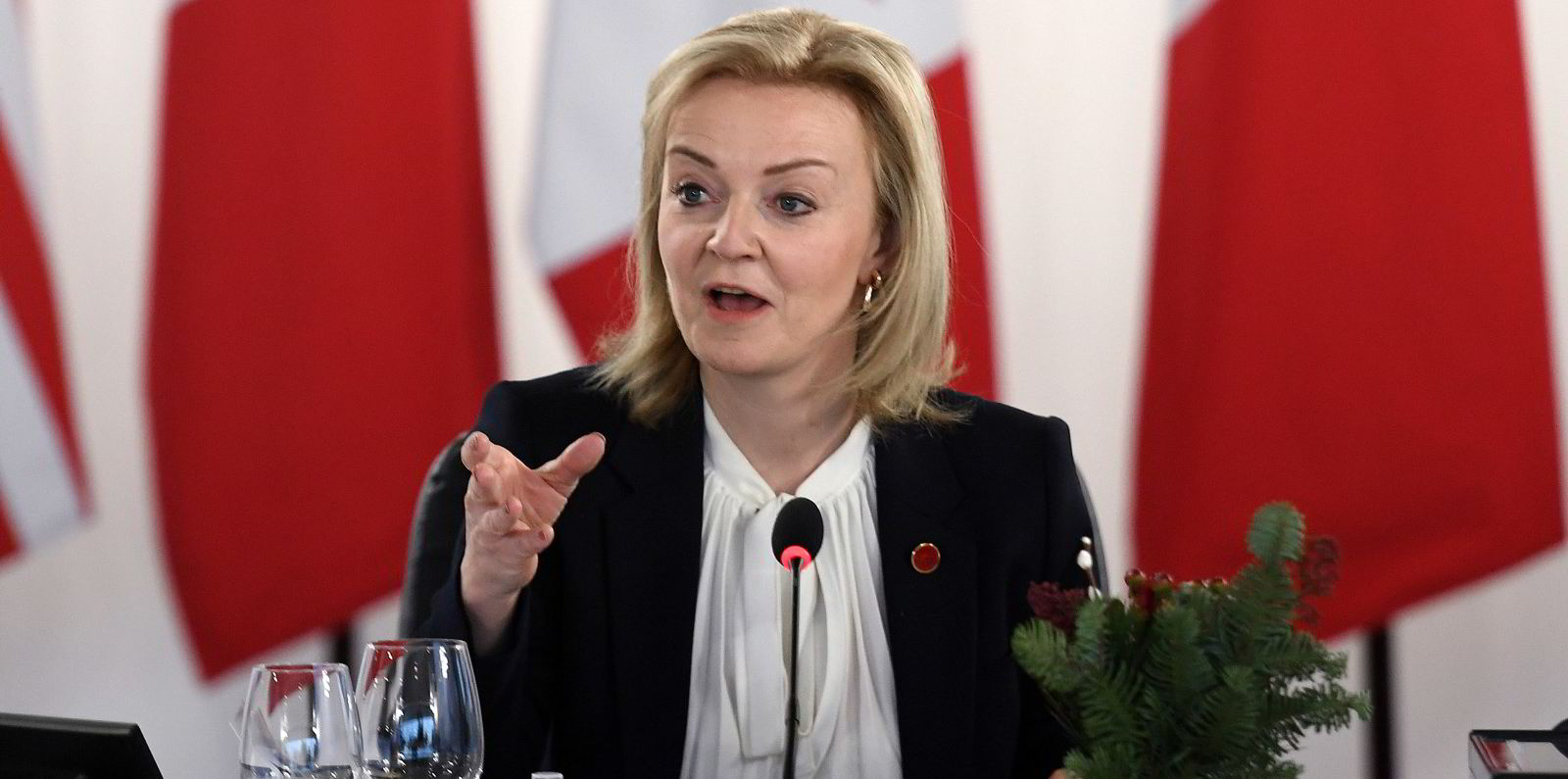 "China is of course far more deeply integrated [into] the global economy, but the experience with Russia has caused the industry to re-examine the underlying assumptions about how far sanctions could conceivably go."
Other maritime lawyers told the Financial Times that it is now common in negotiations with Chinese yards for shipowners to try to introduce clauses into any contracts to insulate them from future sanctions.
Chinese yards are reported to be resisting this, unsurprisingly, for commercial and political reasons, perhaps, given that shipbuilding is closely linked to the state, while the two biggest builders are government-owned.
Fortunately, the bellicose language and demands for action from Truss are not entirely shared by her successor as prime minister, Rishi Sunak, and certainly not by French President Emmanuel Macron.
Macron visited Beijing last month and argued that Europe should not become "America's followers" if Washington reacted to any invasion of Taiwan.
Europe's biggest economy, Germany, has for a while fretted about its economic dependency on China — as it has realised the folly of being energy dependent on Russia.
Berlin still overcame government departmental opposition and waved through Chinese liner giant Cosco's acquisition of a stake in a Hamburg container terminal.
There is no guarantee that something will not kick off — and China is far more important than Russia, particularly to shipping, through its non-maritime manufacturing as well as shipbuilding, its ports and increasingly large merchant shipping fleet.
Western shipowners are right to be careful.