A legion of ultra-large container ships will hit the water at a time of weakening demand.
That spells tough going for operators on the Asia-Europe trade where most of the vessels will be deployed.
The pace of deliveries of the biggest boxships ever will pick up with 32 vessels of more than 23,000 teu each due this year, according to analyst Linerlytica.
Six of them will be delivered in March alone, including the 24,188-teu OOCL Spain (built 2023), the first of six ULCs ordered in 2020 to be delivered from Nantong Cosco KHI Ship Engineering.
The vessel, which will briefly hold the title of the world's largest container ship, joins Orient Overseas Container Line (OOCL)'s Asia-Europe service on 18 March.
It is one of 28 vessels of more than 24,000 teu to be delivered in the coming weeks to operators including OOCL, MSC Mediterranean Shipping Company, Hapag-Lloyd and Ocean Network Express (ONE).
Nearly all of the ships are aimed at the Asia-Europe trade, where rates are coming under pressure despite healthy load factors, according to Linerlytica.
It raises the prospect of overcapacity at a time when the sector is facing the delivery of a further 76 neo-panamaxes of 12,000 teu to 16,000 teu this year.
The armada of ULCs ordered in 2020 and 2021 will join the fleet at a time of weakening demand on the main east-west corridors, according to Alphaliner.
MSC is the biggest recipient, with 14 vessels of more than 24,000 teu, accounting for half the estimated number in that category to be delivered this year, the analyst notes.
Four of those will be delivered from mid-March to early April.
The 24,116-teu MSC Tessa, MSC Celestino Maresca and MSC Raya (all built 2023) will sail for the 2M alliance on the Asia to North Europe AE6/Lion service.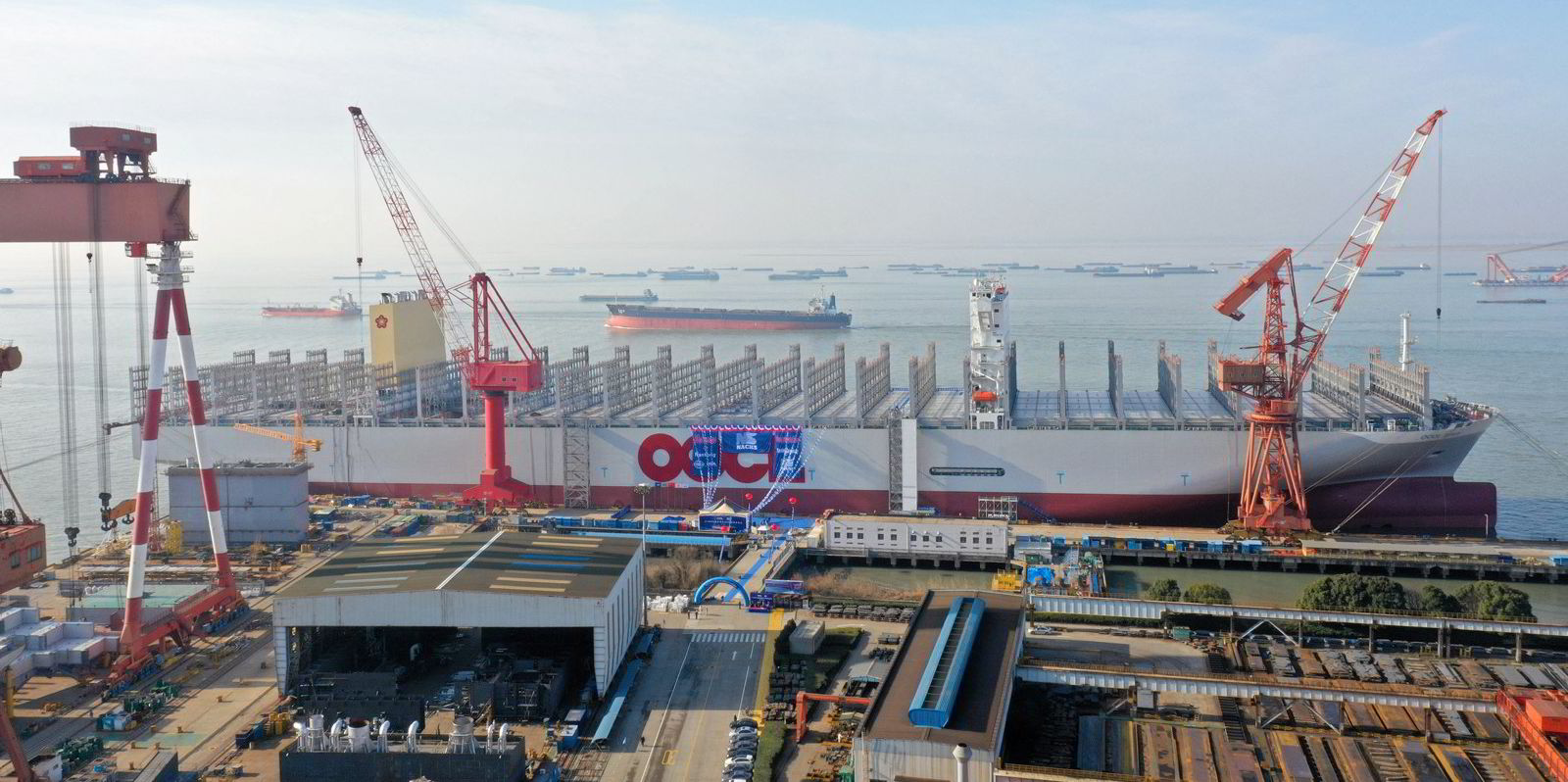 A fourth vessel, the 24,346-teu MSC Irina (built 2023), will join the Asia-Mediterranean service on 21 March, when it will assume the title of the world's largest container vessel.
Alphaliner expects that filling these giant new ships "could be a tough challenger for Maersk and MSC, as both 2M partners are still blanking sailing due to weak bookings and a general slowdown in global cargo demand".
The collapse of freight rates on the Asia-Europe trade has already prompted several voyage cancellations, such as the sailing of the 15,413-teu Maersk Canyon (built 2023), the analyst said.
The Maersk Canyon was delivered in mid-January from South Korean shipbuilder Daewoo Shipbuilding & Marine Engineering for its maiden voyage to Europe on 1 March. But the sailing was eventually blanked and the trip was deferred until mid-May.
Overcapacity
That has fuelled fears of overcapacity in the large boxship sector, even if some of the deliveries are deferred to next year.
There is the potential for scrapping and slippage, but boxship fleet growth is still expected to accelerate sharply to more than 7% in 2023, up from 4% last year, according to Clarksons Research's quarterly report.
Deliveries are projected to surge to a record 2m teu, double the 2022 total of 1m teu.
The larger ships are likely to contribute to an 11% oversupply in 2023, based on a 1 January 2020 start point, shipbroker Braemar estimates.
That is largely fuelled by the big ships: net growth of vessels over 10,000 teu is likely to be in the region of 300 vessels through to 2027.
That includes 70 on-order vessels of 24,000 teu and about 150 neo-panamaxes of 15,000 teu to 16,999 teu, according to Braemar.
Besides the MSC ships, most of the other ULCs to be delivered into the Asia-Europe trades are destined to operate for THE Alliance under members Hapag-Lloyd and ONE.
Hapag-Lloyd is poised to take delivery of its new flagship, the 23,666-teu Berlin Express, the first of 12 LNG dual-fuel ships, which is scheduled to join the Asia-Europe loop in April.
ONE will receive five vessels of a similar size later in the year.