A meeting of the so-called Brics nations in Johannesburg this week has led to more media analysis about a developing new world order. Such reviews are often about politics and economics as much as trade and shipping — but it all intersects.
Sanctions emanating from the invasion of Ukraine by Russia — a Brics member alongside Brazil, India, China and South Africa — have certainly turned the maritime world upside down and been significant catalysts for change in trade routes and carriers.
English-language media still dominate many global conversations but can reflect Western interests and, therefore, give a distorted picture of what is happening on the ground.
Like it or not, many countries in the developing world — or Global South — like those around the table in South Africa, do not want to side with the US against Russia over Ukraine.
And certainly, the more authoritarian governments of the world are happy to see the Western democratic values championed by Joe Biden challenged.
More and more smaller countries do not see a need to choose one side or another as a fragmented — but more complex — world develops.
However, this could make finding a consensus for global rule-making over maritime standards or global heating more difficult than ever.
China and Brazil have already mounted serious opposition to a carbon emissions levy-based system at the International Maritime Organization.
Split with the West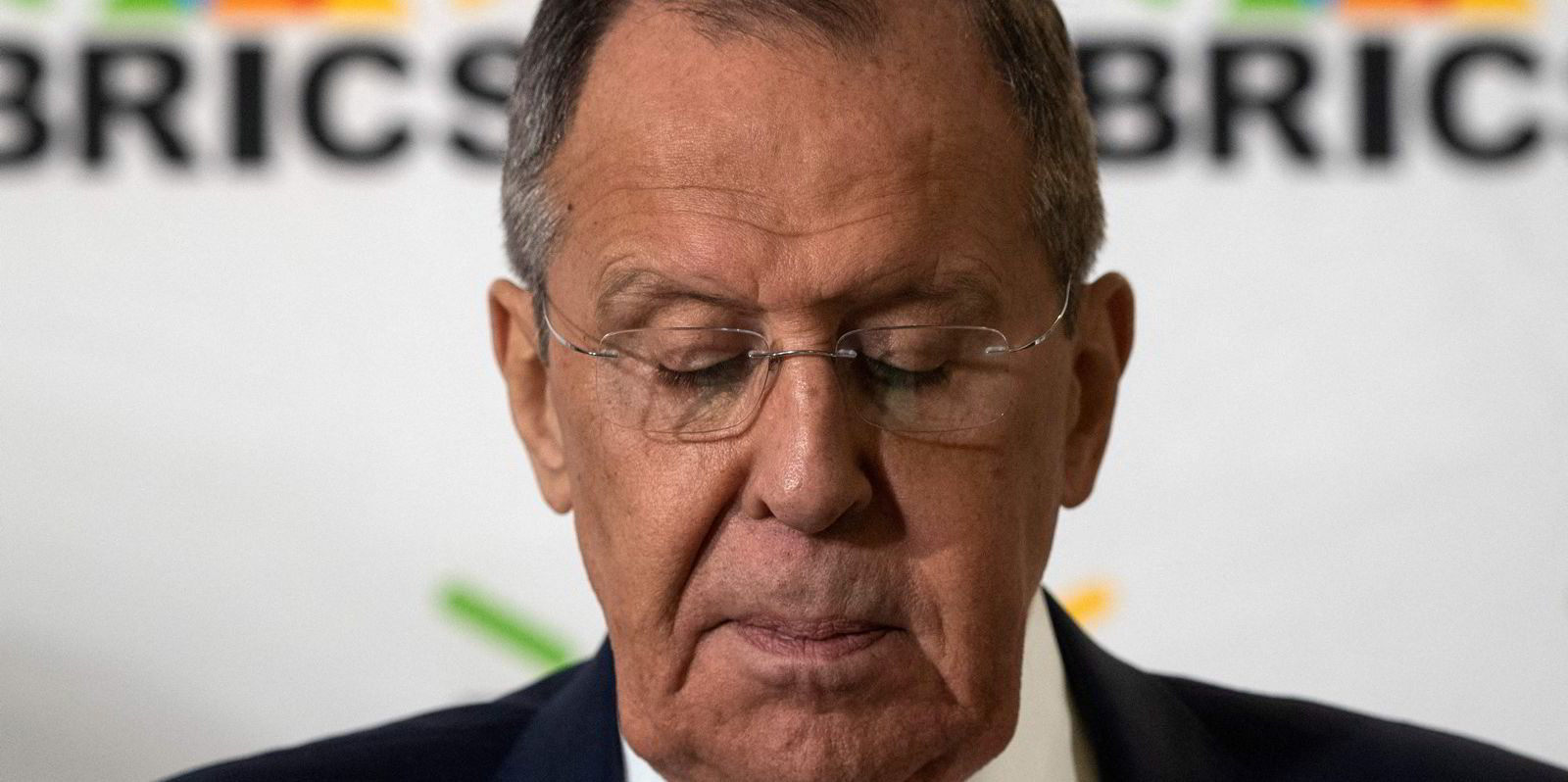 Russia — as a huge fossil-fuel producer — has rarely shown leadership in tackling climate breakdown whether with shipping or more broadly.
Chinese officials themselves have made it known they want to increase their country's influence in the United Nations, World Trade Organization, G20 and other bodies.
China fancies itself as the leader of the Global South and has made friends ... with its heavy investments in Africa and elsewhere as part of the Belt and Road Initiative
China fancies itself as the leader of the Global South and has made friends — and the occasional enemy — with its heavy investments in Africa and elsewhere as part of the Belt and Road Initiative.
Chinese brokerage house Dongwu Securities said that for the first time ever China shipped more to the developing world — as represented by the countries that make up the Belt and Road — than it exported to the US, Europe and Japan combined, as reported by the Financial Times.
Russia has similar but much more modest designs, encouraging developing countries in Africa and elsewhere to see its own split with the West as an opportunity, not a threat.
Vladimir Putin has not turned up to the Brics meeting in Sandton outside Johannesburg.
This is convenient for his host, President Cyril Ramaphosa, who would have been under pressure to arrest his Russian counterpart for alleged war crimes in Ukraine.
The International Criminal Court in The Hague issued an arrest warrant earlier this year, which South Africa would be under obligation to serve.
Ramaphosa would not want to do this to another Brics member after giving a raft of mixed messages about whether it actually condemns the attacks on Kyiv or not.
Both China and Russia are keen to build Brics into a more significant body. There has even been talk of developing a new Brics currency to — in theory — eventually rival the dollar.
Unsurprisingly, other countries hit by Western shipping sanctions such as Iran and Venezuela have publicly stated their interest in joining the trade bloc.
Russia has seen its income from oil and gas exports fall under sanctions but continues to find ways of making trade continue overall.
In fact, as my colleague Harry Papachristou reported, overall seaborne trade rose by 9.3% in the first half of this year to 526.8m tonnes.
Those figures came from Russia's Federal Agency for Sea and Inland Water Transport, or Rosmorrechflot, which also claimed that liquid cargo from the Azov and Black Sea basin rose by just under 10%.
Proxy battles
Both Ukraine and Russia have been trying to halt each other's exports, with Moscow pulling the plug on the Black Sea Grain Initiative.
The IMO has already become a place to row about each other's maritime behaviour. Last week, the Kremlin lodged a formal complaint with the UN body, accusing Kyiv of a "terrorist attack" on a civilian tanker in the Black Sea.
This came just days after Ukrainian President Volodymyr Zelenskyy accused Russia of firing on a general cargo ship in the same waterway.
No shots will be fired at the Brics summit in Johannesburg, but global shipping must be ready for new proxy battles at the IMO and beyond.