Captain Radhika Menon has chalked up more than her fair share of firsts in her 32 years at sea.
She was the first woman to train and graduate as a radio officer in India. She was India's first pioneering ship's captain and, in 2016, she became the first woman to win the International Maritime Organization's annual award for exceptional bravery at sea.
Menon, from a family of land-based engineers, has told of how she faced resistance from relatives, the industry and some of her peers to succeed. She was sustained by one ray of hope: the demand from some sections of Indian society for change.
Now, after years of hard-fought success, she hopes to pass on her lessons to the next generation of female seafarers longing for change.
As one of the founders of the not-for-profit International Women Seafarers Foundation (IWSF), she is helping young women to navigate the entrenched bias that she experienced when she joined her first ship in 1991.
"Walking into a male-dominated environment is not a cakewalk," Menon said at an IMO conference promoting the role of women in maritime.
"I was walking onto an oceangoing ship and spending months as the only female with a lot of men. I was a little bit scared, but I didn't want to show it."
She learned from colleagues how to protect herself, while declining to go into details of the difficulties she faced on board ships.
But she found salvation in her ability to do her job, first as a communications specialist, then as navigator and finally, in 2012, as a captain.
"What I have discovered from my experience is that people are not blind to competence," she said. "Acceptance only comes with competence."
Despite the trailblazing of Menon and others, women remain a tiny minority of the total seafaring population.
The situation is improving. There was a 46% increase in female seafarers from 2015 to 2021 to 24,059, but they are still less than 2% of the total. Most of those women are employed in the cruise ship sector, according to the 2021 Bimco/International Chamber of Shipping seafarer workforce report.
The All Aboard Alliance, which campaigns for greater diversity in maritime industries, last month identified 15 "pain points" following interviews with more than 100 female seafarers.
Issues included a lack of suitably fitting protective equipment, such as boiler suits, and a lack of access to sanitary products, as well as sexual harassment and inflexible employment terms that force women to choose between a career or family.
More than 30 years after she first went to sea, Menon has just been given tailor-made protective gear from her employer, TradeWinds reported last month.
"More action is needed," said Sadan Kaptanoglu, who became the first female president of shipowner group Bimco after more than a century of male leaders.
"This is the 21st century. We are talking about going to Mars but we cannot overcome diversity issues."
Through her foundation, Menon launched an education programme to promote the industry to girls in schools and orphanages.
She speaks to parents about the difficulties of isolation and being a minority at sea. The group now has more than 600 female seafarer members from India, Bangladesh, Turkey and Oman.
Her work to promote the cause of women was boosted by the IMO bravery award, she told TradeWinds.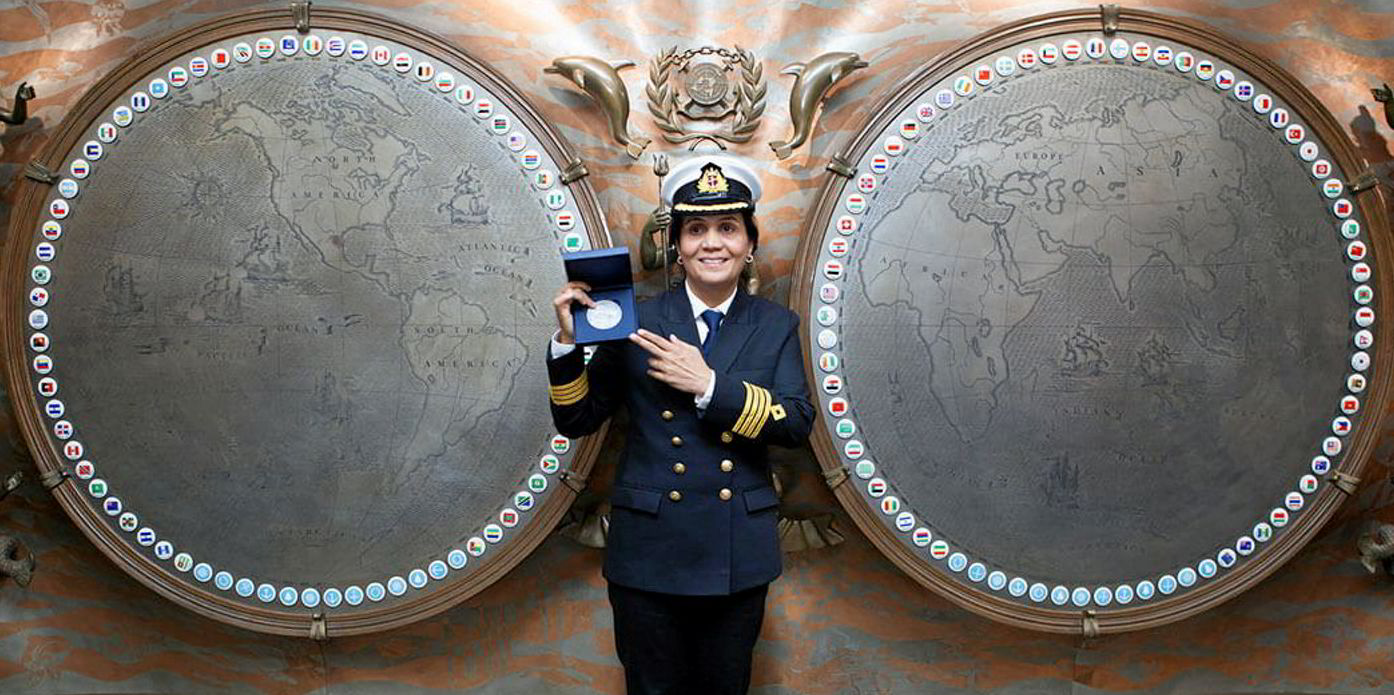 Menon was on board the 33,000-dwt product tanker Sampurna Swarajya (built 1999) when Indian authorities asked her to rescue seven fishermen from a boat that started drifting after engine failure and losing its anchor in severe weather.
The fishermen were left without food and drinking water, surviving on ice from the cold storage.
The tanker made three attempts in strong winds and heavy swells before all seven weak and starving fishermen — aged from 15 to 50 — were brought to safety on board the tanker.
The award has helped to promote the image of women as confident, skilled seafarers. Where once ship managers snubbed women applicants, the reverse is now true, according to Menon: "I used to roam around with CVs [of women] — now in 10 to 20 minutes, they have disappeared. Companies are taking them."
The Indian government also worked with her to draw up guidelines in 2019 to tackle wage disparities and other forms of discrimination.
She told TradeWinds that the IWSF deals with hundreds of issues every year of bias on board ships.
It has helped more than 25 women fight sexual harassment cases, bringing in outside lawyers to secure justice and to ensure that the victims are able to continue working in the industry.
Despite her impressive lobbying and campaign work, Menon will return to a ship in June to continue her remarkable career at sea.
"I was never interested in doing anything conventional," she said.
"I wanted to walk a different path. The idea of a 9 to 5 job didn't appeal to me."