The International Maritime Organization has focused many of its greenhouse gas regulations on bigger ships that make up 85% of the industry's carbon footprint.
But for green technology expert Madadh MacLaine, it is the other 15% that is ready for decarbonisation.
And that represents a missed opportunity at a time when there are calls to take quicker action to significantly reduce shipping's greenhouse gas emissions by 2030 on a path to net zero two decades later.
MacLaine, who is secretary general of the Zero Emissions Ship Technology Association, told Green Seas that members of the group known as Zestas have advanced systems to readiness levels that could more quickly be applied to smaller vessels.
"We can do that tomorrow, in a manner of speaking, if the right mechanisms were there," she said. "There are a lot of shipowners that within this sector that are ready to go, but they can't because the business case is not there."
If she could turn back time to a moment before Zestas achieved consultative status at the IMO, MacLaine said she would at least have vessels of between 400 gt and 5,000 gt in the United Nations' body's data collection system, and she said the group will be lobbying for that now.
Data collection is not the only area where international regulations are focused on ships of 5,000 gt and above. The Carbon Intensity Indicator rating, which entered force this year and measures how much greenhouse gas a ship emits per mile travelled and per tonne of cargo carried, also starts at 5,000 gt. Ditto for the European Union's shipping fuel data collection system adopted in 2015 and the EU Emissions Trading System when it includes shipping for the first time in 2024.
At the IMO, many different thresholds were proposed before member states adopted the 5,000-gt minimum for its data collection system in 2012.
Too much data?
During discussions in 2014, China's delegation expressed concerns that if the system included all ships of 400 gt and above at the start, it would have led to a large amount of data being collected. The 5,000-gt minimum was seen as less burdensome, with the opportunity to phase in the smaller ships at a later stage, according to information from the IMO.
MacLaine said the problem is that smaller vessels need a policy push, one that brings cost parity with cheaper fossil fuels, to be able to make the business case for adopting zero-emissions technology.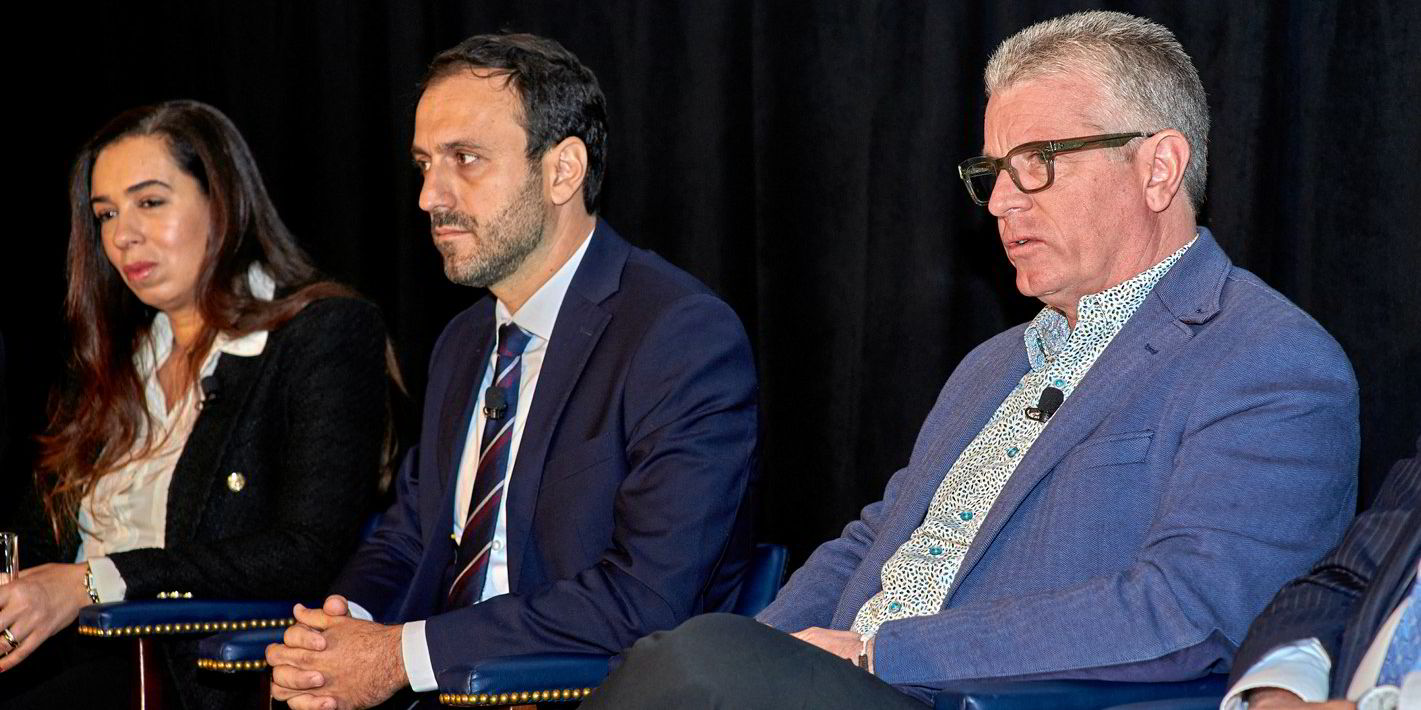 "Unless there's some kind of cost parity, nobody can afford to do it …just because it's the right thing to do," she said.
The IMO is gearing up for key decisions in July on its ambition for 2050 and interim targets leading up to that, as well as narrowing down its choices on midterm measures like a carbon tax.
Step 1: Data collection
But MacLaine acknowledged it will be hard to include smaller ships in those measures if they are not included in data collection first.
In the meantime, the ships that are most ready for zero-emission technology are those that are appearing to garner the least at the global regulator.
Subscribe to Green Seas
Get our weekly newsletter on sustainability, ESG and decarbonisation to stay on top of the developments as the shipping industry faces pressure to transform.
"And so what we're seeing is shipowners taking incremental baby steps to minimally reduce their greenhouse gas impact, when actually the technology is there for them to go all the way to zero," she said.
In the meantime, smaller vessels are being pushed toward decarbonisation by local regulations in some parts of the world.
On the west coast of the US, for example, the California Air Resources Board approved rules that would require harbour craft to adopt zero-emissions technology where feasible, with all other vessels having to adopt cleaner Tier 3 or Tier 4 engines, in rules that will be phased in through the end of 2032.
And the state is where Crowley is working to introduce its first electric tug, the eWolf.
Crowley senior vice president Matthew Yacavone told the Green Seas Fuels Forum that an all-electric tug is a unique solution that works in some ports.
"We think that the more long-term solution, at least in the tug fleet, is both a hydrogen fuel cell and then also a dual-fuel diesel Tier 4 [engine] with battery and hybrid technology going forward," he said.
Yacavone told the audience that California's approach is having a trickle-down effect, driving change across west coast trade lanes.
"We're fortunate that we have California leading the way," he said.
_______________
Podcast: Shipping's methanol first movers strive for a greener shade of the fuel
Three of shipping's first movers in powering ships by methanol, who took to the stage in Green Seas' first live event, spoke optimistically of the hunt for finding the greener versions of the lower-carbon alternative fuel.
Their comments at the Green Seas Fuels Forum in New York came as methanol has been a growing feature of the newbuilding orderbook, particularly in the container shipping sector.
But conventional methanol has carbon in its chemical formula and greenhouse gas emissions in its supply chain, meaning shipping companies aiming for even deeper cuts will need greener forms of the fuel, such as bio-methanol or e-methanol produced using captured carbon and hydrogen made from renewable energy.
Click here to listen, or subscribe to the podcast on Google Podcasts, Apple Podcasts, Stitcher, Pandora, Spotify and Soundcloud.
_______________
'Window of opportunity': Green group urges action ahead of key IMO meeting
Opportunity Green has joined the chorus of environmental groups that are urging the International Maritime Organization to not only commit to setting a 2050 target for shipping that keeps it in line with the Paris Agreement but also adopt new milestones in 2030 and 2040.
The NGO, which seeks legal avenues to tackle climate change, said the key round of talks by an IMO working group next week is one of the last opportunities for member nations to weigh in before the United Nations shipping regulator is scheduled to agree a revised greenhouse gas strategy.
The IMO's current targets aim for a 50% cut in shipping's greenhouse gas footprint by 2050, and many IMO delegations have voiced support for ratcheting that down to zero or net zero emissions.
_______________
UN strikes $55m VLCC deal with Euronav to replace 'time bomb' tanker
Gary Dixon reports that the United Nations has struck a $55m deal with Euronav to buy a VLCC to receive more than 1.14m barrels of oil from a disintegrating tanker off the coast of Yemen.
The ship, which the UN has not identified, is currently in dry dock for modifications and is expected to arrive in early May for the operation to remove the oil from the 407,000-dwt FSO Safer (built 1976).
The FSO Safer is one of the largest vessels ever built and has been positioned off the Yemeni coast for more than 30 years. However, Euronav said now it has become a "real danger", and has been described in the past as a "ticking time bomb".