Technology provider Wartsila has unveiled what it claims to be the world's first ammonia-fuelled four-stroke engine and signed up a Norwegian owner as its initial customer for the pioneering units.
The company said it has added an "ammonia solution" to Wartsila 25 engine platform, which it launched in September 2022, and this is now commercially available.
It has also inked a letter of intent with Viridis Bulk Carriers — a partnership between Amon Maritime, Mosvolds Rederi and Navigare Logistics — which intends to be the pilot customer for the new engine.
In September, Viridis, which is planning a carbon-free transportation service based on a series of ammonia-powered vessels, was awarded NOK 152m to build two ammonia-fuelled shortsea bulkers. The company has yet to give details of the vessels or where they will be built.
Wartsila said a commercial contract with Viridis on the ammonia engines, which will be built in Vaasa in Finland, is targeted for signing in early 2024.
The engine manufacturer is claiming that its new engine can achieve a 70% reduction in emissions — a figure can be improved over time — when running on green ammonia compared to a similar-sized diesel solution. Wartsila said this meets current European Union emissions targets until 2050 and exceeds the International Maritime Organization's target for 2040.
In addition to the engine, the company is offering an AmmoniaPac fuel gas supply system, the Wartsila Ammonia Release Mitigation System (WARMS), and its own exhaust after-treatment NOX Reducer.
Wartsila is also suggesting a maintenance agreement, dedicated training and 24/7 global support to enable the crew to get used to the new fuel and ensure safe onboard operations.
Speaking to TradeWinds, Roger Holm, who is executive vice president at Wartsila and president of its Marine Power arm, said the company described the company's ammonia engine launch as "a major milestone for the maritime industry".
"We can show by introducing this engine to the market that decarbonisation in maritime by 2050 is possible to do," Holm said. "We are excited to take this product to the market."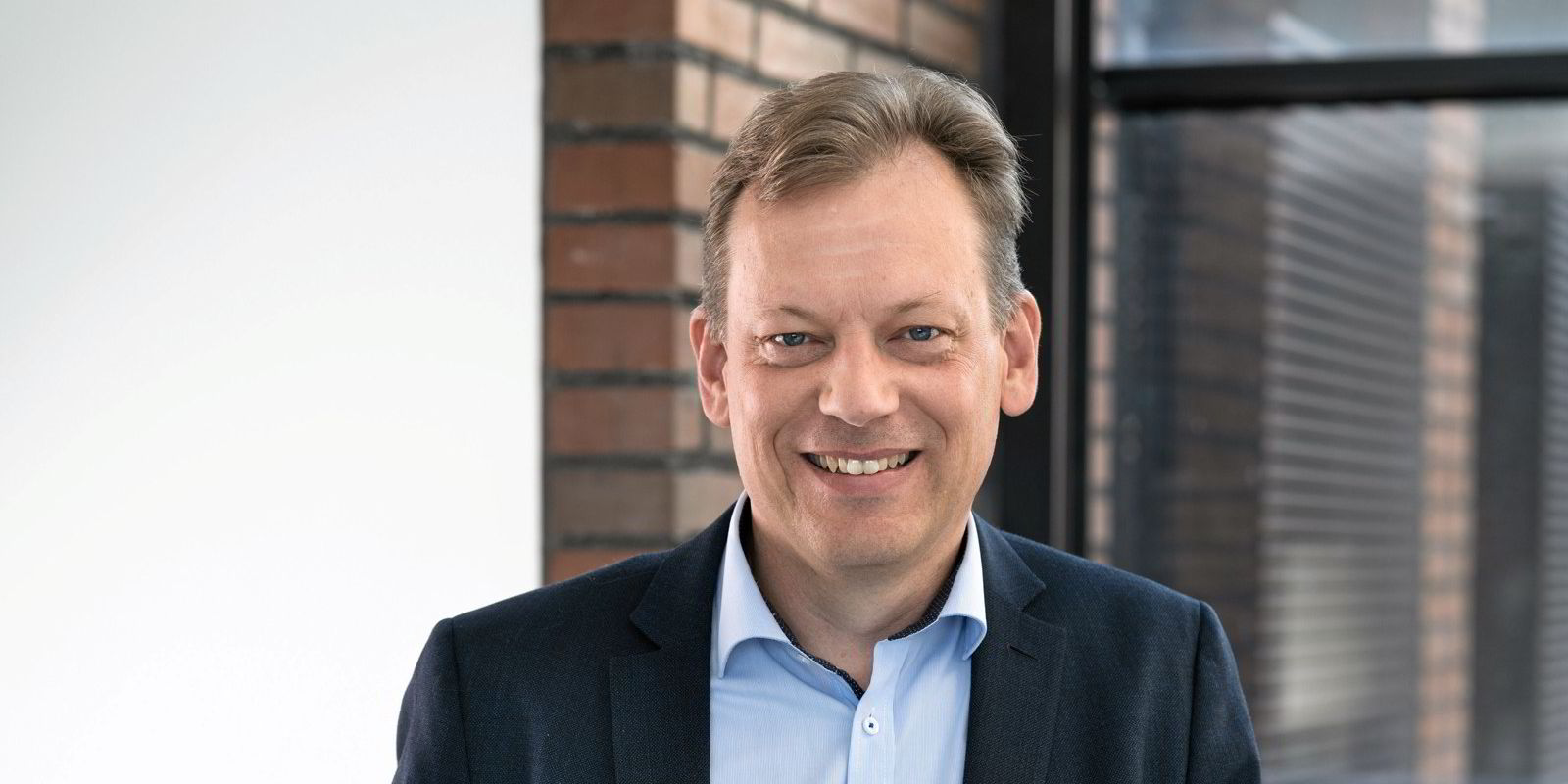 Holm said the key has been to really find the correct combustion process to do this.
He admitted that the development of the engine has been "a lot of work" and he is full of praise for the company's research and development department.
Holm said Wartsila has increased its R&D spending over the past few years as it sees this as a must for the decarbonisation transformation to happen in maritime.
"We want to be the best on green fuels," he said.
Holm reminded that Wartsila had committed to release its technology concept for ammonia this year but he added: "When you come with a concrete product it is 'the main event'."
Virtual lounge
He sidestepped questions for figures on the percentage of pilot fuel the engine will use and ammonia slip. On the latter, he said optimising the combustion process with a control system and good after-treatment can minimise the ammonia slip.
But said more detailed specifications will be revealed in a "virtual lounge event" scheduled for 5 December.
Wartsila Marine Power vice president of power supply Stefan Nysjo said: "This is only the beginning." He said the plan is to add more ammonia engines over time and test other technologies to cut greenhouse gas emissions further.
Frontrunner
Holm said there is particular interest in the new ammonia engine from Norway, which he described as a "frontrunner on thinking about ammonia as a fuel".
He said some companies want to be the pilot customer and others the follower. "It is important for us to show to the shipping community that this actually works as a fuel."
"We discuss green fuels with every single customer we meet nowadays," Holm said. "We see two of the major green fuels to be methanol and ammonia." The company is also looking at hydrogen engines, but he does not see these playing a major role in maritime.
"I don't think the issue will be the technology itself. It will be the green fuel availability that will be the challenge."
Holm said Wartsila has said green fuels will be two to four times more expensive than their fossil alternatives. But he said the company estimates that for vessels operating in European Union waters, with the incoming emissions regulations, their costs will be at about the same level by 2035.
"In shipping terms, we are not that far away from it being more beneficial to run on green fuels," he said.
Quote — unquote: Talking ammonia
Viridis Bulk Carriers board member Andre Risholm said: "The maritime industry must significantly reduce its emissions if we are to succeed in reaching the goals set in the Paris Agreement. The adoption of new technologies and ammonia as a carbon free fuel is central to this," describing the LoI with Wartsila on its new engine as "another important milestone for our ammonia-powered short sea bulk vessels".
Wartsila president and chief executive Hakan Agnevall said: "Working in partnership with ViridisBulk Carriers, we take the next step in our decarbonisation journey, enabling the transition to greener fuels and accelerating towards net-zero emissions shipping."