Efficiency
The Energy Efficiency Existing Ship Index (EEXI) applies technical standards to cut CO2 emissions by ships from 1 January 2023 based largely on the Energy Efficiency Design Index (EEDI) levels adopted by the International Maritime Organization for newbuildings in 2020. Compliance with EEXI will mostly be via engine or shaft power limitation restricting the maximum power that can be achieved.
Intensity
The Carbon Intensity Indicator (CII) will regulate existing ships above 5,000 gt from an operational perspective. CII is worked out by taking a ship's annual emissions from fuel used, and dividing that by its capacity (deadweight or gross tonnage), multiplied by annual distance travelled in nautical miles. Like EEXI, CII relies on a baseline to set a required target.
Read the e-paper edition of TW+
Flip through the pages of the full edition of our magazine as TradeWinds reporters explore the ramification of upcoming IMO rules on carbon.
Ship plans
CII will be implemented via a new Part III of the Ship Energy Efficiency Management Plan (SEEMP) containing targets and an implementation plan for the next three years that details measures to be applied to ensure a ship reaches its required operational CII. This plan must be verified before 1 January 2023 for about 27,000 ships.
Ratings
From 2024, CII ratings will be assigned for the previous year based on the relative position of the attained CII against the required CII. Ratings will range from the highest A to lowest C pass grades, while D and E results may be considered non-compliant.
Fail grades
Operators of ships rated D for three consecutive years or E for a single year will have to develop an approved plan of corrective actions to bring a vessel into compliance by the end of the next year. If the plan is not developed or verified, a statement of compliance will not be issued.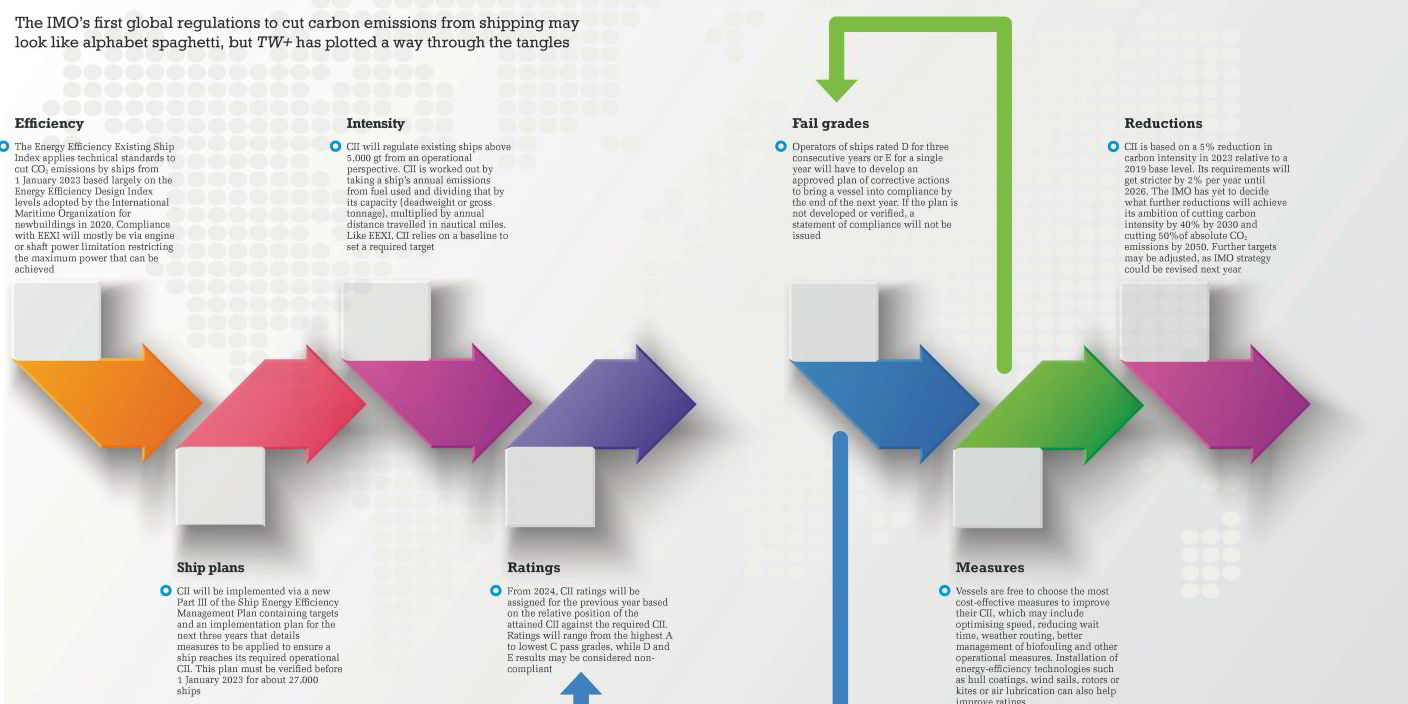 Measures
Vessels are free to choose the most cost-effective measures to improve their CII, which may include optimising speed, reducing wait time, weather routing, better management of biofouling and other operational measures. Installing energy efficiency technologies such as hull coatings, wind sails, rotors or kites or air lubrication can also help improve ratings.
Reductions
CII is based on 5% reduction in carbon intensity in 2023 relative to a 2019 base level. Its requirements will get stricter by 2% per year until 2026. The IMO has yet to decide what further reductions will achieve its carbon intensity cutting ambition of 40% by 2030 and its target of a 50% reduction in absolute CO2 emissions by 2050. Further targets may be adjusted, as IMO strategy could be revised next year.