A stroll through the huge Gastech exhibition and conference that took place this week in Milan, Italy, quickly made it clear where the new money is — US LNG.
In previous shows, it would have been the energy majors that had the biggest stands, but while the bulk of them still had a tangible presence at the show — with US giant ExxonMobil perhaps the largest — it was the new US liquefaction project names commanding the eye, and in some cases the attention.
Think new and expansionist-minded exporter Venture Global LNG, or the even newer name of Mexico Pacific LNG, both of which have ordered LNG newbuildings either directly or through shipowners.
NextDecade, which has just appointed its first shipping manager, was in the house and could be among those with an eye on LNG tonnage, as the company is tipped to sanction its first project soon.
Midsize project Texas LNG had toe-tapping music blaring from its area with the beers on ice pulling a crowd for its party hour.
Tellurian, which has still to take a final investment decision on its long-planned liquefaction project, even had a new stand designed for the event complete with a second storey and cascading ferns.
With elevated and volatile gas prices hitting record levels and both Europe and Asia hungry for product the atmosphere appeared upbeat, busy and intensely focused.
In contrast to the volume from the US producers, some European big names seemed to be showing some restraint as the energy crisis starts to hit their customers.
German gas buyer Uniper, which has been instrumental along with compatriot trader RWE, in putting floating storage and regasification units in place to help the country shift away from Russian pipeline gas, cancelled its usual party just a week before the event.
Some big names were missing from the exhibition floor — namely the Qatari and Russian producers, albeit for very different reasons. However, some senior executives from a key producer in Russia did attend discretely, those who met with them revealed.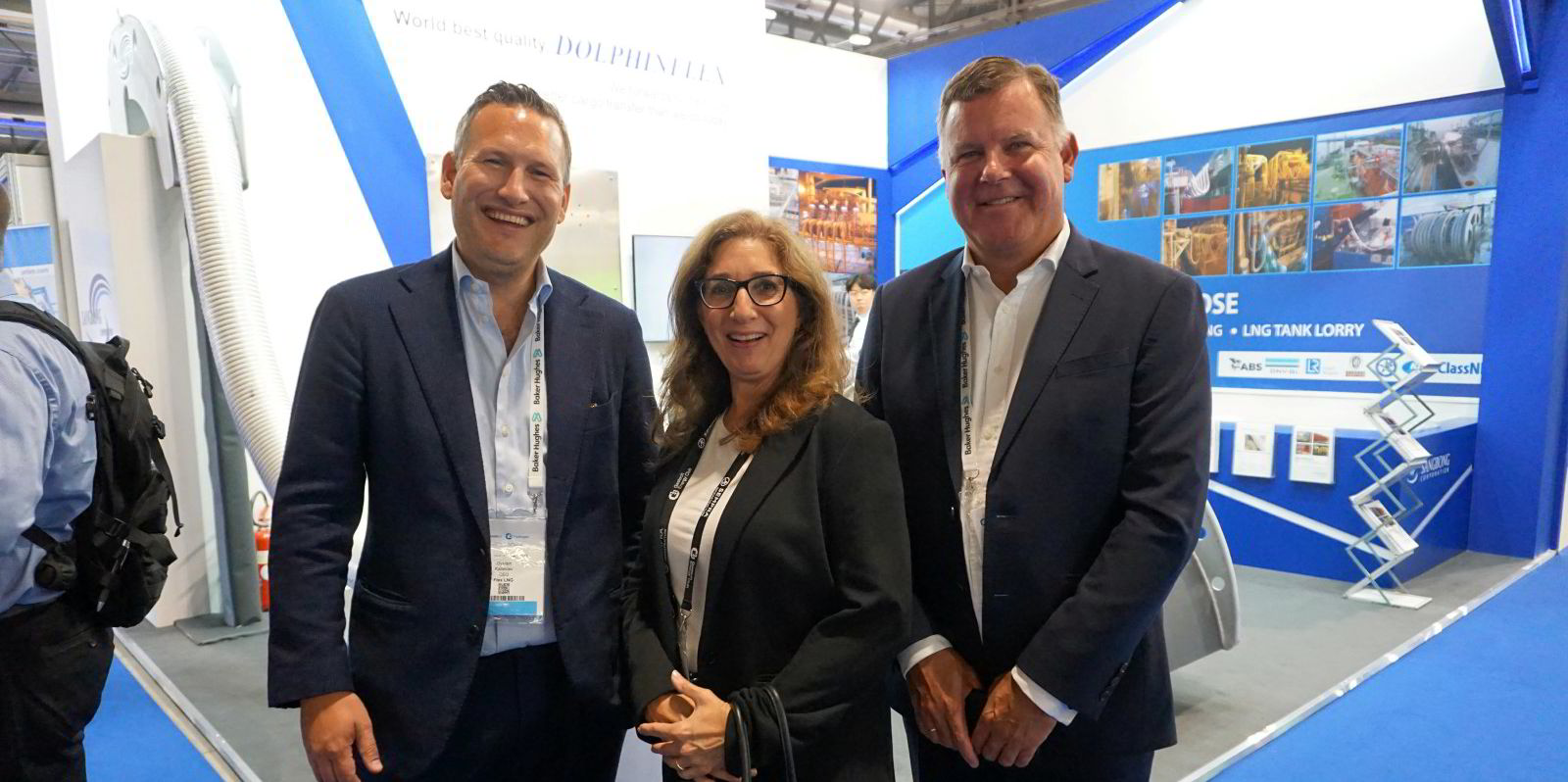 LNG shipowners old and new were also in town for the event from long players like Exmar's Nicolas Saverys through to fleet growth-focused Celsius Shipping boss Jeppe Jensen and recent entrant to the sector Eastern Pacific Shipping owner Idan Ofer.
The South Korean shipyards were back too with yard executives revealing that they were coming under some pressure from owners and projects to start releasing their 2027 slots — not something they are planning to do just yet.
Despite the berth dearth, it seemed that Japanese shipbuilders cannot be tempted back into the LNG business, with former players in the sector such as Kawasaki Heavy Industries preferring instead to focus on its large liquefied hydrogen carrier design.
This year, hydrogen was firmly on the agenda at the annual show with more new names for this emerging sector attending. But many challenges were identified to make it a reality.
Approvals in principle (AiP) flooded in daily, to the extent that it was difficult to keep up with them.
The focus was on liquefied CO2 carriers and upcoming transition fuels. Separately, both yards and classification societies said the bulk of the AiPs were prompted at the other's instigation, although privately both seemed to agree that in the majority of cases they simply symbolised some early design work.
Decarbonisation remained a hot topic with methane mitigation becoming an increasingly discussed topic as LNG looks to its future.
Some attendees commented that deal announcements were light to non-existent at the show. But behind the closed doors at the event and deeper into the city, business was being done.
TradeWinds received some meaningful nods about upcoming deals, with sources sadly a little too light on any of the specifics as yet. Watch this space.
But ask anyone there what they felt about the event and the answer was overwhelmingly that people were pleased to see each other in person.
New contacts that had been made during the lockdown days of the pandemic and only seen on screen were suddenly there in a whole new dimension, while others enjoyed seeing old industry friends and acquaintances they had not met for several years.