The European Commission is urging the International Maritime Organization to "take the ambitious measures we expect it to take".
But Fotini Ioannidou, the EC head of maritime safety, declined to tell TradeWinds she had confidence that the IMO will take the regulatory steps Europe expects of it to follow the continent's quicker regulatory pace.
"Who can say whether they have confidence or not?" she told TradeWinds following a panel discussion at this year's Nor-Shipping congress near Oslo.
But she held out hope.
"There has been a lot of convergence in the last six months. The IMO secretariat are doing their best to make a good outcome but who knows? I can say I am reasonably optimistic," she said.
She was speaking on Tuesday at the Ocean Leadership Conference of Nor-Shipping in Lillestrom, Norway, to a panel of international regulators plus shipowner representatives.
They included the marine environment division director Arsenio Dominguez, as well as United Nations Global Compact chief executive Sanda Ojiambo, and Harald Solberg, chief executive of the Norwegian Shipowners' Association.
TradeWinds editor-in-chief Julian Bray convened the panel.
The shipowner spokesmen agreed that shipowners need more regulation faster.
"It's very important for us to have high ambitions, but we can't do it in a vacuum," said Solberg, calling for more guidance from the IMO.
Another panelist agreed, with specific reference to global carbon pricing.
"I'm not concerned about the technology. The technology will be sorted out. And I'm not concerned with the financing [of low-emission newbuildings]," he said. The urgently missing piece, he believes, is a global price on carbon. "There have been lots of discussions, and now our industry needs regulation," he said.
Ioannidou made it clear that the European Union as a regional international organisation saw itself as setting the global pace, not least in implementing a carbon trading scheme, and impatient to be followed up.
"The EU has been leading the way and we have now a complete framework covering all aspects [of shipping decarbonisation]," Ioannidou told fellow panellists.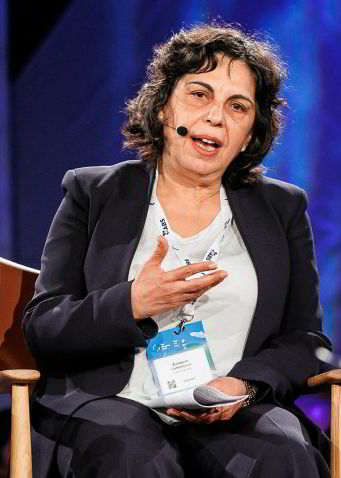 But as a regional regulator, Europe needs the IMO to take the lead for the worldwide industry.
"The fact we have taken this action is a lesson to everybody," she said. The effect of Brussels' pace in enacting firm rules should "help IMO open up discussion on interim measures", she told fellow panellists and conference delegates.
Dominguez defended the IMO's performance with assurances that help is on the way.
"The member states have agreed we should revise our strategy, accompanied by technical and economic measures," he said. "Time is against us but the actions have started already."
The Norwegian Shipowners' Association's Solberg underscored the importance not just of regulating carbon emissions, but of applying the proceeds from carbon trading directly to the problem of shipping decarbonisation.
"If we use the proceeds to bridge the gap, then this can happen very fast," he said.
Ioannidou concurred.
"We need to be able to raise funds in order to finance decarbonisation, but also to make just and equitable for all," she told fellow panellists.